In February 2014, Danielle Ellis went to work in an organic bakery in France through WWOOF (Worldwide Workers on Organic Farms).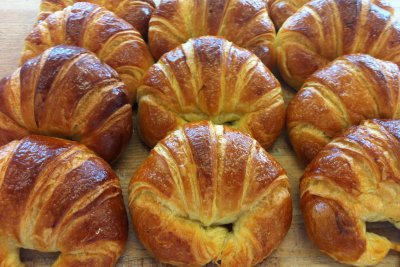 Croissant. Copyright: Danielle Ellis
Friends liked my bread; what could the next step be? The bakeries I asked back home were unable to take on an apprentice and there appeared to be no suitable professional courses of the right length for me.
One day, a French baker in Edinburgh mentioned that she'd attended one of several conversion courses that exist in France. I speak French well, so I thought why not? I started applying and was offered a place at École Banette. This is run by a milling company, mainly to train people who want to open a bakery using their flour and branding.
Serious baking
There's a small team of five tutors at the school: three teaching bakery and viennoiserie and two teaching bakery management, marketing and merchandising. All previously ran bakeries so they know not only the techniques inside out but the challenges of running a business too. Their impression of British loaves? "It's all pain de mie, isn't it?"
The course had a big emphasis on baguettes and derivative breads but very little sourdough. However, I was encouraged to experiment. This was serious baking. All the bread was mixed, worked and shaped by hand, twenty kilos of dough at a time in large wooden troughs, then, baked in a wood-fired oven. It showed that I had enough stamina to stand the pace.
Bread is so important to the French. Historically, it had to be freshly bought each day; sometimes several times a day. Things are also evolving in France, though.* One bakery owner explained her clients' tastes are changing - buying bread fewer times a week and going for breads other than baguettes – sourdoughs, wholemeal, different flours.
I've bent the ear of my tutor Frederic Haenel so many times about Real Bread in the UK that he gained the impression that we are somewhat obsessed!
Lessons learned
So, what did I learn from 675 hours of professional training over four months?
Love the bread, always. Respect and understand the dough and you are half way there.
To take the huge leap from single loaves to hundreds of baguettes at a time I had to be quick, efficient and more organised, changing the habits of a lifetime.
To understand and use baker's percentages and base temperatures - requiring more maths than I had used for many years!
Planning a day's production efficiently.
How to make the most of retarder/provers to help avoid getting up very early.
How to make a mean croissant and brioche.
How to bake to perfection (it's usually a lot longer than you think) and shape bread consistently.
How to correct a problem. All is not always lost.
Now I'm back home I'm looking for a like-minded individual to become a partner in a bakery in the south west of England.
*For example, according to reports, the average French man's baguette consumption had fallen from more than three a day in 1900, to about one in 1970 and just a half by 2013. French women were eating about a third as much bread as men. [ed.]
www.severnbites.com
@breadbakerdani
---
Originally published in True Loaf magazine issue 22, January 2015
Danielle is now based in Gloucestershire, teaching breadmaking in person and online. She is a past Real Bread Campaign ambassador.
A number of courses designed for people looking to set up / work in micro and small bakeries are available in the UK.
Published 21 Mar 2022
Real Bread Campaign: The Real Bread Campaign finds and shares ways to make bread better for us, better for our communities and better for the planet. Whether your interest is local food, community-focussed small enterprises, honest labelling, therapeutic baking, or simply tasty toast, everyone is invited to become a Campaign supporter.
Support our charity
Your donation will help support the spread of baking skills and access to real bread.