In 2010 Silvija Davidson visited the bakery at The Blackthorn Trust in Kent.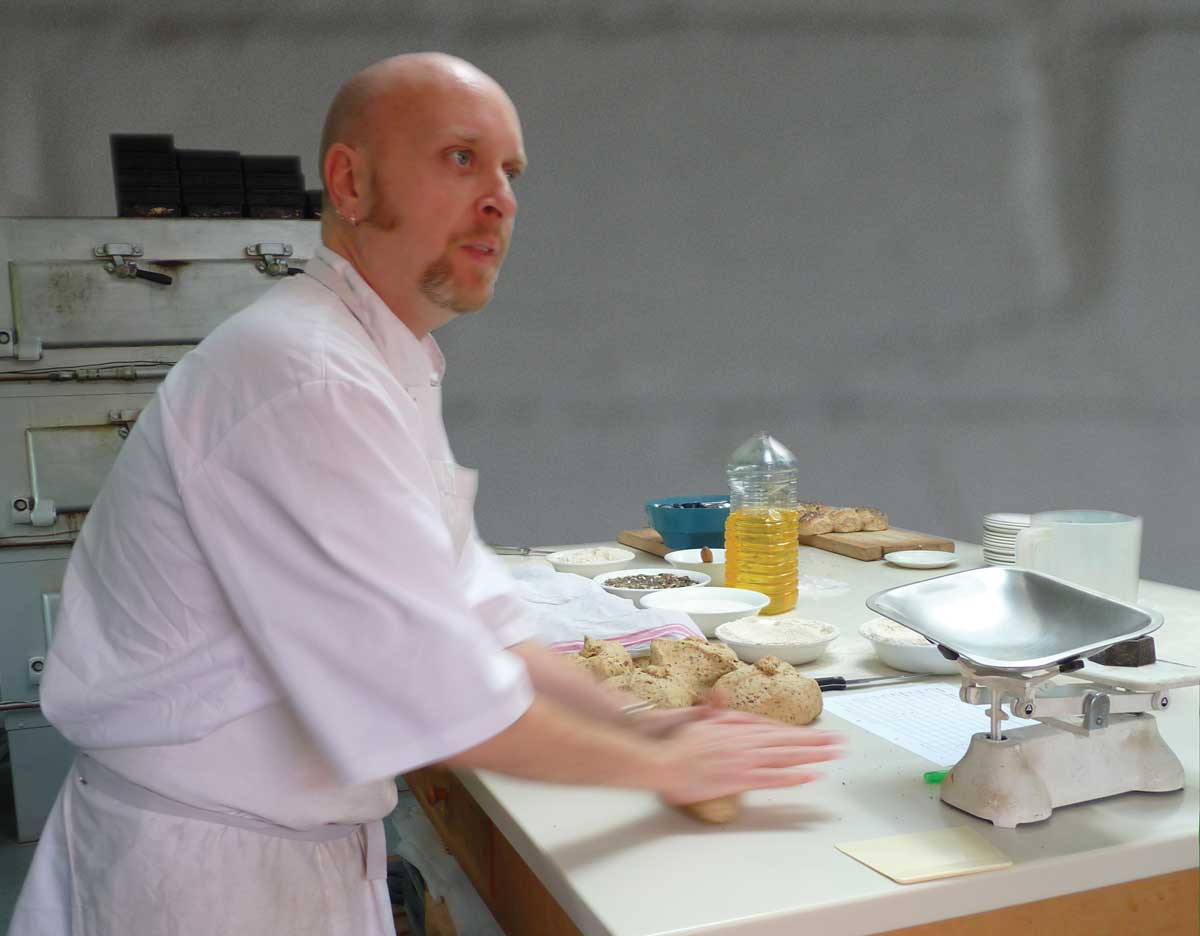 John Forrester © Silvija Davidson
The solid grey-stone wall and stark billboard charting The Blackthorn Trust are curiously forbidding, entirely belying the bright world within. Picking your way round to a hoped-for entrance is, in retrospect, something of a treasure trail leading to a charmed secret garden…and much more.
"Most people still don't know we're here," sighs Jan Prior, with a wry smile. Jan is the dynamic Chief Exec of the Steiner-inspired social enterprise that encompasses an anthrophilosophical medical centre, an extensive biodynamic herb, flower and vegetable garden, a craft workshop, woodwork shed, a bright, light-filled café and a kitchen-cum-bakery, the main reason for my visit.
Smiling faces
Jan's is the third of a series of bright, smiling faces to greet me. The first is that of Renate, wife of the founder, Dr. David McGavin, presiding over a jewellery workshop, where an air of calm concentration forms a quiet foil to the bright glint of stained glass ornaments and watercolours. The door is open to greet all comers, and to invite in yet more light. The door to the nearby kitchen/bakery is also wide open – the same air of quiet purpose, a little subdued clatter and the joyful sight of racks of crusty, speckled loaves. I find myself smiling.
"It's odd, that," remarks John Forrester, the baker, later on. "I've noticed that everyone who passes the kitchen and bakery always smiles." For the moment he is intently dunking oval shaped balls of dough into milk, then a medley of seeds, apologetic that he can't quite break off from the work yet, as his right hand man is off today and he's on his own.
The art of self-forgetting
Before that, Jan and I meet the head gardener, Rose, and her team. Rose memorably encapsulates the rehabilitation work as "developing the art of self-forgetting." After admiring a wooden-hooped poly tunnel and a greenhouse with custom made doors and propagator, we witness work in progress in the woodwork shed, where full time volunteer Ray is celebrating retirement by passing on a legacy of a lifetime's skills. Co-workers (elsewhere considered 'patients') openly attest to life-changing confidence and pride in their work. Geoff, throwing off management obsession, announces with a grin that he's due to shift from woodwork to baking, to learn a middle setting between high voltage and zero.
Over lunch, witnessing a splendid display of loaves for sale disappear in moments, I'm surprised to learn that John is not a baker born and bred. "I was a graphic designer for 18 years," he explains, "with a computer sucking life out of me. It all began with a cup of tea…" Working in a farm shop for two years, selling proper bread, he was shocked to "learn about the rubbish" in most commercial loaves. He taught himself to bake and, two years on, teaches a series of co-workers as well as running public workshops. "Hand on heart, anyone can do it," he insists. "It's nothing I can tell you; eventually you'll feel what's right, you'll find your way." He tells the story of Chris, a co-worker who decided to try and put his training to use working part-time in a supermarket 'bakery'. After endless hours of button pushing, and no sense of value, he walked out and returned to Blackthorn full time.
Vision
"We give people space to be individuals," explains Jan. "In this atmosphere of absorption, but filled with joking and laughter, the illness falls into the background." A clinical psychologist by training, Jan Prior had been a trustee of Blackthorn before taking on the Chief Exec position 18 months ago. Inspired by a keen belief in the potential for co-workers to achieve hitherto unexplored or unattained personal goals, whatever their physical or mental issues, she has a wide-ranging vision of how the Trust could develop in its reach, not least through interaction with the wider community 'outside the walls' and indeed networks with similar social enterprises.
One such is the Bread Maker in Aberdeen, an award-winning artisan bakery and coffee house, which provides meaningful work and training for adults with learning disability. The Bread Maker has taken inspiration from Blackthorn, and John Forrester aims to go there on a skills exchange visit soon.
More immediate is interaction with the local community – not so much anything identifiable as the nearby village of Barming, or the western outskirts of Maidstone, as a rough one mile walking distance radius, or more accurately an 'active geography'. "It's basically the people I encounter on my one-mile walk to work, or to the shops or the pub, and who I meet here, or who come to buy our bread, or eat in the café," is how John describes his idea of 'the community'. In fact Real Bread is proving a significant lynchpin; the bakery supplies two outside cafés, five farm shops and a vegetable box scheme, as well as individual orders picked up by visitors.
Vegboxes
John is delighted with the vegbox logistics. "We supply 60-80 loaves once a week to Luddesdown Organic Farms. They drop about 20 boxes here when they pick up the bread, which their customers then come and pick up. Because this has been happening for years, and we have an excellent relationship with them, we give them a special price on the bread. This gets our bread delivered out to people who don't live close enough to come to us and buy it. Through the packaging people find out about the charity and its work and they promote events for us via flyers in the boxes. Also we get business from them, making bread for their barbecues and open days, giving our charity a regular income and allowing our co-workers to learn a little about working for a business. Sometimes we get vegetables at cost price, too."
Other schemes are keen to take the bread, but Blackthorn is currently at capacity. The only way to expand would be to build a separate bakery; the space exists, but funding would need to come via a Community Supported Bakery scheme, which both Jan and John are keen to initiate. Jan envisages this as forming part of a green energy hub, with a further social / educational dimension; she aims, too, to involve war veterans. Meanwhile John outlines his vision of a circular architecture, a space flooded with light, everyone coming together to bake in the centre, equipment at the periphery.
I'm sorry to step back outside the walls. A central aim of Blackthorn has to be reintegration of co-workers into the world at large; yet it's a microcosm of how the larger world should be, but isn't: taking inspiration from the individual, working in co-operation with others and in harmony with nature; craft, skill and intuition at the core of work that is a source of pride to producer and receiver, and where each loaf of bread could not be other than a hand crafted, wholesome and delicious staple.
---
Originally published in True Loaf magazine issue 5, October 2010
Published 22 Mar 2021
Real Bread Campaign: The Real Bread Campaign finds and shares ways to make bread better for us, better for our communities and better for the planet. Whether your interest is local food, community-focussed small enterprises, honest labelling, therapeutic baking, or simply tasty toast, everyone is invited to become a Campaign supporter.
Support our charity
Your donation will help support the spread of baking skills and access to real bread.