In the midst of the pandemic, Irina Ruseva decided to launch the home-based Flour & Soul Bakery.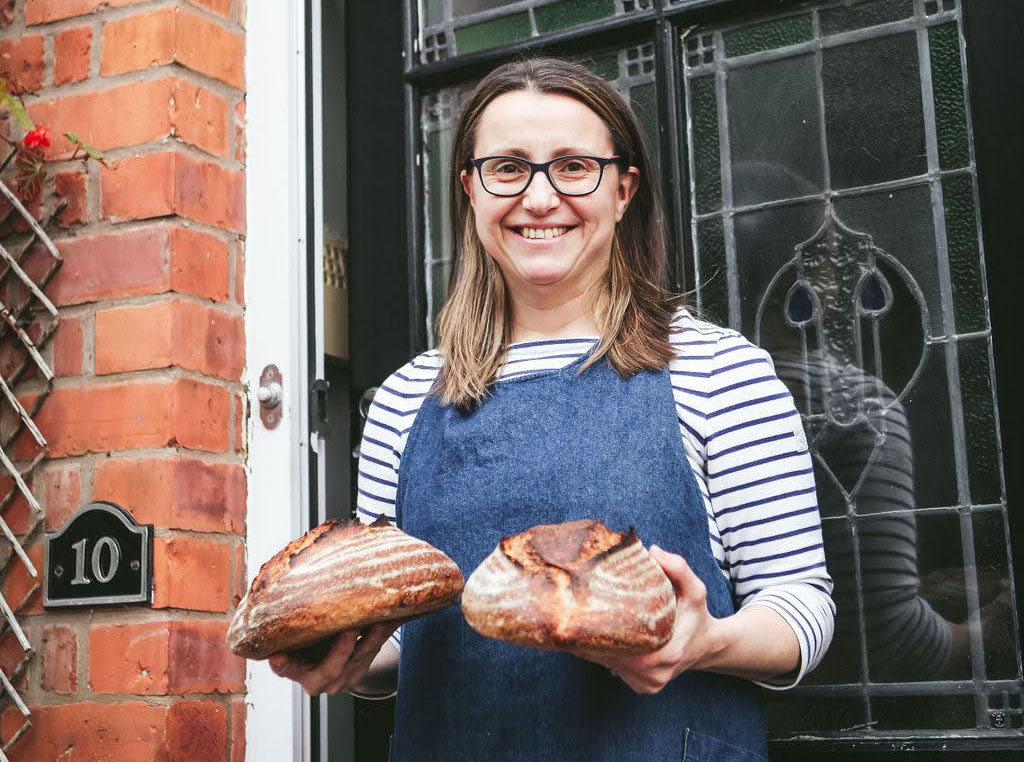 Irina Ruseva © Alison Groves
I came to the UK from Bulgaria in 2008 and worked for PwC in an office that was only a five minute walk from Borough Market in London. In 2017, just before Krum, our first child, was born, we moved to Urmston. After almost ten years in the capital, where I enjoyed some of the best food this country has to offer - and Real Bread was not that hard to come by - it was a bit of a culture shock. Suddenly I found myself having to travel all over town just to get hold of good bread.
Going bananas
I've always known how to make bread and had been making it at home with varying degrees of success for years. Then the first lockdown happened in March 2020 and I found myself home with a newborn, Zoya, and a two-year-old. They needed entertaining and, like many people, we turned to baking banana bread. This led to me deciding it was time to try my hands at making sourdough again. I loved the process and I got deeper and deeper into researching flours, methods and reading books. So much so that, on a whim, in September that year I registered our home kitchen with the council.
Four weeks later I posted on our local Facebook group that I was in the process of setting up Flour & Soul microbakery (though I wasn't sure what that really meant) and had four loaves available. They sold within minutes and I had more people asking for bread. There were two issues with this: I had seriously under-priced the bread and I was only able to bake two loaves at a time in our home oven. Also, even though I was still on maternity leave, nurseries were closed. This meant I had to bake with my two children around and often had to take them with me in our bike trailer to do deliveries.
I launched my subscription at the beginning of October 2020 with 150kg of flour in the cellar and three more months of maternity leave to go. I told myself I would carry on for a couple of months more and then see how I felt. Half of my original customers didn't sign up as the new, financially-sustainable prices were too high for them. Despite this, within a week I had 40 subscribers, several of whom paid for three months up front.
An honest crust
I run an honest business, selling an honest product. As a nutritional therapist I understand the power of food to promote good health and to change lives. I am incredibly passionate about my bread, the way it's made, where I source the flour (Walk Mill, using wheat from their own fields) and why it is actually good for you.
From the start there have been a few things I am not prepared to compromise on: Baking Real Bread, minimising the negative environmental impact of my business, and getting my work/life balance right. I decided that all my deliveries will be done by bike. I work with a volunteer group Urmston Bike Deliveries, who offer a low-cost bike delivery service to local businesses. I also do my own deliveries. My bike trailer loaded with the kids and bread is a hit with anyone who sees us on the road - we get smiles and waves all the time. I deliver within our postcode area and, for now, there are enough customers to make my business sustainable.
Wellbeing
The first (and subsequent) lockdowns have been difficult times for many people. As a family, the situation has allowed us to get a better balance and has opened our eyes to how important not rushing somewhere is for us. My partner and I decided we want a way to be successful and spend time together as a family, though I never ever imagined that would involve running a bakery!
Other than the sheer pleasure of working with the dough and baking the bread there have been a number of unexpected benefits. It has also been great for my mental health, though I'm not sure if that's due to baking, being outside cycling, or the joy on people's faces when they see me with their weekly loaf that fills me with joy and pride in what I do. Maybe it's all three.
It has also brought us closer to our neighbours - we didn't know anyone when we moved to the area three years ago and I now get recognised as 'the bread lady'. Many of my customers have turned out to be owners of other small businesses and I now buy things from them, keeping money within our local community.
Excited for the future
I left my full-time job to focus on something I love with all my heart and feel excited about. I work from home with a Tom Chandley Pico Artisan Plus oven, and a Sunmix mixer, arriving soon. With both kids back to nursery, I am looking at doubling my subscribers and continuing to grow and expand the range of products I offer. I was with the same company for over a decade. It was a great place to work, but I have never been as excited about a job as I am about the future of our own small business.
@flour.and.soul.bakery
---
Originally published in True Loaf magazine issue 46, April 2021
We're crowdfunding
Please pledge £10 or more today so we can publish Knead to Know...more to inform and inspire the next wave of microbakers bringing Real Bread to the hearts of their local communities!
Published 5 Jul 2021
Real Bread Campaign: The Real Bread Campaign finds and shares ways to make bread better for us, better for our communities and better for the planet. Whether your interest is local food, community-focussed small enterprises, honest labelling, therapeutic baking, or simply tasty toast, everyone is invited to become a Campaign supporter.
Support our charity
Your donation will help support the spread of baking skills and access to real bread.