In 2014 Max Tobias told us about his plans to give training and job opportunities to challenged and challenging young people.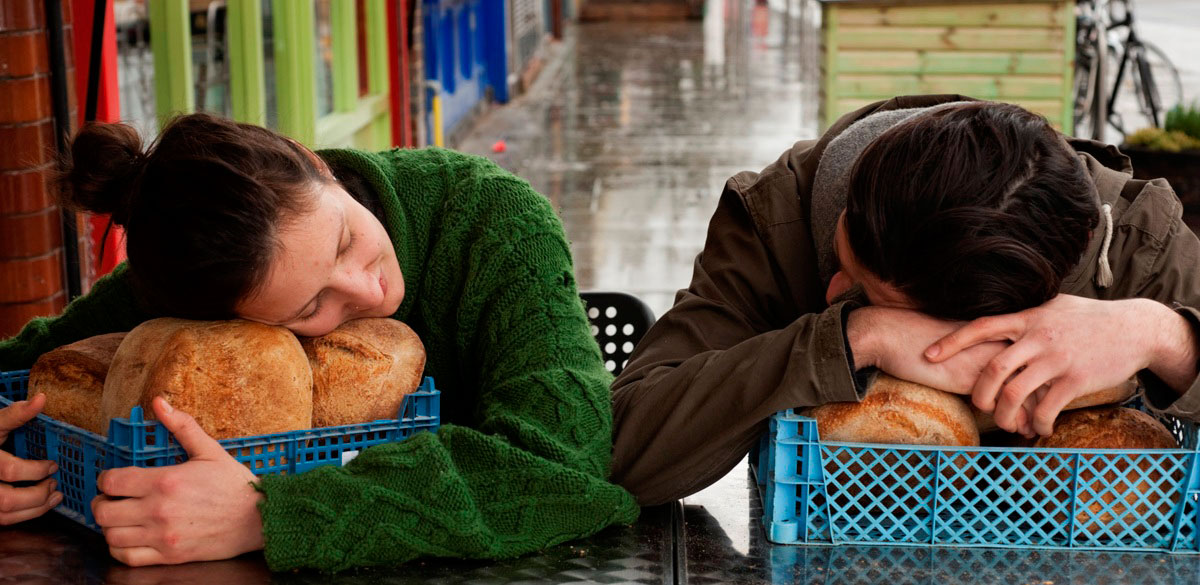 Rebecca Oliver and Max Tobias © Tom Groves
Young people don't just need mentoring and life-skills programs, though. They need jobs and incomes. The need opportunities to see what work feels like - in an environment that values and requires their presence. They need purpose in the lives. The Dusty Knuckle is our response to this.
Knocking on doors
Working with troubled kids was something I drifted into. A mate was leaving a position in a school for children with special educational needs, so I rung his boss and said: "I know John's leaving. Do you want another seventeen year old to fill his boots?" Bizarrely, they gave me a job.
The boy I looked after was ten. On my first day, when he got his spellings wrong, I watched him retreat to a corner and smash his head several times against a brick wall. My early experiences with young and troubled children are still relevant to my work today as a high-risk conflict mediator. We use the model of violence interruption: When someone is badly attacked, we knock on doors to try and prevent retaliation.
It is fascinating, brutal, emotionally exhausting and, often, very depressing. Kids of fifteen tell me their life is finished; that there's nothing left for them. In some areas, certain youngsters have become so socially depleted that their single most important priority is being the most ruthless and brutal on the block.
Bakery beginnings
Aged twelve, I made challah bread for my grandfather's funeral. It was disgusting. I couldn't understand why it was so horrible. I don't really know what it was that made me want to make bread again and again after this. But I have done, nearly every weekend for eighteen years. The idea of setting up a bakery that could employ young people had been growing in my mind for a while when I was put in touch with Ben McKinnon of the mighty E5 Bakehouse in east London, where I went on to complete an internship.
Things started gaining momentum. One of my oldest childhood friends, Rebecca Oliver – then a senior chef at Moro restaurant in Clerkenwell – told me she wanted to move on to something new and asked how serious I was about starting a bakery. Rebecca is a much more hands-on person than I am and with her involvement things rapidly gathered pace. I was soon surrounded by can-do people; my confidence started to grow.
Bakery in a box
We started baking once a week at Sweet Thursday pizzeria, using their oven overnight after the restaurant had closed. Our funding application to the School of Social Entrepreneurs was successful and things changed overnight. We have since secured a grant from UnLtd, and won a competition to occupy a forty-foot shipping container in the middle of Hackney. It is self-belief and a conviction in the potential of our idea that has allowed us to come this far. The astounding generosity of others has also played a big part.
We will start trading from our container in September 2014. The aim is to develop a solid customer base of local businesses, to develop vaguely uniform production systems and then start bringing in young trainees. Cross your fingers for us and if you're ever in east London, please come pay us a visit: We're going to need all the help and good luck we can get!
@thedustyknuckle
---
Originally published in True Loaf magazine issue 20, September 2014.
July 2021 update: The Dusty Knuckle has since moved to a more spacious (and warm) bricks and mortar bakehouse. Max and his team go from strength to strength. "Our goal is to train young offenders into responsible professionals so that they can live with dignity, earn legitimately, and contribute to society. We strive to make truly knockout food."
We're crowdfunding
Pledge now so we can publish Knead to Know...more to inform and inspire the next wave of microbakers bringing Real Bread to the hearts of their local communities!

"This book was a goldmine for us back in the day." Max Tobias, The Dusty Knuckle, London
Published 12 Jul 2021
Real Bread Campaign: The Real Bread Campaign finds and shares ways to make bread better for us, better for our communities and better for the planet. Whether your interest is local food, community-focussed small enterprises, honest labelling, therapeutic baking, or simply tasty toast, everyone is invited to become a Campaign supporter.
Support our charity
Your donation will help support the spread of baking skills and access to real bread.