Muna Reyal asked some of Instagram's super scorers for their top tips.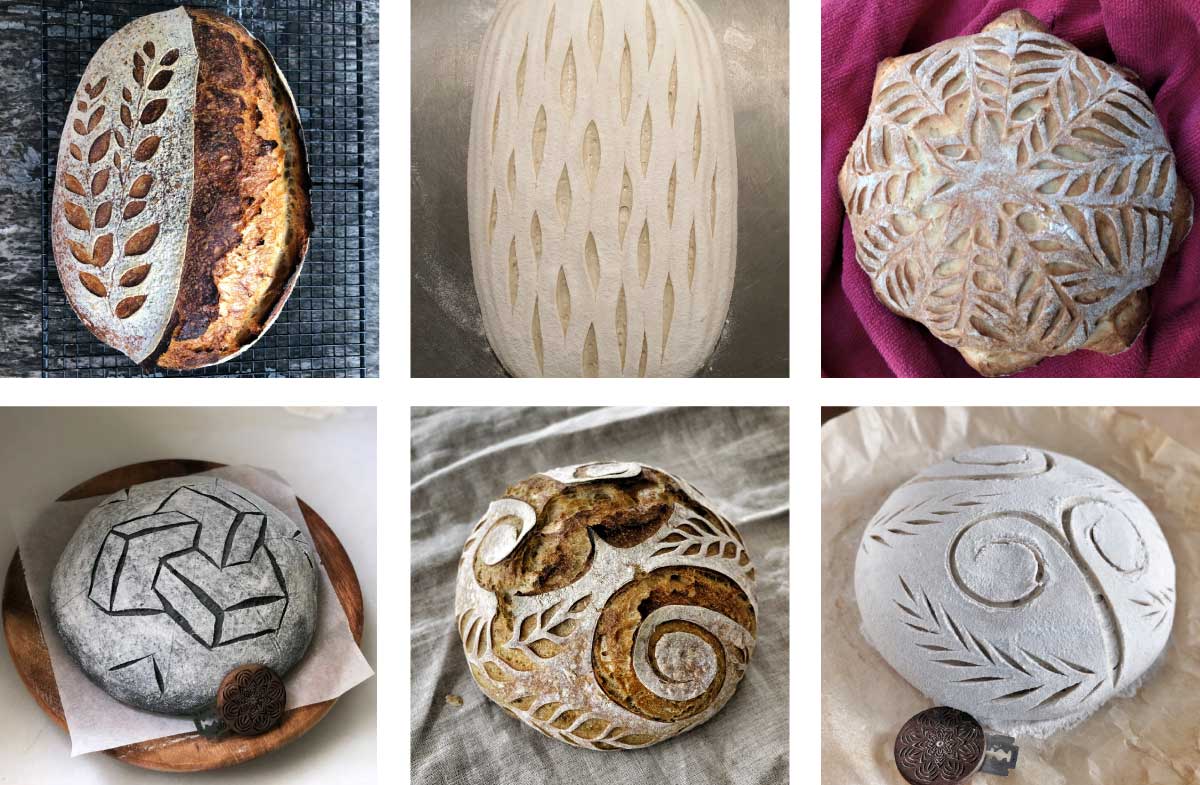 Photos © Barney Desmazery, Jacob Rosendahl, Ameena Nur, Mia Nyberg and Moran Golan
At its simplest, scoring dough helps to control its expansion during oven spring, but it can also become high art. While a busy baker only has time to give dough a few simple slashes, more intricate scoring has its place in window displays, competitions and the sheer love of bread art.
Taste first
Moran (Morgi) Golan (@dough_engineering) reminds us not to forget that the bread comes first – the scoring is decoration. Microbaker, and BBC Good Food skills editor, Barney Desmazery (@kensal_risen) also scotches any suggestion that you should compromise by using a denser dough to provide a better canvas.
That said, lower hydration does make dough easier to score. Jacob Rosendahl (@bread_by_rosendahl) suggests starting with 70% hydration and increasing as your scoring technique improves. Jacob tends to go for 75% hydration.
Mia Nyberg (@vilda_surdegen, Swedish for wild sourdough) recommends using a strong wheat bread flour to start with. A rye flour dough, says Morgi, is the hardest to manage as it tends to stick to the lame (the scoring tool). He suggests beginning with 60% hydration.
Shape tightly
Morgi uses the envelope-shaping technique. Jacob adds a similar lamination folding stage after stretching and folding and before coil folding the dough and also 'stitches' the dough in the banneton, pulling the edges into the middle.*
If your bread is tightly shaped, Barney warns that you might need include a big slash in your design to prevent the bread splitting through your pattern.
Perfectly proved
Morgi says that if your dough is overproved, it could collapse when you start to score, but if underproved, the slashes may not open up. Mia would choose a slightly underproved dough over one that is over. Jacob advises if that if your loaf has risen a lot and is wobbly, it could be harder to score and a bit lively, so keep your scoring simple, with smaller cuts.
Best scored cold
Cold dough is firmer and will produce a more dramatic burst during oven spring. If you don't retard your dough, or it's not 'behaving itself', Barney might even pop it into the freezer for 20 minutes.
Lame work
For really fine work, a knife won't cut it - you need a razor blade. The closer the blade is to your hand, the more control you have, but holding the blade itself is questionable safety-wise. This might be part of the reason that many of the bakers I contacted praise the UFO lames by Tyler Cartner, AKA Wire Monkey, whose range includes the exclusive Real Bread Loaf Mark design.
Net result
For beginners, Jacob recommends the net or lattice pattern because you just score lines as if marking the middle of a road, holding the blade vertically. How deep, how long and how close to each other? You'll learn by practice, but not too deep. If you score lines too closely, they may break out of the pattern during oven spring.
Leafy loaves
Barney's signature is a leaf design – he uses a piece of string to mark the stem on the dusted flour surface, then makes small nips along the stem that open into leaves.
For his leaf design, Jacob uses thin lines. Once he has scored the silhouette, he advises using light pressure to score in the leaf detail – deep cuts will open up in the oven, so just touch your blade lightly on the dough. Most scoring is done at a 90° angle to the surface of the dough, but to create an impression of a leaf falling on the dough, Jacob also scores under the leaf itself, holding his blade at an angle of 30–40° so that the leaf edge lifts up from the surface of the dough during oven spring.
Star bakers
Mia sometimes plans her patterns on paper or she might improvise as she goes. The flower/star pattern is one of her favourites, for which she credits Anna Gabur (@bread_journey). Mia says that they cut the deep lines around the petals a little differently – Mia cuts a deep, continuous silhouette around the central pattern, which creates a cracking effect that lifts the pattern, if there is enough spring left in the dough.
Mia also says that when you combine shallow and deep cuts in a pattern, the oven spring doesn't ruin the design so easily. If you want to avoid big cracks, let the dough ferment longer, so it's a bit overproved.
To cut curves and swirls, Mia uses a turntable (eg a lazy Susan) so she can cut and turn the dough at the same time. Her top tip for rounded swirls is to keep the dough moving continuously while holding the lame still. If you stop midway, you may not achieve a smooth curve.
Real Bread Campaign ambassador Ameena Nur of Jeju's Bakehouse (@AmeenaNur) also uses a turntable and some thread to section out the dusted loaf. Experience means she can now visualise how her scoring will open up in the oven; she usually holds her blade at a 45° angle, slashes fast and with confidence to avoid the blade snagging on the dough.
Morgi's signature designs are 'impossible' geometric shapes – straight lines that create repeating structures, often inspired by M.C. Escher. Rather than freehand scoring, Morgi finds a pattern he likes and tries it first on paper. His top tips are:
Deep slashes open up wider than light ones.
A straight slash across the top of the dough creates a leaf-like shape on the final bake because the centre of the slash will open more widely than the ends.
Lighter scores are harder to do, so if the dough hydration is over 70%, do them before the deep slashes, when the surface tension is at its strongest.
Morgi also sometimes dusts the dough with contrasting colours (eg white flour, purple beetroot power, black charcoal or orange carrot powder) before slashing, but says only use a very thin layer or it will crack as it bakes.
Mia offers this great way to learn. Make four loaves from the same dough, score as follows and see how they turn out:
Many small shallow (5mm) cuts all over
A few deep (10–15mm) cuts
Medium (5–8mm) deep cuts all over the dough
Combine shallow (4–5mm) and deep (10mm) cuts
The final tip is from Jacob, who uses time-lapse video to watch his bread spring in the oven. Although many people use a lidded Dutch oven for baking (gives a great crust), if you can see your dough rise, you will understand how your scoring influences the shape and patterns.
*Perhaps folding techniques should be covered in a future masterclass? Let us know! In the meantime, if you don't know what they are, an internet search for videos should help. Would you like to see more masterclass features? If so, on what technique? Better still – what expertise would you like to share in one? Email us: realbread@sustainweb.org
---
Originally published in True Loaf magazine issue 42, January 2020.
Published 29 Jun 2020
Real Bread Campaign: The Real Bread Campaign finds and shares ways to make bread better for us, better for our communities and better for the planet. Whether your interest is local food, community-focussed small enterprises, honest labelling, therapeutic baking, or simply tasty toast, everyone is invited to become a Campaign supporter.
Support our charity
Your donation will help support the spread of baking skills and access to real bread.