The constant baker
Chris Young spoke to Rory Cellan-Jones, the BBC's Technology Correspondent, about his passion for Real Bread making.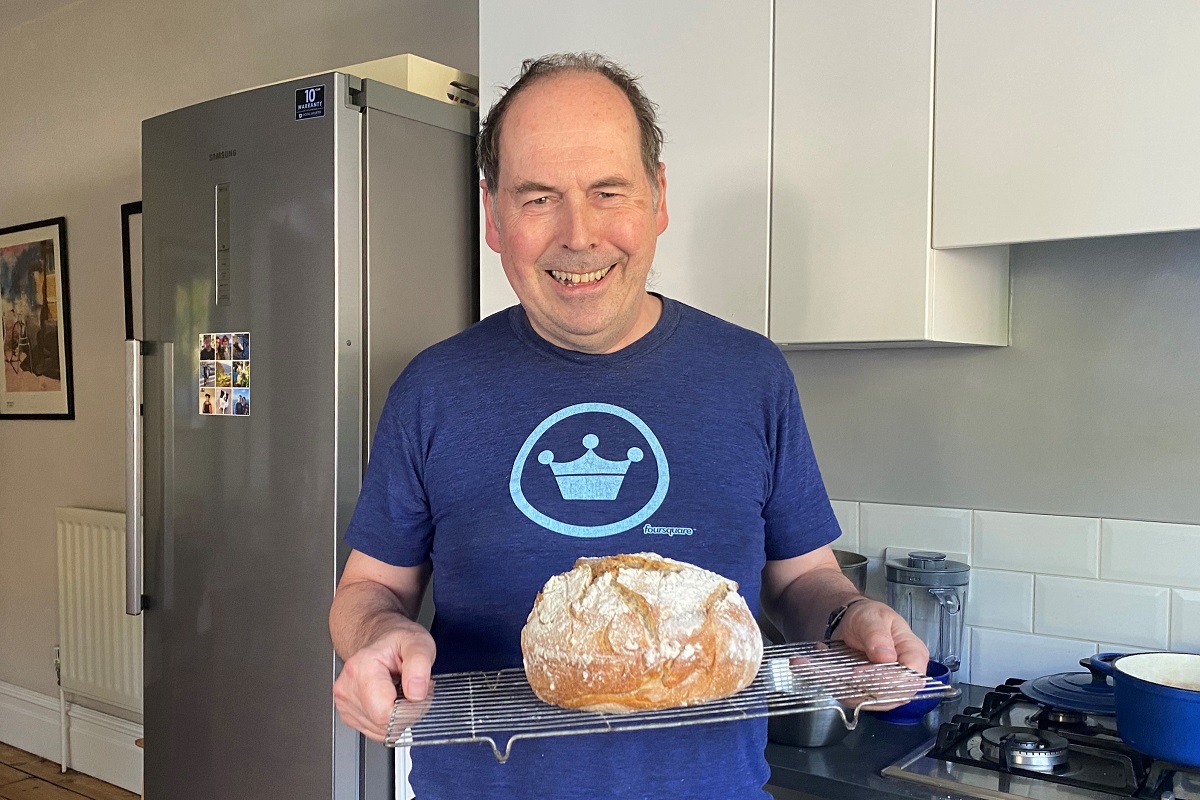 Having spotted Rory posting about #sourdough on social media, I discovered that his personal Twitter and Instagram feeds were largely dedicated to baking. Well, that and walking his dog. I caught up with Rory via a video call in May 2020 at the height/depth of lockdown to talk bread.
At one point during our chat, I ask Rory if he's been baking more bread over the past couple of months. 'Oh god yeah.' He starts trying to calculate how much bread the three members of his family eat across twenty one meals a week. 'It's constant, he concludes.
Sourdough starter
I begin by asking Rory when he started making bread and he tells me that the inspiration came during a holiday with friends six or seven years ago. 'My very oldest friend, David, who sadly died earlier this year, every morning he baked bread. Just very simple bread, y'know? A white loaf, sometimes made rolls, and my wife said to me "why can't you do that!?"' So he did.
'Then, after about two weeks, my wife said "well, what about sourdough?" Online research threw up a Guardian article and recipe by Hugh Fearnley-Whittingstall published during Real Bread Week 2013, which Rory says 'has since been my bible.' Baking this sourdough bread in a Dutch oven 'has become completely standard' in the Cellan-Jones house.
Decompression
'It's kind of an affront to me if we ever buy any bread.' In addition to sourdough loaves, challah has 'become a bit hit in our house and every now and then I make croissants. I've also made pain aux raisins.'
Rory increasing his baking as a Lockdown Loafer is despite his hectic schedule working from home: 'Just today, I've recorded my whole half-hour weekly radio programme, I've been on the TV three times, Radio Somerset, BBC World Service radio, Radio 5 Live and Radio 4. And it's only lunchtime.' I wonder if bread making is one of the things that help Rory to decompress. 'Exactly, exactly,' he agrees.
But mixing business with baking doesn't always work out. Rory tells me about a recent burger bun incident: 'I blame Donald Trump,' he says. In the past few days, Trump has tweeted about shooting looters and had his knuckles rapped by Twitter. 'You're supposed to leave [the dough] for the final rise under oiled clingfilm and I had to go away for a long time to write something about Donald Trump and Twitter. I came back and I hadn't oiled the clingfilm properly and it had stuck to it and they went *fthlt*' If that's how you spell the farty deflating sound Rory makes.
Flying saucers
Realising that I'm about to launch into a rant about Trump, I steer it back to sourdough, asking Rory if he has a particular passion for that method of bread making. 'I've got two starters. At one stage I had three on the go when somebody gave me some weird powder from the Middle East that looked very suspicious. The thing about sourdough is that it's something uniquely challenging and it's something you never quite get right. I mean, I'm still in search of my perfect sourdough loaf.' I assure him that it's a quest he shares with many bakers, including some with decades of experience who makes hundreds of loaves a day.
'I will put pictures up [on Instagram] but only of ones that turn out okay, not of the flying saucers.' I laugh and say that during a Zoom call with a group of our official Campaign ambassadors just the day before, Dilly Boase had suggested that we should do something to help reduce home bakers' anxieties about loaves that turn out looking like extra-terrestrial offspring. Watch this space for and initiative with the tagline 'alien babies taste great'…
Then Rory says something I've heard from many people over the years: 'Somebody was saying rather provocatively the other day "sourdough, schmourdough – it's no use as a sandwich loaf, which I kind of agree with, but I wouldn't like to say to anybody. We almost exclusively use it for toast.' The perception that sourdough is particular type or style of bread, rather than a method of making any bread in the world, is something we'll be addressing through our eight annual, international Sourdough September this year.
The magic of it
On the question of his favourite parts of the process, Rory has no hesitation in talking about a technique he learned on a course with baker and baking book author Dan Lepard at Cookery School at Little Portland Street. 'Just the magic of it,y'know? It does take time, a bit of stretching, a bit of folding and it all coming together and I find that very satisfying. I also find it satisfying when my bog-standard sourdough comes out properly.'
'I tell you, the one big innovation has been, incredibly simple, pikelets made out of a sourdough starter. I make them once a week now. Just take a couple of ladlefuls of it, bit of salt, bit of sugar, bit of bicarb, very hot pan – Bob's yer uncle. What's lovely is the contrast between thirty six hours on one loaf and five minutes.'
As well as saying making bread is a great hobby, Rory values it offering 'a great connection with all sorts of people. I am by no means an expert but everyone I know consults me, rings me up and says "listen, I've got this starter, it's not working, what should I do?" I don't know,' he laughs.
Rory's self-deprecation continues with a tale of his brother, who 'in lockdown decided to start doing sourdough and the sickening thing is that I think he's got better than me over just a few weeks. He posted on Instagram and I think: You're trolling me, because I've never been any good at that cutting patterns in, and he posted this beautiful loaf, which frankly looked prettier than anything I've ever done.'
Parkinson's
In 2018, a concerned BBC viewer contacted Rory after seeing his hand shaking during a report. This prompted Rory to visit a doctor and in January 2019 he was diagnosed as having Parkinson's Disease. With the interest in the therapeutic benefits of baking that led to me launching our Together We Rise initiative, I ask Rory whether the relationship between bread making and his condition is something he's thought about. 'It's not really, because at the moment I'm not particularly disabled by it,' he says. 'I mean it's a problem for me typing. I've spent all day at this bloody computer with a not a very good right hand, but for baking it's fine.'
Even so: 'You're right, about therapy. I've got a physiotherapist who's an Aussie who I talk to about cricket and rugby and that's good therapy. I've got a piano teacher I see every weekend and that's become nice, we spend a lot of time chatting. That's quite good for my Parkinson's and the bread is just another great interest and a rewarding thing to be doing. I think it's important to have some good things in your life when you've got a condition like that.'
Dan's the man
I ask what Rory has found helpful you along the way. 'I've been on two courses with Dan Lepard now. He's fantastic and I've really enjoyed a couple of loaves that he's taught me.' These are a focaccia and a pain de campagne with olives and dill, 'which is great.' Then there's 'talking to friends. Friends who are good bakers. That's great. Comparing and contrasting. But, yeah, Dan Lepard, absolutely an inspiration and he's just such a nice guy as well.'
Conversely: 'I also have a Paul Hollywood book which I use quite a lot and he's got sourdough recipes in that and they've never worked for me. Well, I mean, I like his other recipes. That challah, Jewish bread, has become a real staple of mine. It's just the sourdough section, it seems bizarre because the timings are just weird.'
People who matter
I finish by asking Rory if he has any plans to start a microbakery as a sideline. 'God no! It's a hobby, isn't it? The family gets a lot of pleasure out of it, so that's good. I get good reviews from the people who matter, y'know?'
---
SHARE