How Bob Wright's teenage tinkering eventually evolved into running a microbakery.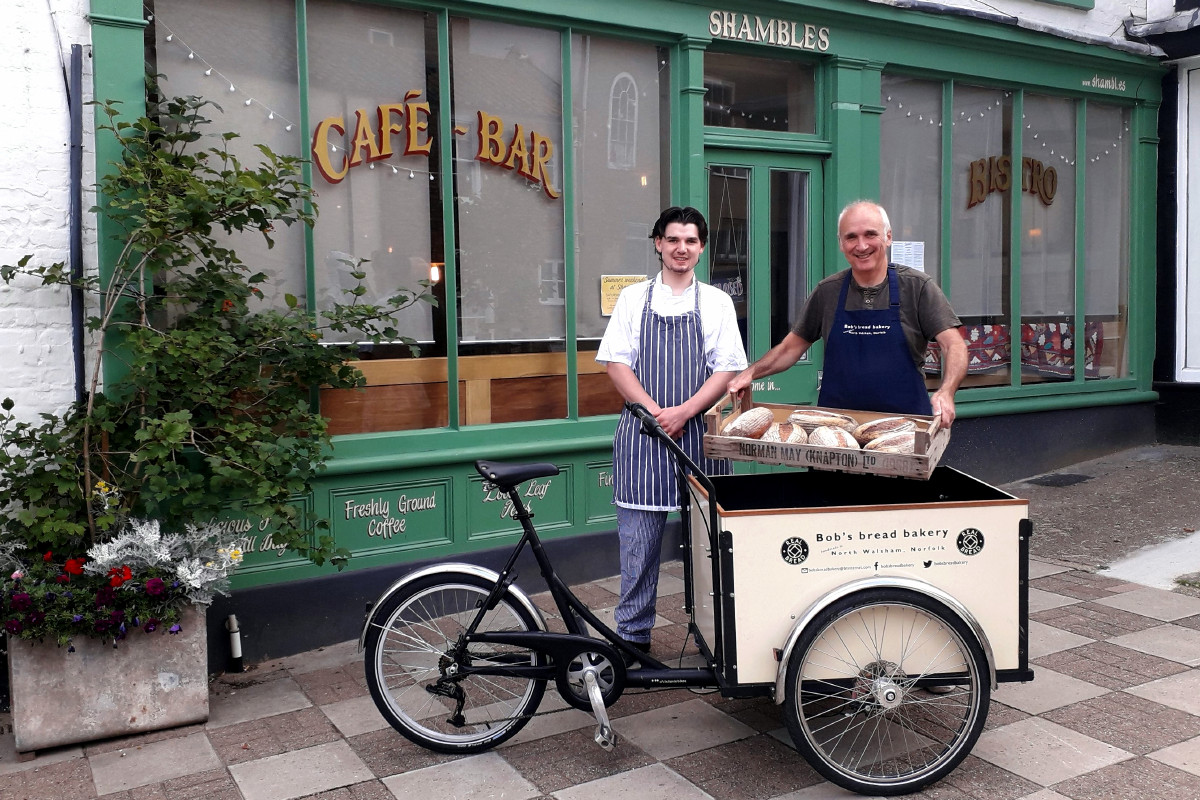 Photo © Bob Wright
I read in an Instagram post that said 'baking bread is sending love to a stranger'. I doubt that it's something that plays on the mind of a machine operator in an industrial factory often, but I like to think that Real Bread bakers are a little more romantic.
Firm and tasty sandwiches
People's paths to the oven door are varied. For me it all began in my childhood. My mother baked most of the bread eaten by our family and I still recall the aroma of her loaves as they cooled in the kitchen and the pleasure of her firm and tasty sandwiches, compared to the limp and bland offerings at friends' birthday parties.
In the perverse way of the teenager, as I grew older I shied away from the kitchen and never really experienced the simple delights of mixing and baking. However, flour had definitely entered my blood and when I left home it was not long before I tinkered with baking my own bread. My mother's was certainly an inspiration and so at that time was John Seymour's recently-published Complete Book of Self-sufficiency, which also had me bottling, allotmenting and trying many other food-related crafts.
From bricks to bread
A milestone in my bakery life was a recipe shared by a colleague from Yorkshire for his family's treacle bread. This wholesome, wholemeal loaf was a revelation that, 34 years later, has morphed into the 'builder's bread' that I now sell on my farmers' market stall. That name perhaps needs an explanation: My early attempts did not rise so well and my long-suffering wife unflatteringly compared them with the bricks that were then using to extend our house. In my defence, everyone has to learn their craft, but the name has stuck.
Microbakery
I'm sure that many of you also bake bread in your kitchens, by hand or by machine. For me the step up to becoming a microbaker came with the creation of the North Walsham Farmers' Market three years ago. At that time, no baker could be found to join the market and, fortuitously for me, someone recalled that I enjoyed baking bread and asked if I'd be interested.
Now, I'm a serial volunteer and so I promptly agreed without really realising what I was getting myself into. Multiple batches of bread are somewhat harder to produce and coordinate than my family-focussed, loaf-here-and-there experience up until then. I quickly learnt that the secret is to keep the oven full at all times. I used my professional project planning skills to produce a timeline for each type and batch of bread, so that (in theory, at least) loaves were ready to pop into the oven as soon as the previous batch came out. Working with one eye on the timer became a habit and, over time, the duration of my baking reduced as I became more efficient.
Bob the baker
My first tentative market stall proved a success and now, with a second oven to speed things up, I hand make around seventy loaves of seven or eight fairly traditional and sourdough types, for farmers' markets. In-between those events, I bake for a local bistro, neighbours, friends and colleagues too. Some I deliver on my three-wheeled Christiania cargo bike, which has the twin benefits of keeping me fit and providing a mobile advertisement for my wares.
Most Bob's Bread Bakery loaves are slow breads, made using a sourdough starter or small amount of baker's yeast. After much trial and error I can now confidently mix my preferments before breakfast, then mix, prove and bake through the evening and overnight. I don't have the luxury of a prover/retarder, so I am at the mercy of varying ambient temperatures in the kitchen. Summer heatwaves or winter heating can result in over-proved loaves if I'm not watchful.
Learning aids
At the start of my baking journey, the Real Bread Campaign's book Knead to Know was a very helpful and inspirational guide in general, and especially on insurance and registering with the local authority. Most of my baking skills have been self-taught but I was fortunate to attend a sourdough course at Pump Street Bakery in Suffolk. This de-mystified the process in a way that reading from a book can never do as well. I would recommend training like this to any aspiring baker.
Ingredients and kit
When I began, I bought small bags of flour from my local supermarket, often emptying their shelves. I quickly discovered Shipton Mill's range of flours and now stacks of their mail order boxes are a permanent feature of my hallway. Local provenance counts for a lot in farmers' markets and I am now experimenting with flours milled locally from Norfolk-grown grain, which recently have become available.
A loaf may be made in a single bowl and baked in a single tin; but I, like most bakers I expect, have accumulated a vast armoury of bowls, jugs, tins and bannetons which certainly help me to keep ahead of the ovens, but do generate a vast amount of washing-up. A kitchen slave is on my wish-list.
Feedback and the future
I have an unfortunate tendency to doubt the quality of every batch I bake, so it is marvellous when customers regularly return to buy from my stall, and when I receive praise from them face-to-face or on social media. That feedback is very inspirational and keeps me going in the middle of each long bake.
So what of the future? I am now semi-retired and my baking has increased to fill my days. A Rofco B40 oven will be added soon, which will speed up baking but will in turn put pressure on the preparation side of the process. Until now I have been proud to advertise that I have hand made every loaf, but I expect that an antiquated Hobart mixer will need to be installed before too long, as my making and baking outputs will need to increase in tandem.
I like to think that my mother would be proud that I have built upon her example and I often feel her watching over my shoulder. From a hot kitchen surrounded by the aromas of rising dough, to bagging up loaves on my stall and handing them over to customers, baking bread is indeed sending love to a stranger.
---
This feature was written in February 2020, before lockdown.
Published 12 Jun 2020
Real Bread Campaign: The Real Bread Campaign finds and shares ways to make bread better for us, better for our communities and better for the planet. Whether your interest is local food, community-focussed small enterprises, honest labelling, therapeutic baking, or simply tasty toast, everyone is invited to become a Campaign supporter.
Support our charity
Your donation will help support the spread of baking skills and access to real bread.