Bringing home the bread
British Community Supported Baking pioneer, Dan McTiernan, writes about this solution to not all local communities being large (or willing) enough to make a conventional high street bakery viable.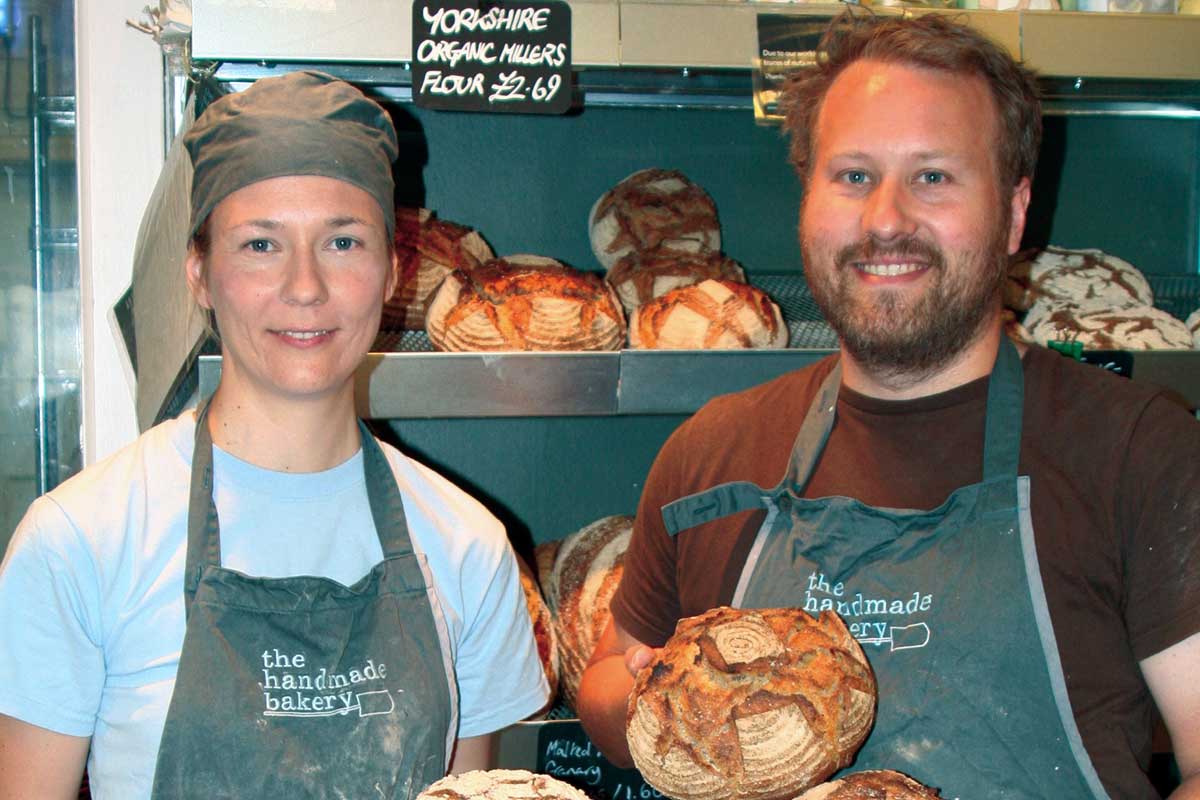 My journey into baking has been concurrent with the birth of the Real Bread Campaign. My wife Johanna and I decided to start The Handmade Bakery the same month the Campaign was launched and as we were coming rapidly upon our second anniversary in November 2010, I wanted to reflect on that journey, what it has meant for us as a family, how the bakery has affected our community and how that sits within the wider movement of which the Real Bread Campaign is at the vanguard.
Prelude
The prelude to starting the bakery was for me a couple of years of upheaval. We moved to Marsden, a small Pennine village in West Yorkshire knowing almost nobody and with Johanna nine months pregnant. I started a new job as a communications officer for an environmental charity in Bradford which meant a three-hour commute every day on the train. The work was interesting and I hoped it would prove useful. It had been my intention since leaving a career in television to search for something to do that did little harm to the world and if possible actually contributed positively.
The arrival of our son was wonderful and terrifying in equal measure and consistently exhausting. He brought another layer of meaning to every choice we made as a family and by consequence a deepening responsibility.
Work made me increasingly aware of dangers we faced both environmentally and societally and this began to take its toll. My long commute gave me plenty of time to think and those thoughts gradually became bleaker as I observed grim faced commuters travelling to and from - what I didn't know - but it seemed blindingly obvious to me that whatever it was, it wasnít bringing them much joy.
Balancing the equation
I sat at home and did the calculations. I added up what we spent on fruit and veg per year at the supermarket, and then worked out how many fewer hours I could work per week if I grew my own veg at home - space and skill dependent - in order to balance that equation. I calculated that it came to a day and a half per week. The more I looked around at my fellow commuters, the more I began to question our collective sanity. We were working to consume and that seemed out of balance with a basic human need to wrest back control and to activate the producer latent within us all.
Then my family bought me a bread making course at River Cottage as a Christmas present which became the catalyst for the decision that changed our family's life completely.
Being from a rural Finnish family, Johanna had been a keen home baker since childhood. Her family had a sourdough starter at least fifty years old and baked large flat rye loaves in woodfired ovens regularly. Half of my course had been spent with Aidan Chapman, then at Townmill Bakery, and his zeal for slow fermented bread and for baking as a way of life charged me up somewhere deep at my core.
We stopped buying bread and baked all of our own at home. Friends started commenting on how tasty it was and before long we were baking for them too. Johanna had been starting to think about getting back into work and wanted a new direction. It was she who saw the potential and meaning of what we were doing and stated one day in a moment of inspiration that she wanted to start a bakery.
A Community Supported Bakery is born
We had no money, no equipment and no premises. Through work I had come across a model that helped producers in similar situations start up veg businesses and made the link between Community Supported Agriculture and what we wanted to do. We decided to try a subscription model for a bakery in which members of our community would pay, sometimes as much as 12 months in advance, for bread which we would bake for them each week. We decided to call it Community Supported Baking (CSB). A week later we came across Andrew Whitley's lecture for Howies' DO series on the Internet, in which he advocated just such a system as the premise for a revival of small community bakeries. Johanna contacted him immediately and it seemed destined to be.
We launched the CSB, baking loaves two at a time in our Ikea oven at home. Our village welcomed The Handmade Bakery with open arms. By investing in the bakery's future our customers were also making the fledgling transition from consumer to co-producer. When we got to seven hours per bake we knew that our domestic oven had had it...
Still without any capital to speak of, we approached the owner of our local Italian restaurant. He had a decent pizza oven and was more than happy for us to hire the restaurant during the day to bake from when it was otherwise closed. Our capacity was now a dozen loaves at a time.
For the first month or so we kneaded 130 loaves each Saturday by hand. A 350 quid investment in a Hobart mixer via eBay made life substantially easier.
Meaningful revolution
At last I had found work that had explicit meaning. We use organic ingredients and artisan techniques to create nutritious and satisfying loaves of bread for the community in which we live. And as customers leave clutching warm loaves to them, they have smiles on their faces. A few months later I took the plunge and jacked in my other job and made the five-minute commute my only one.
The bakery has revolutionised my life. It has meant we can share our son's care more equitably and it means that Johanna and I can work together sharing our enthusiasms and stresses as producers and creators of a collective destiny rather than simply as begrudging workers/consumers.
In its own premises for over a year now, the bakery is set up as a worker co-op which now employs nine people in one way or another. We bake 1100 loaves per week and are coming rapidly to our 50,000th loaf. We now teach others to bake at home and run an 'how to start a community bakery' course as well.
Built around the politics and ethics of cooperative working, organic agriculture and community scale business, The Handmade Bakery has been an inspiration to me personally, has strengthened our family, and has hopefully inspired our community and other groups of people around the UK trying to bring Real Bread home.
Since this article was published, Dan and Johanna moved on and The Handmade bakery continues as a not-for-profit workers' co-operative. As at June 2019, it 'consists of a flourishing bakery producing 2000 loaves of Real Bread and patisserie each week, and a vibrant contemporary café space.'
---
Originally published in True Loaf magazine issue 5, December 2010
---
SHARE