Bread peddlers
The founders of Studio MICAT, Michael Garnett and Cathrin Walczyk, talk about the motivation behind their outdoor gym that uses human effort to process grain, knead dough and fuel a wood-fired oven to make bread.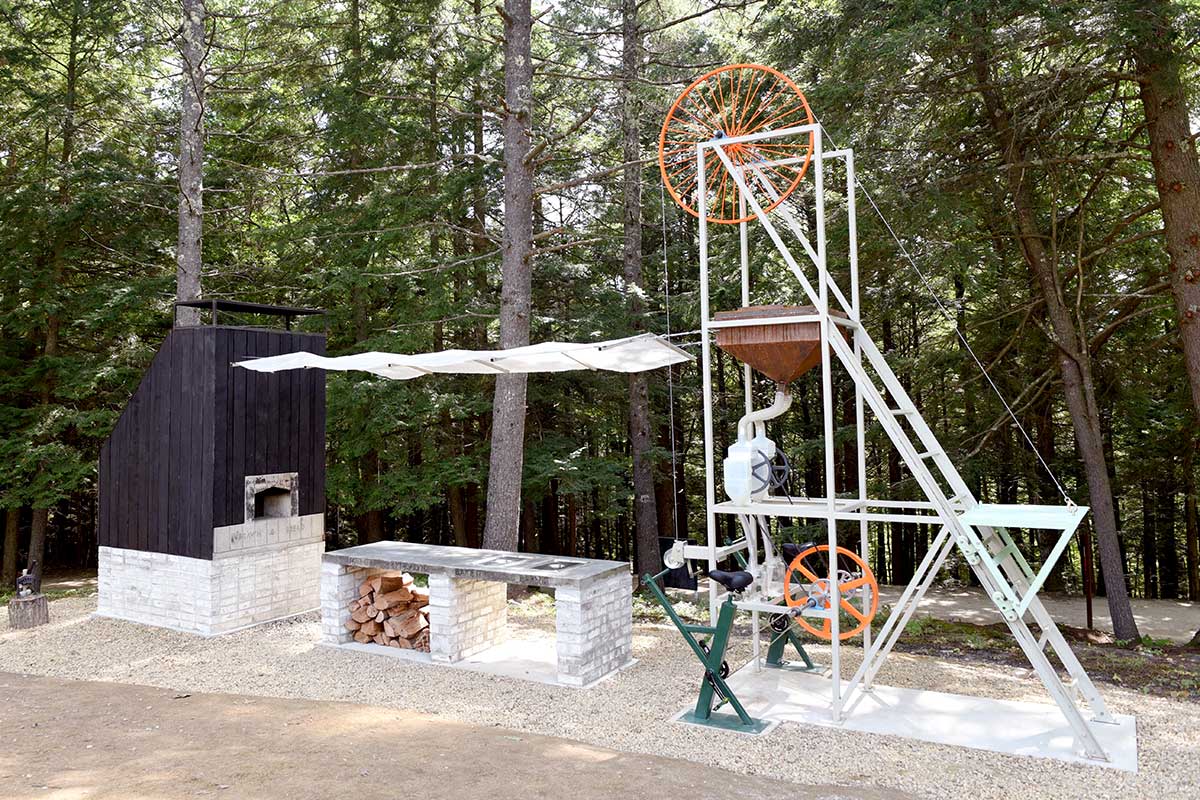 Two things came together to bring Brawn & Bread into life: our love for sourdough bread, and our admiration for Beam Camp, a making and collaboration summer residential program in New Hampshire for 10-17 year olds. We believe that making is integral to being human and a wonderful way to empower young people. We had been following Beam Camp's incredible work for some years and finally decided to enter their yearly design competition. This is open for all and invites artists, architects, designers and other creatives to submit "visionary ideas that culminate with a unique, ambitious, and spectacular product". Guided by a dedicated team of multi-skilled project leaders, these ideas then get turned into reality by up to 100 young people their idyllic campus, nestled deep in the woods.
'We wanted to design something that had a purpose'
When we started brainstorming for the project we wanted to design something that had a purpose and would, if we were lucky, have a lasting legacy. Having been baking our own sourdough for a number of years we had become fascinated by the alchemy of combining flour, water and salt with time and the craft that is required to tame this process. And so Brawn & Bread was born.
Work for those carbs
The Western world takes its daily bread for granted and is becoming increasingly distanced from the physical effort required to get food on the table. Eating is all too easy and our sedentary society is therefore encouraged to 'compensate' by expending energy on highly specialised exercise equipment in expensive gyms. Our proposal was designed to gently highlight the irony of this disconnect. It relinks effort and reward, requiring a whole body workout of its users and in so doing provides the sustenance to refuel afterwards. "You've got to work for those carbs", as fourteen-year-old camper Isadora put it.
Our gym deconstructs the process of bread making into a linear series of activities: A cable winch is used to haul a wheeled carriage loaded with grain sacks to the top of a steel frame. The grain is loaded by hand into a hopper that feeds two pedal-powered grain mills. The resulting flour is then fed into glass jars where it is collected and added to a sourdough starter. The dough is prepared, kneaded, proved, shaped by hand and finally baked in an oven fuelled with hand-split wood.
Skateboard wheels
Overjoyed by the news that Brawn & Bread was chosen we started drawing up the machine in January 2018 and ironed out the details in weekly Skype calls with the Beam project leaders in LA and New York. Their 'can-do' attitude was infectious and the collaborative inventiveness a real joy. None of us had ever built such a machine, so there were many challenges to be worked through. We used skateboard wheels for the grain lift, for example, and standard catering pans for the proving bowls inset into the workbench. Parts that connect the hopper to the two mills were digitally modelled and 3D-printed. Beam Camp sourced a vintage fly wheel on eBay to smooth the motion of the pedal-powered mills but it was decided that the big pulley wheel at the top of the structure would be made on site by the campers - no mean feat. The project was built in the final two weeks of the camp in August.
'We can make bread forever'
As well as mastering the manual construction skills, the campers also learnt about the principles of fermented slow-food production, making kimchi, pickles and starting their own culture of sourdough levain. Every day, a group would bake up to 20 loaves for the whole camp, delicious bread from hand-milled rye and wheat. To begin with these were baked in the kitchen's ovens and later, once completed, in the Brawn & Bread oven.
Respect for the humble loaf
Beam Camp's focus on creative problem solving, teamwork and community has a broader goal. Project specialist Mitchell Dose described Beam Camp's approach: "We're undertaking these incredibly challenging, sculptural and technical tasks of making physical things but hopefully those processes, thought patterns and trials benefit you in other areas of life."
Rafi, aged 12, summed up how empowering the project had been; "We built this oven in a month. Not even, two weeks! And now we have water and we have this grain, we can make bread forever."
Brawn & Bread will remain a feature of daily camp life in summers to come, and will continue to provide fresh bread for up to 150 campers and staff. With each daily effort, it is hoped that the shared knowledge and craft of baking will grow and with it, a greater respect for the humble loaf. We have been thoroughly inspired by the work of Beam Camp and are looking forward to further opportunities to work with children on ambitious projects in the future.
---
Originally published in True Loaf magazine issue 39, April 2019
---
SHARE