Botanical breads
After 35 years baking, Cinnamon Square owner Paul Barker still strives to try new ideas and techniques. In 2018, Paul won a major baking industry award for his 'botanical breads', but what does he mean by this?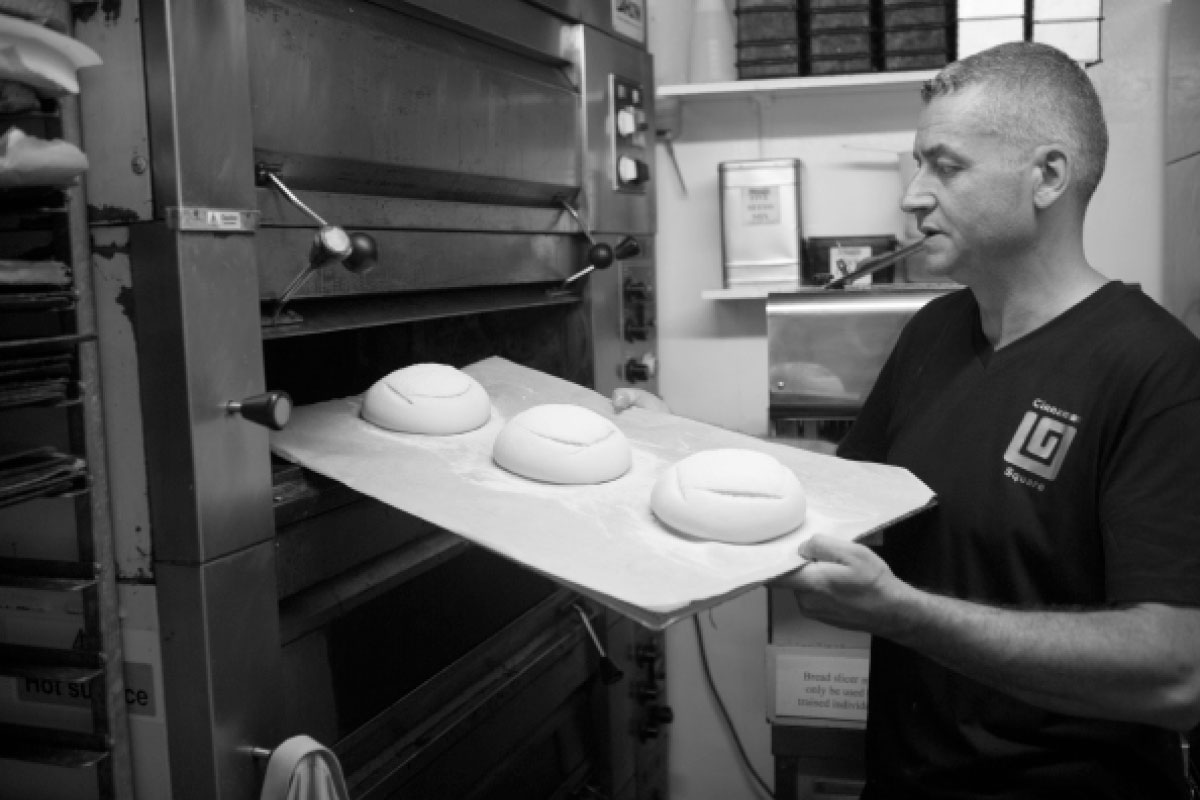 For thousands of years, fermentation has been used to preserve food and to make drinks. During particular types of fermentation, yeasts produce ample carbon dioxide to raise dough. Usually, bakers ferment grains, or flours milled from them, but wild yeasts and bacteria are also abundant on fruits, flowers, plants and vegetables. Botanical baking means harnessing these to leaven wholesome breads, whilst creating subtle flavours and aromas.
Endless flavour combinations
My very first botanical loaf was leavened using fermented magnolia petals from my garden. I was instantly hooked, and have spent the past couple of years perfecting my technique. The flavour combinations are endless. Stronger flavoured ingredients come through much more strongly in the baked bread. Ingredients with subtler flavours can be supplemented with complimentary inclusions in the dough. For example, one combination I use is soft figs, which enhance the flavour and visual impact, while fennel gives it an aniseedy kick.
Botanical breads have sparked great interest amongst our customers
If you bake sourdough regularly, then making botanical breads will be easy to do. You can use a dough leavened with fermented botanicals to make the same breads as your regular sourdough loaves, though the fermentation may be faster. Botanical breads also provide a unique way of using old fruit and vegetables, reducing our food waste, which is of critical importance.
Get busy with the fizzy
To ferment your choice of edible fruit, vegetable, plant or flower, fill a jar with water and the chosen ingredient, and leave it for 1-3 weeks to ferment. I call this the botanical water. For ingredients that are low in sugar, adding honey to the jar from the onset helps feed the yeast. When fizzy, I combine this botanical water with an equal weight of flour to make a 100% hydration starter culture. This receives two further feeds at 12 hour intervals, and should rise well after feeding. This botanical culture is useful as it provides a quality control test for the activity of your ferment.
You are now ready to make botanical bread with this active botanical water and botanical starter culture. As an example, my botanical watercress bread recipe is simply flour, salt, fermented watercress water, and a botanical starter made using this water.
My botanical breads have sparked great interest amongst our customers, who have enjoyed testing out the various flavour combinations I have been experimenting with. Their interest is especially piqued when they learn more about the process itself and the multiple benefits it offers, both in terms of flavour and perhaps nutritional value. We also make a weekly batch of botanical bread at Cinnamon Square to donate to our local food bank to provide wholesome, nutritious breads to people in need.
---
Originally published in True Loaf magazine issue 38, January 2019
---
SHARE