Flour re-arranging
Martha Brown, owner of Forge Bakehouse in Sheffield, shares her personal account of navigating the business through lockdown.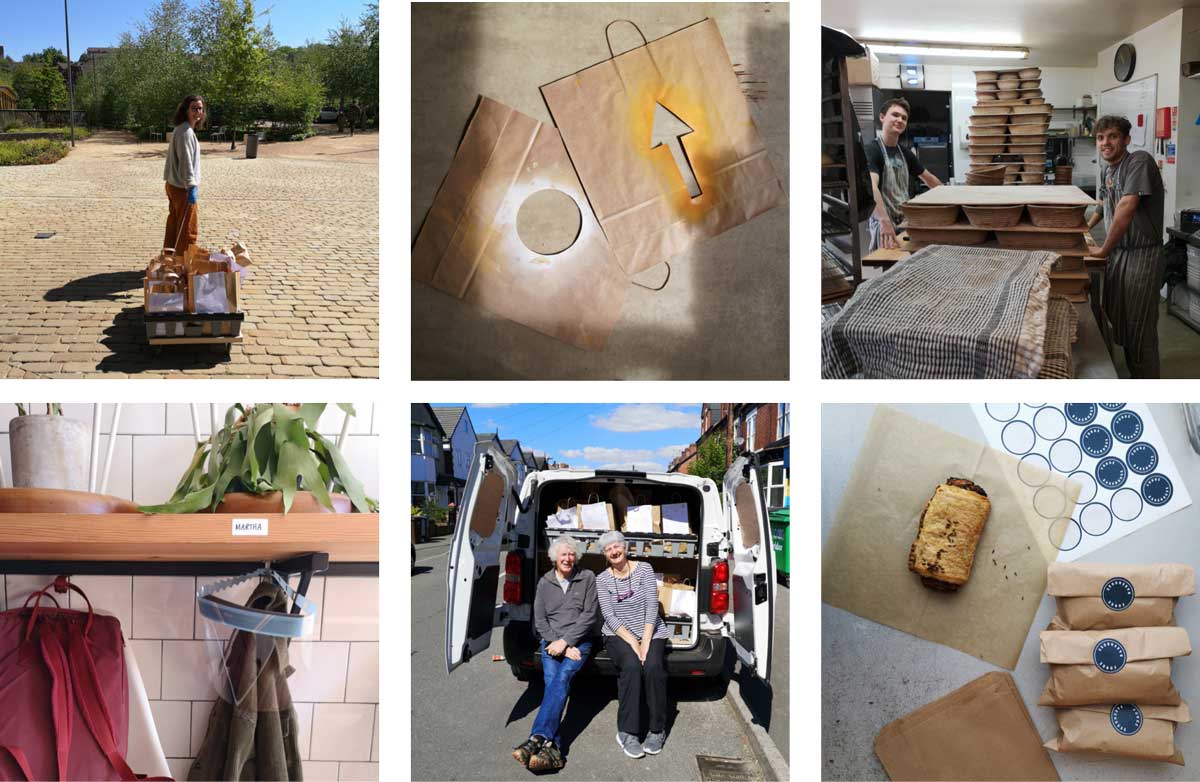 From 12 March, we changed what we did every day at Forge Bakehouse: New hygiene and safety measures, new limits in service and contact between staff and customers. We reduced seating in our café, then made the decision to close it before the government forced us to. I held off asking staff members to take unpaid leave and didn't even think to lay anyone off. Then the government announced the Coronavirus Job Retention Scheme and grant for small businesses, at which point we took the decision to furlough two thirds of our staff. This left only nine of us working.
Web slinging
We adapted quickly and were lucky to have an online shop already. For a week we did both online sales and kept the shop open, with the counter pushed up against the door so no customers came into the building, before closing the shop. We had previously only used our webshop for Christmas - a simple two days of packing orders for collection only. Now we opened it to take online orders five days a week for collection or delivery. Customers dealt with the switch and ordered in their droves - the demand was far greater than before coronavirus. As supermarket shelves emptied, we were able to bake from scratch each day and keep up with the orders - just!
It felt like we were scrambling, though. Our website wasn't built to cope with thousands of orders and our reduced team were working long hours under stressful conditions, having to deal with increased production and the uncertainty of the world. The changes demanded needed new systems, created new admin and it felt like there were not enough hours in the day to organise this, particularly on top of looking after staff concerns and health needs. I worked round the clock to organise for each day and worried each night rather than sleeping.
Furlough and flying solo
On Monday 6 April, I chose to close the bakery altogether to allow time to work on the website, for everyone to have a break, a breather, and to be able to look critically at our systems and make changes. Initially I wanted to close for two weeks, but the minimum furlough term of three weeks forced my hand. Everyone apart from me was furloughed during closure, leaving me to work on the website, re-stock and re-organise the bakery. The business was closed for three weeks and I used the £10,000 grant to cover losses in that time.
It was always the plan to close for a set time, rather than to close and see how things went. I felt a commitment to our customers to continue baking, and that it was a privilege that we could continue, when so many other local independents were forced to close completely. Opening would help protect staff jobs and my livelihood that I had spent seven years building. Our only goals during this time were to cover our costs and be in a good position to retain as many jobs as possible.
A local shop for local people
In the early weeks of lockdown, flour and yeast were in very short supply for homebakers. So when we re-opened on 27 April, we began selling flour, yeast and other essentials, including butter and milk, in addition to as well as our Real Bread, pastries and other goodies.
We introduced group deliveries, with each group having up to 15 member households making a joint order for delivery to a single address on their street. People in each street then work together to distribute the order amongst their group's members. We have more than 100 groups registered for deliveries each week and I'm proud of our system. It enables people to help vulnerable neighbours to continue enjoying their regular single loaf each week, offering a little bit of normality, while for others it's a new weekly treat.
Behind the scenes
Most of the changes we made during closure were behind-the-scenes improvements to the website, allowing us to process orders more efficiently. It's certainly not perfect – for example, our webshop allows customers to order weeks ahead of time and we have no way to limit fresh stock each day. I know lots of bakeries open their webshops for a specific collection date at a time but we would have had to re-build our website to do this and we like the flexibility ours allows customers.
Orders are now slowing down, so we aren't risking overloading bakers with giant production runs anymore, but it does become a scary prospect when we have particularly quiet days. Is it just the usual ebb and flow, or a sign that people are reverting back to their old ways now that we are easing out of lockdown? It looks like we will have to begin to adapt again. I'm finding the stress of building the business back up hard to deal with at the moment. How will we find ways to open our café again with reduced seating? Everything needs to be financially sustainable and more streamlined, rather than the 'doing everything' of the past. It's a time to reflect on what we were doing and exactly why we were doing it.
Comms
Communication has been key during this whole process. We used social media to talk to customers, giving daily updates about our offering and ways we wanted people to use our services. The bakery is covered in signage. It's mad how much information you need to put out into the world for people to understand what, how and why you are (and aren't) doing things. We definitely still find new black holes or misunderstandings, especially with ordering. We have inundated staff members with email updates about support for them, plans for the business and new health and safety at work. I think they have appreciated the transparency and I hope it offered those who are still at home reassurance that they will be safe when they return to work.
A positive, lasting change
I think there have been a lot of positives - we have adapted quickly and successfully, the support from our customers has been incredible and we now have a lot of new ones. I have enjoyed the simplicity of our offering, even if there is a lot of repetition. It's very easy to get carried away with new projects, adding and adding to what you do, are all the additions really necessary? If I find time for proper reflection, it may have a positive, lasting change on the business as we rebuild what we do on our terms.
---
Originally published in True Loaf magazine issue 43, July 2020.
---
SHARE