The Swedish things in life
The Campaign has supporters in more than twenty countries, and weíre always keen to help you share experiences of the Real Bread culture where you are with your fellow supporters around the globe. Here is Dan Brown's view from central Sweden.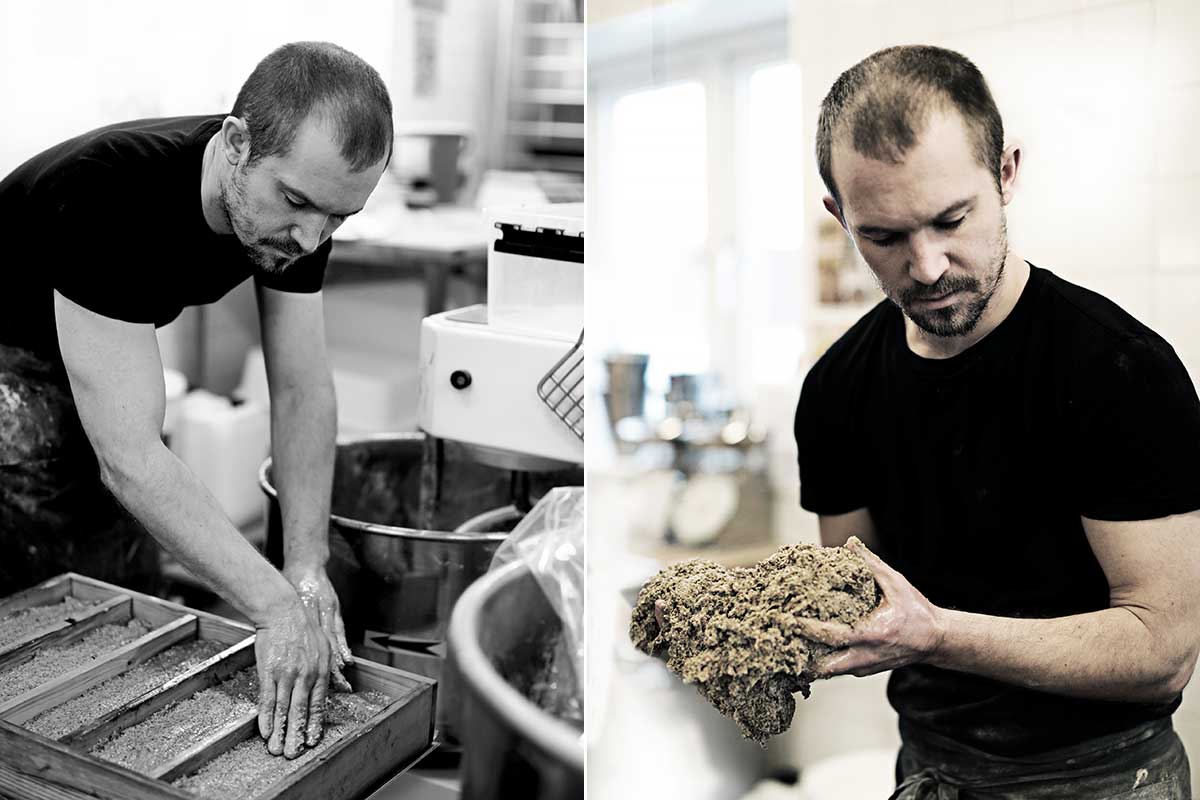 It's January. Outside it's 24oC below zero, there's half a metre of snow and icicles hang from the pines. Thankfully we have the heat of the oven here inside Eldrimner's bakery to keep us warm while we roll out our knackebröd (crisp bread) dough.
Unique food culture
I moved to Östersund, Sweden's food capital and one of UNESCO's Cities of Gastronomy, a year and a half ago. There is a genuinely unique food culture here in the region with traditions dating back centuries, combined with fantastic new initiatives and innovative products.
I became a part of this culture last autumn, when I began a one-year baking course at Eldrimner, Sweden's National Resource Centre for Artisan Food, in the village of Ås, Jämtland. It was set up in 1995 to develop the food traditions of the region of Jämtland, providing education to both existing and prospective farmers and food artisans. While Magnus Nilsson's restaurant Fäviken is perhaps the flagship internationally for Jämtland's cuisine, important work is done at Eldrimner spreading knowledge and awareness through courses and support of independent producers.
Eldrimner expanded to become a national institution in 2002, and last year began its first year-long professional course in mathantverk, the Swedish term for 'artisan food'. The course has four specialisations: dairy, charcuterie, fruit and vegetable processing, and my choice - of course - bakery, with a strong focus upon sourdough bread.
The next level
I took my first tentative steps towards baking my own Real Bread with the guidance of James Thorn at Wild Bread in Kent. The education here at Eldrimner is now really giving me the opportunity to take my baking to the next level. In addition to the practical side we learn everything from food chemistry and microbiology to marketing and economy - the aim is that as well as being employable, we will also have the skills to start our own companies. It covers a lot of the information that the Campaign's Knead to Know book provides, but in a Swedish context.
Grain triangle
Within a week of arriving at Eldrimner, I met Tina Goldmann, the local miller since 2009, when she took on a 1920s stone mill to produce flour from organic wheat, rye and barley grown on a small island in the nearby lake. The flour that she mills is therefore truly local. In 2010, she became one corner of a farmer/miller/baker 'grain triangle' set up as an experiment to see if certain hardy strains of wheat could be grown in the relatively mild climate around lake Storsjön, despite it lying at 63o latitude. The project was a success, growing year on year, and it is a real inspiration to see what is possible with the right will, even in such an extreme location. We are now baking with the flour from the 2014 local harvest, and feeding back our impressions to the miller and farmer.
The teachers include some of the most renowned bread bakers in Sweden. Sébastian Boudet, Manfred Enoksson and Robin Edberg bring knowledge from their home countries of France, Germany and Sweden, respectively. Beyond the classroom and bakery here, I will spend five weeks at Cum Pane, Robin's own bakery in Gothenburg, as one of five internships.
Sadly similar
Yet while great Real Bread traditions continue here in Sweden, such as knackebröd, and the northern tunnbröd - literally 'thin bread', traditionally made from barley - the majority of loaves sold are produced in factories. These industrial loaves look so sadly similar to those back in the UK and really have no right to be regarded as bread at all.
There is a growing interest in the preservation of Real Bread traditions here and the benefits of sourdough are promoted in the media, yet too much confusion exists over what it really means. The same industrial producers add a little dried, powdered starter to their loaves and call it 'sourdough bread'. It is my hope that with the help of organisations such as Eldrimner and the Real Bread Campaign working to support independent bakeries, combined with increased collaboration internationally, we can all put pressure on the EU to provide better support and legislation for Real Bread. I think the future for Real Bread in both Sweden and the UK looks positive, but we all need to chip in and do our bit.
Spread with freshly made butter
Back in the bakery, we take our knackebröd from the oven and spread with freshly made butter from the dairy next door. We will be looking for work in the summer, and Eldrimner shall host the National Championship in Artisan Food this year. With a bit of luck I will have the chance to compete. Yet while the snow continues to fall outside, I know that one thing is for certain - baking bread is a great choice of profession in the depths of a Swedish winter!
*In Norse mythology Eldrimner (or EldhrÌmnir) was a constantly simmering giant cooking pot in Valhalla (Valhöll, the hall of the slain or dead) used to cook a giant pig or boar. After all the meat had been eaten, the pig was found to be whole again and ready to be cooked once more. [mythology ed.]
---
Originally published in True Loaf magazine issue 23, April 2015
---
SHARE