Happy bun days
This is the tale of baker and chef Russell Goodwin's mission to set up a new Community Supported Bakery in Manchester.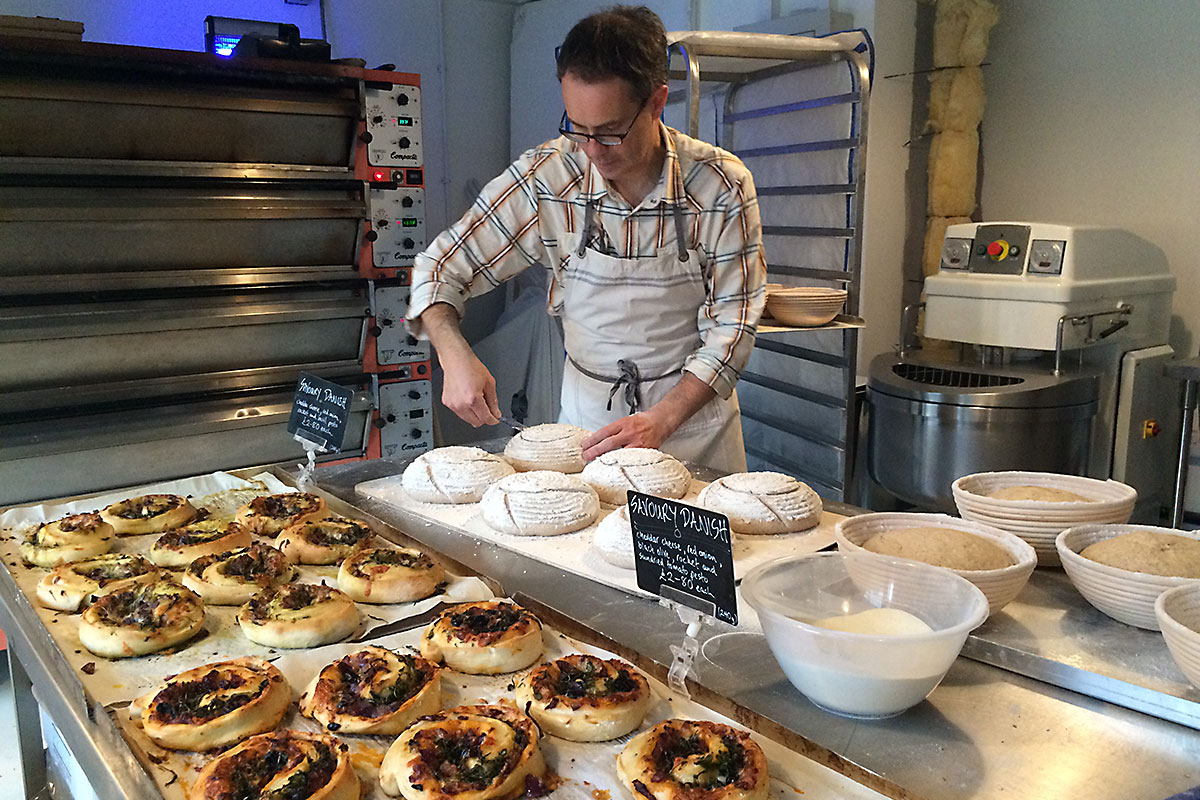 One day in July 2015, I unloaded Companio Bakery's bike trailer at the newly redeveloped Manchester Victoria Train Station for the first time. Commuters were excited and surprised to be able to buy Real Bread on their way home and their very complimentary and enthusiastic reaction was an encouraging start to a major step for the business.
New beginnings
After 15 years of working to provide medical, welfare and support services for homeless people in Oxford, I treated myself to the 12 week certificate course at Ballymaloe Cookery School in Ireland. There I learned to bake Real Bread and was introduced to the wonders of sourdough. I went on to work as a chef at Moro in London, Chez Panisse in Berkeley, California and Riverford Field Kitchen in Devon.
Quality bread was fundamental to each of these acclaimed restaurants but it was only whilst studying for the Advanced Diploma in Baking at the School of Artisan Food in Nottinghamshire that my passion was fully ignited with the help of tutors Emmanuel Hadjiandreou and Wayne Caddy, aided by Andrew Whitley of Bread Matters.
At the end of the course I visited and worked at Cum Pane which is a delightful neighbourhood bakery in Gothenberg, Sweden established by Robin and Christiane Edberg. I was inspired by their amazing breads and the wonderful sense of community they created amongst their workers and customers. After graduating I went on to become a director at The Handmade Bakery in Slaithwaite in West Yorkshire, which was perhaps the first Community Supported Bakery in the UK. I worked there for three years gaining valuable baking and business experience.
Community
The money, the help and support I have received locally and nationally has been tremendously encouraging and truly heartening, even vital to the success of the business. A highlight of setting up Companio as a Community Supported Bakery has been peopleís willingness to invest in the business. By making bread loans of £1,000 or £2,000 for three, four or five years, people have at the time of writing contributed £26,000 of the £30,000 I need to fit-out and equip the bakery. In return I will pay lenders interest in their choice of either loaves of bread or bread making classes.
Early on, I was working from a temporary kitchen unit in south Manchester, so the first bake in new bakery late last July was tremendously exciting. It feels great to be filling the neighbourhood streets of Ancoats with the delightful aroma of freshly baked Real Bread.
Day bake
Working as a chef can mean unsocial hours but as a baker they can be more unsocial and leave precious little time for family and friends. So the main challenge with Companio Bakery has been to create a business model that would allow me to bake during the day and give me a good work/life balance.
Crucial to this was selling bread later in the day, so I approached Northern Rail in Manchester, who were very supportive of the idea of me selling Real Bread at train stations to commuters on their way home. During the day I make a selection of sourdough breads, savouries and pastries - perfect for supper or for breakfast the next morning - ready and fresh for the evening commuter rush.
I started by just baking on Tuesdays and Thursdays and selling direct from the bakery between 12pm and 3pm. I then load up the Companio bike trailer that I worked with local joiner, Tom Collins, to design from super-lightweight materials so it is large enough to carry enough baked goods to make the market stall viable. I pitch up from 4pm to 6pm at Manchester Victoria Train Station on Tuesdays and Salford Central Train Station on Thursdays. Eventually I aim to bake Tuesdays to Fridays and also run bread-making courses periodically at weekends.
The future
Another way people in the local community are supporting me is by placing regular, advance orders for bread, thus reducing the risk of knowing whether I can sell all my proucts or not. I will soon be creating Companio Bread Club where any pre-ordered and pre-paid for bread will be left at a local restaurant, Rudyís Pizza, to be collected into the evening at the customerís convenience. I am also eager to teach others about the art, craft and science of bread-making so will be starting to run bread making courses early in 2016.
---
Originally published in True Loaf magazine issue 26, January 2016
---
SHARE