Rachael Doeg chats to Real Bread bakers working to polish pitta's pride.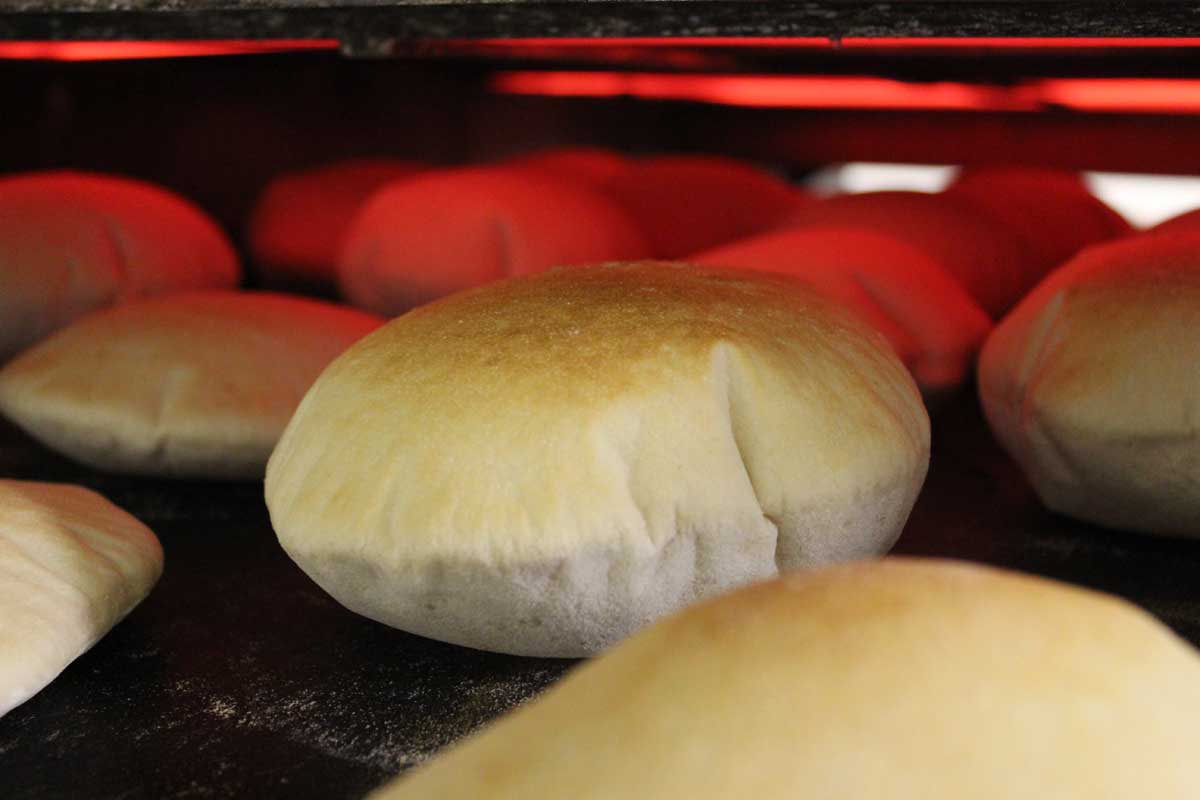 Photos © Abu Noor Pitta Factory
Sadly, most of us are all-too-familiar with the fungicide-laced flaps on supermarket shelves that pass as pitta. They are a far cry from the daily bread used for tearing, scooping and mopping up delectable morsels in many Middle Eastern cuisines.
What news, then, that some bakers outside pitta's homelands are now proudly putting their own versions on the culinary map. Whether soft, pliable flatbreads baked in searing 350°C heat at a Bristol bakery, broken and baked as spicy chips, or fluffy pockets stuffed with boeuf bourguignon making mouths water in Paris, pitta is making its mark.
Pocket symphony
So, what exactly is pitta? According to most dictionaries, it is a flat, slightly leavened bread with its origins in the Middle East, which can be split open to form a pocket. Culinarily and linguistically it is related to a range of flatbreads from pide to pizza.
Noam Adani, managing director of the Abu Noor Pitta Factory bakery in Bristol notes that "across the Middle East region, pitta is used as a staple to be torn and dipped, and for grabbing foods, be they meat, beans or hummus."
Contentiously, he speculates that splitting them open is a fairly recent invention. "I'm not sure who invented the pocket idea but I don't think pitta would have been used 100 years ago in the way it is today. People weren't interested in having a pocket bread for sandwiches."
Minute made
When Noam opened Falafel King in 2000, he would travel up to London once a month to stock up on pitta. He says, "It was very important to us to have good quality bread, but all that travelling took time and cost money, and we realised it would be better to invest in machinery to bake it ourselves."
"My family are originally Yemenite Israelis and my grandparents would cook pitta in a wood burning clay oven called a taboon, where they'd put the dough on the wall of the oven. The oven we have is a modern development of this. It's dual-heated so it heats the bread from the top and the bottom, pulling the dough apart and this heat creates the pocket in the middle. From entry to exit, it takes just sixty seconds for the pitta to cook."
Middle East in the south west
Noam says that his bakery, launched in 2006, is the only one in the region making additive-free, Middle Eastern-style breads, which are increasingly in demand across the south west of England. Their pitta is made using only high-protein flour from Shipton Mill (which ensures yoghurts and sauces can be contained) water, yeast, and a little salt and sugar.
Snacktivist
Another dedicated purveyor of pukka pitta with a twist is Sophie 'Soffle' Harvey. When she realised her usual bread and dips weren't hitting the spot with dinner guests, she stepped up her snacks. "A friend told me you could actually bake pitta into crunchy chips and it was really easy to do. I used to buy the pitta from a Turkish bakery in Stoke Newington, where there were lots of fresh ingredients around like chilli and garlic and spices as well. I'd split the bread, put the ingredients inside and bake them."
Sophie's pitta chips proved so popular that she went into business as Soffle's. "I renovated the garden shed and started baking, then took them round to independent pubs in Hackney in paper bags. People loved them because they aren't greasy and the spice and crunch went so well with beers."
Keeping it real
Thankfully, even though the chips are now made in a bigger bakery, Sophie keeps it real: "We use completely natural ingredients for the dough, just flour, water, yeast and salt and mix fresh onion, cheese, herbs and spices into the dough mix with olive oil. After baking the dough to make pitta, we break them up and bake the pieces at a lower temperature until crunchy. The fat content is half that of crisps."
From shed startup to savoury snack star, Soffle's pitta chips are now stocked not only by discerning pubs but high end retailers, including Fortnum & Mason, Harvey Nichols and Fenwick's.
Pitta power
Others are taking a fresh look at pitta include Israeli TV chef Eyal Shani. He is pulling in punters with pitta-powered fusion dishes at Miznon in the Marais district of Paris. "My vision to take whole cities and translate them into one pitta," he says. Ratatouille in a pitta, anyone? Ooh la la! As Noam says, proper pitta speaks for itself. "Our breads are soft and yielding. All I have to do when meeting new customers is to bang them on the table and that tells them all they need to know."
---
Originally published in True Loaf magazine issue 27, April 2016
Published 1 Feb 2021
Real Bread Campaign: The Real Bread Campaign finds and shares ways to make bread better for us, better for our communities and better for the planet. Whether your interest is local food, community-focussed small enterprises, honest labelling, therapeutic baking, or simply tasty toast, everyone is invited to become a Campaign supporter.
Support our charity
Your donation will help support the spread of baking skills and access to real bread.