Sarah Wisson talks to some wood-fired oven aficionados about their burning passion.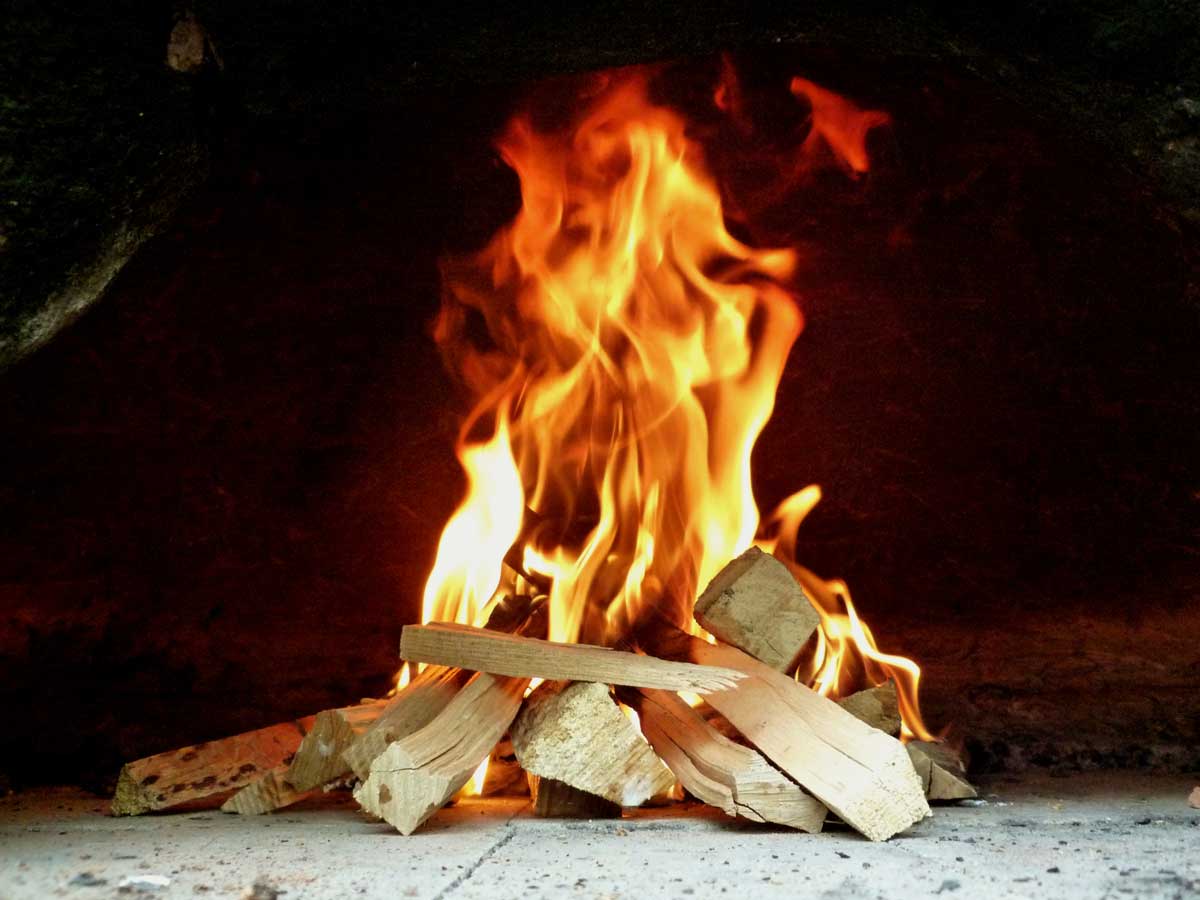 Photo: Chris Young / realbreadcampaign.org CC-BY-SA 4.0
Fire – it's the most basic of cooking sources, the original and best. We're all drawn to its raw, untamed nature. Just think of all the barbecues that are dusted off the moment there's a sunny weekend. This appeal extends to bread as Sonya Hundal, who runs Greenfield Bakers near Friskney in Lincolnshire, confirms: "The attractiveness of the wood-fired oven is partly primal and partly its versatility."
Sonya uses a Le Panyol 180 clay oven, fired with untreated timber offcuts, and willow, hazel and elder from her own land. She fell in love with wood-fired baking after attending a course with Paul Merry at Panary, near Shaftesbury in Dorset. "Three main factors led me to choose a wood-fired oven: rural location, sustainability and cost," continues Sonya. "Being able to grow and source wood, it seemed like a good idea; and once we had built the bakehouse, we didn't have the funds for an electric deck oven or three-phase wiring."
Ancient roots
A wwod-fired oven (WFO) usually comprises a fire-brick, refractory clay or concrete super-insulated shell, with either hearth tiles or a monobloc floor as the baking surface. Dough in direct contact with the oven floor benefits from conducted heat, giving incredible oven spring, and the resulting loaves present a crunchy crust and well-formed crumb.
There are two basic types of WFO: direct and indirect firing. Direct firing (aka black oven) means building the fire inside the dome structure and keeping it there until the mass is saturated with heat. For bread baking, the fire is raked out and the retained heat cooks the loaves on a slow falling temperature gradient. Indirect firing (white oven) uses a separate firebox situated under the hearth, blasting heat into the baking chamber.
These designs are modern interpretations of the earliest forms of bread baking, dating to at least 5,000 years ago, in which flatbreads were stuck to the inside of a clay pot heated over the hearth. It's a method that still persists in many traditional cuisines, the best known being naan cooked in a tandoor.
Modern branches
Amrit Row's Wood-Fired Ovens supplies and builds the Four Grand-Mere range of WFOs and has seen demand increase, he believes largely thanks to the interest in artisan foods and cooking outdoors. "Wood-fired bakers seem to enjoy the process of not just the dough preparation, but the whole act of baking and all the tradition behind it," he says. "It takes time and practice to master the oven; it's an ancient tradition but it's still a modern method." Amrit suggests that the main issue for wood-fired ovens being used more widely in the UK are the smoke control area rules of the Clean Air Act and Clean Air Regulations. The current [2016] DEFRA list of appliances exempt from the regulations includes one brand of pizza ovens but no bread ovens, and the list of exempt fuels comprises only branded products, not natural wood.*
Community
Joe Fitzmaurice of Riot Rye in Cloughjordan, County Tipperary and a founding member of Real Bread Ireland would like to see a wood-fired bakery in every small town and village in the country, thus giving everyone access to and knowledge about Real Bread. His uses an Alan Scott-designed brick oven that he built with the help of a bricklayer friend. "I'm very aware how inefficient many deck ovens are, so the ability to bake bread in an environmentally sustainable way is very important – plus I'm a bit of a pyromaniac, which helps! When you go to all the trouble of building a wood-fired oven, and all that using it entails, you make every loaf the best it can be."
Perhaps the only obvious disadvantage of this type of oven is its labour-intensive nature. Anyone who watched BBC2's Victorian Bakers earlier this year will have marvelled at the sheer effort that went in to producing the most basic loaf in the recreated mid-1800s commercial bakery, as the bakers struggled to bring their oven up to a high enough temperature, packing it with bundles of cordwood.
Though the wood-fired ovens of today are more efficient, using one still requires considerable manpower that doesn't necessarily appeal. As Paul Merry says: "Few business plans warmly adopt an approach that requires more labour. But I firmly believe that a hot masonry chamber gives the best possible bake for any foodstuff, and where bread is concerned the blanket of steam created produces a memorable crust; and the baking time is actually quicker than in a conventional oven." Sonya Hundal adds: "The labour-intensive process is offset by how fit you get from chopping the wood and loading the oven!" Not to mention the superior flavour and crust of the resulting loaves.
*Correct at time of publication. You can search the Defra smoke control site to find current exemptions.
---
Originally published in True Loaf magazine issue 28, September 2016
Published 25 Jan 2021
Real Bread Campaign: The Real Bread Campaign finds and shares ways to make bread better for us, better for our communities and better for the planet. Whether your interest is local food, community-focussed small enterprises, honest labelling, therapeutic baking, or simply tasty toast, everyone is invited to become a Campaign supporter.
Support our charity
Your donation will help support the spread of baking skills and access to real bread.