Bread For Life co-founder Michael Hanson on his Tuscan trek to meet peasant baker Nicolas Supiot.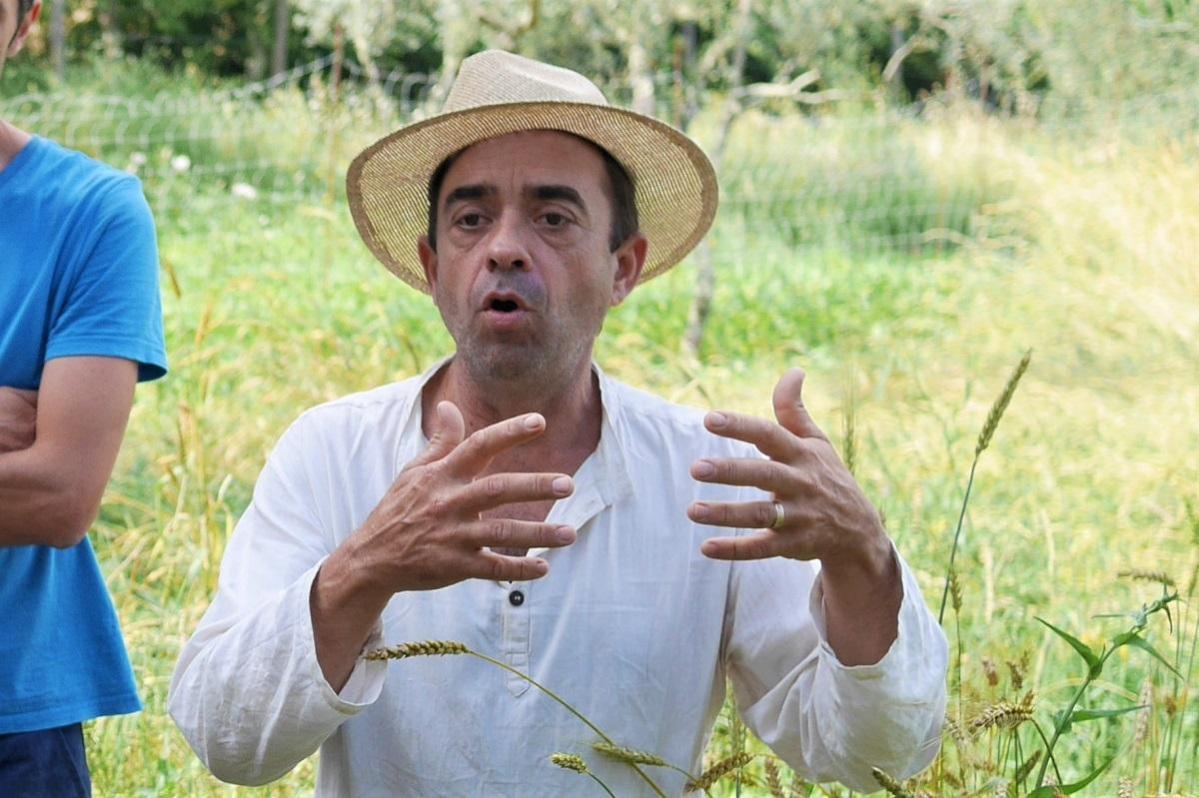 Nicolas Supiot © Michael Hanson
"Hi, one of you will have to lay on the table in the boot and there is just enough room in the front for you," said our driver Antonio. I squeezed in the front and, being much younger and more agile than me, Jean Marc lay on the table. We had been waiting in a small village in the Tuscan hills where the bus from Florence had terminated, for a lift to Ontignano. When the car set off I looked around and smiled at Jean Marc, who was clinging on so as not to slide out. This was to be, we hoped, the last leg of our pilgrimage to bake with the legendary paysan boulanger (peasant baker), Nicolas Supiot.
Nicolas usually bakes twice a week at his farm in Brittany, but he also criss-crosses Europe nurturing other paysans boulangers and members of fledgling bakers' associations, who espouse his 'spiritual' approach to baking. Fifteen years ago I wrote an article for the American baker Peter Reinhart, called A Notion of Sacramental Bread, and feel I have a deep connection with Nicolas.
Taking back control
All over Europe, there is a growing band of paysans boulangers. These are bakers, often working alone, who are attempting to bake traditional breads, using locally-grown heritage wheats, mostly in wood-fired ovens. They are taking back control of the whole process from soil to slice. Many of them are relatively new to baking, seeking an alternative lifestyle, rejecting modernity, baking the breads of their ancestors, for which the enlightened consumer is willing to pay an honest price for a real loaf.
Their breads have their seeds in the French 17th century pain bis-blanc, made not from the fashionable, finely-sifted pure white wheat flour, but from darker flours that contained more bran and maybe even some rye. One famous country bread of the 18th century was the pain de Chailly, baked by the forain (outsider) bakers in villages surrounding Paris. Our word foreigner comes from this Old French word. My task now was to be accepted into this tight band of today's forain bakers.
Food historian Steven Kaplan noted in his book The Bakers of Paris and the Bread Question that bread baking is "the art of first necessity." In 21st century western Europe I would argue that we no longer have what Kaplan labelled a "subsistence bread culture". Instead we have a growing bread culture of choice, in which the autrefois relationship of the farmer, miller and baker is being revived and harnessed to create a 'valued bread'. Has paysan bread become a symbol of our respect for the earth and ourselves?
Madre mia
Jean Marc and I had just spent a frustrating two days in Bologna at the International Landrace Wheat Conference, where respect for the baker and the land seemed in short supply. We both longed to get our hands in the petrin, or dough trough. Thanks to Jean Marc's friendship with Nicolas, we had found out that a 'secret' meeting of Italian paysans boulangers was happening in a remote Tuscan farmhouse. Now we were almost there. We hoped.
To borrow a word coined by Kaplan, Jean Marc and I were forging our own 'breadway', looking to engage with real farmers, millers, bakers and consumers. We arrived mid-afternoon at our destination, a quintessential Tuscan farmhouse, set amid olive groves, with a grape vine covered terrace where we ate.
That evening I was handed a tablespoon of levieto madre (sourdough mother, or starter), shown a selection of local flours and told that my dough should be ready to go into the wood-fired oven at 3.30pm the following day. I fed my mother and then shared an al fresco supper with my new companions.
Ready to bake
The following morning, I rose early to see how the starter had risen. Perfect. All around me in the Tuscan sunshine bakers were recreating life in their homemade petrins. Indoors, Rocco was firing up the cavernous oven, which I guessed could hold 120kg of dough. All of the bread was going to be sold at the famous Florence farmers' market the following day.
I choose a petrin and mixed my dough, then left it on an old millstone to bulk ferment. A leisurely coffee, then a wander amongst the fields of heritage wheats later and my dough was ready scale. Synchronised with the oven, I hoped. The first doughs were being scored and loaded. I prayed that the oven's temperature would hold up.
Another lazy lunch of good company and good wine, then it was my turn to bake. At 3.30 pm, my dough looked ready. When I asked where the other dough was, the Italians looked surprised, "Michael, you're in Italy, time is not important, bake your dough now." It was now or never. I quickly fired the oven with faggots made from vine clippings, then swept and mopped its sole. Was it the right temperature? We were not allowed a thermometer. I threw a bucket of water onto the sole, waited, peeled my dough into the hot and humid void, sealed the door with old dough, then prayed and waited.
Abundance of the earth
There were so many inspiring people, and insightful moments to remember: The shared passion of the confreries forain, the abundance of the earth, the generous hospitality, baking and breaking bread, the power of a shared meal and conversation. Nicolas articulated to me the essence of his approach, and it perfectly captured the passion of the forains "I think it is vital to bring spirit to what we do, it makes our 'work' pleasurable; working with the simplest and noblest of the elements, earth, air, fire and water"
My bread emerged bold and beautiful into the baking Tuscan sun and it sang to the earth. It appears that the epoch of the forain boulanger is upon us once again.
---
Originally published in True Loaf magazine issue 37, October 2018
Published 8 Jan 2019
Real Bread Campaign: The Real Bread Campaign finds and shares ways to make bread better for us, better for our communities and better for the planet. Whether your interest is local food, community-focussed small enterprises, honest labelling, therapeutic baking, or simply tasty toast, everyone is invited to become a Campaign supporter.
Support our charity
Your donation will help support the spread of baking skills and access to real bread.