Though British languages and landscapes still bear the traces of successive waves of Scandinavian raiders, the influence they surely had on our bread culture has been all but erased. As a leader of a new, culinary Nordic invasion, Signe Johansen is on a mission to let us know what weíve been missing.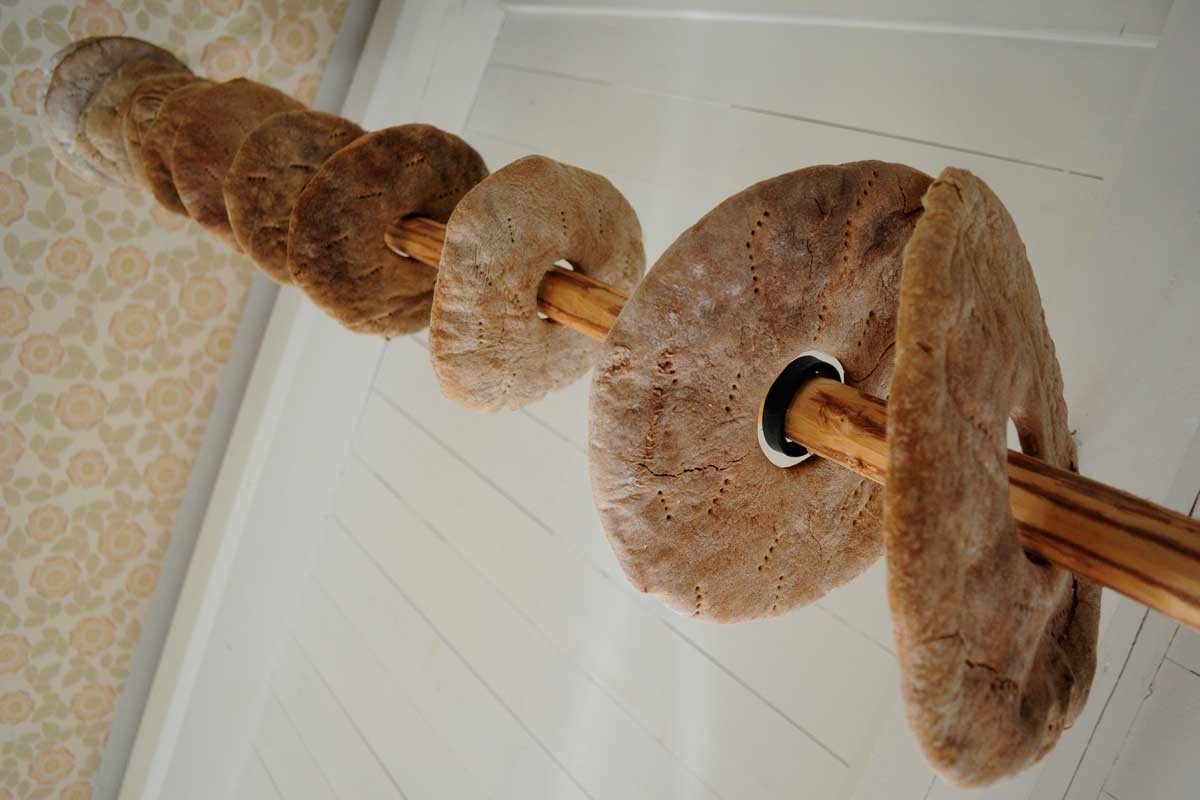 Photo by Chris Young / realbreadcampaign.org CC-BY-SA 4.0
Good bread is practically a birthright in Scandinavia. I grew up watching my Norwegian grandmother mix, knead and shape a seemingly endless variety of breads and buns and she showed me at a young age that not only is bread pretty easy to make but it's fun too.
Fresh yeast
White bread was something we rarely ate – most breads in Scandinavia tend to be wholesome, with a mix of whole grains, flakes, seeds, nuts and dried fruit to jazz up the everyday loaf. A family favourite was a pain au levain style rye bread that we picked up from a local bakery in Oslo. To this day I can still recall that distinct rye tang. Sourdough has become more fashionable in recent years, and although artisan bakers have been making sourdough loaves for a long time, most home bakers still use fresh yeast for their bread baking. I certainly did when living in Norway, and so found the lack of readily available fresh yeast in UK supermarkets truly baffling when I first arrived here as a university student. My British friends were similarly baffled that I baked with fresh yeast.
Wholesome bread
Historically, rye, barley and oats were the predominant grains across the Nordic countries. It seems that the further north you went, the more barley was used, whereas in the southern regions of Scandinavia rye was always more prevalent. The bread cultures of Denmark, Sweden, Norway and, to a lesser extent, Finland were influenced from the middle ages by Germanic bread traditions. These we adopted and then adapted to our own tastes during centuries of trading as part of the Hanseatic League. Robust, flavoursome grains such as rye work incredibly well with other classic Scandinavian food such as cured fish, smoked meat and mouthpuckering pickles. Although white wheaten breads have become more popular in recent years, our smørbrød, or open sandwich, culture demands strong, wholesome bread as a base for toppings such as gravadlax with pickled beetroot, or herring with sour cream and chive.
Rye, oh rye, oh rye...
You do of course see cheap, white industrial loaves in Scandinavia – its seems no country is immune to them unfortunately, but we have retained our love of really authentic, delicious rustic breads that pack a real punch in terms of flavour, not to mention nutrition. If there's a type of bread I'd like to see more of over here in the UK it would have to be Danish rye. You find so many variations of rye breads in Denmark and they are astonishingly good, so much so that on my last visit to Copenhagen I returned with a small suitcase full of them. Being Norwegian I would obviously love to see my beloved skillingsboller. The ubiquitous cupcake is no match for these pillowy, soft and oh-so-moreish cinnamon buns, which I make sure to serve whenever I do demos, classes or host brunches in London. After all the only way to convert you Brits to the magic of Scandinavian baking is to ply you with as much of it as possible!
As for Nordic bakers fighting the good fight here in the UK, I'd recommend checking out Maria Mayerhofer of Bake With Maria in London, Johanna McTiernan of The Handmade Bakery in West Yorkshire, and Troels Bendix, formerly of The Celtic Bakers in London and now at The Hungry Guest in West Sussex. Peter Ljungquist of Peter's Yard bakery and café in Edinburgh, along with Swedish master baker Jan Hedh, have brought the Swedish love of crispbread to this country with a fantastic sourdough version that has won multiple awards and received terrific press in recent years. I'd love to see more places like Peter's Yard across the UK, selling great open sandwiches, coffee and cake, with a Real Bread retail outlet too.*
In the meantime, I'll be mixing and kneading, one dough at a time, sharing my Scandinavian bread heritage with anyone willing to listen!
*January 2019 update: Since this article was written, Troels set up Sødt and Johanna also moved onto pastures new, while and Peter's Yard evolved into the eponymous sourdough crispbread company, while the and family of bakery cafes became Söderberg.
---
Recipe: Mini cardamom buns with almond custard
Filled cardamom buns are traditionally eaten in Norway, Sweden and Denmark on Shrove Tuesday, but I love them any time of the year.
These are a bite-sized version of the Scandi favourite and contain almond custard rather than the usual lightly whipped vanilla cream and marzipan. You can use ready-made fresh custard if you are time-pressed, but I find that home-made just tastes so much better. The baked but uncut, unfilled buns can be stored for a day or two in an airtight container before filling, or you can freeze them to eat at a later date. I recommend making the dough the night before baking as the overnight ferment really improves flavour and texture, and I make the custard the day before too, but you can do it all on the same day if that's easier – allow 30 minutes or so in a warm place for the first proving (rather than overnight) and do remember to double the quantity of yeast to compensate for the shorter proving time.
Makes 24
Dough
325ml whole milk
50g butter
500g refined spelt (or plain) flour
75g caster sugar
1½ tsp ground cardamom
2 tsp fine sea salt
15g fresh yeast or 7g dried yeast
Filling
500ml fresh, real custard (homemade or ready-made) or skoleboller custard
50g whole almonds, roughly crushed
To finish
1 medium egg, beaten
icing sugar to dust
Scald the milk by heating it in a small pan with the butter until it is almost boiling and then allow it to cool while you assemble the other ingredients. Scalding the milk makes the finished buns softer.
Sift the flour, sugar, cardamom and salt together into a large bowl. If using fresh yeast, cream it with a teaspoon of sugar in a small bowl and once it is liquid (after about 30 seconds), add to the dry ingredients.
Make a well in the middle of the dry ingredients and add the scalded milk, which should be warm rather than hot to the touch, as otherwise you risk killing the yeast. Stir everything together until the mixture comes off the sides of the bowl and looks – for want of a better word – doughy. Place the dough in a lightly oiled plastic bag and leave overnight to cold ferment in the fridge. Be aware that the carbon dioxide gas from fermentation will expand the bag so make sure you leave plenty of space around the dough.
Stir the almonds into the custard. If making your own custard, pour into a bowl and cover with clingfilm so that it sits directly on the surface of the custard, to stop a skin developing. Allow to cool completely before refrigerating until needed.
When you are ready to bake, remove the dough from the fridge and allow to come to room temperature. Lightly oil two baking sheets. Divide the dough in two and keep one half covered with lightly oiled clingfilm while you divide the other half in 12 equal-sized pieces (either by weighing or just judge it by eye) and then roll them into little round buns. Repeat with the other half of the dough, cover the buns again and set aside to prove in a warm place for 15-20 minutes until they don't spring back – i.e. if you poke one lightly with your little finger, the indentation stays put. Lightly glaze each bun with a little beaten egg.
Preheat the oven to 200°C/180°C fan/gas mark 6. Splash a little water in the bottom of the oven to create steam to help them to rise. Bake on the upper middle shelf for 10-15 minutes, turning the heat down to 180°C/160°C fan/gas mark 4 if the buns start to take on too much colour.
The cooked buns should look golden brown and sound hollow when you tap them. Allow to cool on a wire rack. When you're ready to fill the buns, simply halve and dollop a spoonful of almond custard on the bottom half, then cover with the top half and dust with icing sugar. Eat with obvious enjoyment, and the great excuse that these don't keep long…
Recipe © Signe Johansen, taken from her book Scandilicious Baking, published by Saltyard Books, £25
---
Originally published in True Loaf magazine issue 12, July 2012
Published 21 Jan 2019
Real Bread Campaign: The Real Bread Campaign finds and shares ways to make bread better for us, better for our communities and better for the planet. Whether your interest is local food, community-focussed small enterprises, honest labelling, therapeutic baking, or simply tasty toast, everyone is invited to become a Campaign supporter.
Support our charity
Your donation will help support the spread of baking skills and access to real bread.