Martin Ransley meets people behind three of Britain's Real Bread baking schools.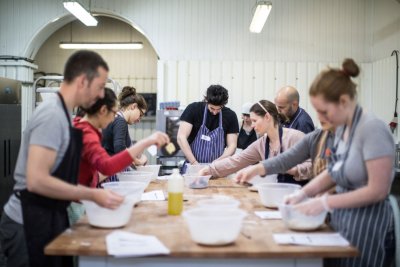 Copyright: e5 Bakehouse
Making Real Bread provokes warm enthusiasm from almost everyone who bakes it. This is infectious and leads many people to share their knowledge as an extension of a bakery, by founding baking schools, or running independent classes.
So, what are the advantages for bakeries and schools in offering bread courses? Perhaps more importantly, what can students, the people buying that knowledge, expect to receive? Do all of the people running Real Bread classes have the right blend of knowledge and experience to qualify them to teach (and charge) at the levels they advertise?
London loaves
The first person I met was Eyal Schwartz, head baker at E5 Bakehouse in Hackney, where I took one of his classes. He explained that teaching evolved naturally out of what the bakery originally offered. Having started simply making and selling Real Bread, demand grew for additional products. "People wanted something between slices of bread so we made sandwiches. People wanted something to drink, so coffee was added. Then requests for how to bake bread and so on."
I asked him what he thought about the proliferation of people setting up shop as baking teachers, especially any former E5 students offering classes soon after attending one of his. For the most part, he said was happy for former students to offer classes of their own but less so if they used his recipes. He did, however, stress the importance of experience, both as a baker and as a teacher, noting that he is making better bread now than five years ago.
Empowerment
Next I travelled down to meet Vicky Feldman, who is a qualified teacher, rather than a baker by profession, though she trained in bread making with an Italian chef in Germany.
Vicky is passionate about Real Bread and eager to pass on her knowledge and skill to others. Her aim is for students at her recently-opened Canterbury Baking School is to return home after one of her courses with "enough confidence and knowledge to bake good bread." In short she wants them "to feel empowered." When asked how she would feel if one of her students set up their own courses after attending one of hers, she said she would wish them luck and even offer help.
Skills shortage
Alison Swan Parente, a founder and now chair of The School of Artisan Food in Nottinghamshire, points out that not only is there a demand for home baking classes, but also to help fill the skill shortage in professional artisan baking.
She bemoans the fact "that a vocationally-minded student is more likely to experience a BTEC level 1 certificate in catering than a dedicated baking course" as a starting point in their careers. "Someone's initial experience of artisan baking is likely to be through a small samizdat baking class, but where do they go to next?"
At the moment the school offers an advanced diploma in baking, but Alison would like to see a City & Guilds course developed and more, nationally-recognised, courses introduced at degree level, too. In this way students could get access to grants and other financial support on their journeys to becoming training and qualified Real Bread bakers.
On the receiving end
What of the students? Sam, who was on the E5 course with me, said "Eyal made us feel like that you don't need to be a master baker to make good bread!" Vic, another participant, commented "More than a lesson in bread making skills, the bakehouse wanted to share a passion for what they do and have everyone leave with a love for their baking, not simply a set of instructions."
Enthusiasm
All of the educators I talked to were full of knowledge and enthusiasm, and were passionate about what they are doing. Clearly they had both the knowledge and experience to teach. Beyond this, I felt they had integrity, and the benefits they derived from running courses were to a large extent altruistic.
And each champions a different aspect of making bread, from Alison Swan Parente's desire to offer "a career path for vocationally minded young people," to Vicky Feldman's love of healthy food, to E5's wanting to help local people to derive the simple the joy from making an honest, home-baked loaf.
Personal choice
Ultimately, learning this centuries-old craft entails receiving knowledge and benefitting from accumulated experience; of testing the knowledge and skills within a bakery or kitchen; and then developing them further. What you need to learn depends on what you want to do with your baking. From whom you decide to learn is a personal choice, but one best made having done some research about your teacher first.
You can find places offering Real Bread classes and courses, many of which offer discounts to Real Bread Campaign supporters, on the Real Bread Map. One-off classes and other events can be found on our calendar.
Originally published in True Loaf magazine issue 21, October 2014
Published 21 Feb 2022
Real Bread Campaign: The Real Bread Campaign finds and shares ways to make bread better for us, better for our communities and better for the planet. Whether your interest is local food, community-focussed small enterprises, honest labelling, therapeutic baking, or simply tasty toast, everyone is invited to become a Campaign supporter.
Support our charity
Your donation will help support the spread of baking skills and access to real bread.