Glenn Bowen argues that if we devalue bread it becomes something that is there merely to hold your sandwich together. Conversely, if we idolise bread we are in danger of making it a cult that no-one wants to join.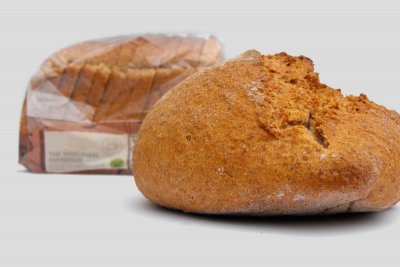 Loaf values. Credit: Chris Young | Real Bread Campaign
'A tinned loaf is not worth the money.'
'Why is sourdough so expensive?'
'Why is your bread more expensive than the supermarket up the road? You should charge less for your bread and you would sell more.'
'You don't charge enough for your bread, it's worth more.'
'Don't you have any normal bread?'
'It's great you have unusual bread.'
All of these contradictory statements were made to either our bread supplier or me during the six years that I owned and ran my bakery deli café. They were all referring to the Real Bread we made ourselves or bought in from our supplier.
This is hardly surprising considering the contradictory terms used by loaf purveyors, be they supermarkets or many so-called 'artisan' bakers. Ill-informed customers and producers alike are equally responsible for the state of confusion over what proper bread actually is.
What price, loaf?
So, what is the true value of Real Bread? It's indefinable. It is simply the perception of what is value for money and that is relative to each person and is an entirely grey area.
That's not to say there aren't clear-cut, black and white areas, too. An 800g 'artisan' loaf (which is in fact riddled with improvers and stabilisers) from a supermarket for a pound is not value for money. In my opinion, nor is an 'artisan' loaf for £6.50, just because it was proved in a banneton. On its own, making your loaves look 'rustic' by shaping and scoring does not make you an artisan baker. On both counts customers are being short-changed or ripped off, depending on your stand point.
There is a very large area of middle ground between the two, where great quality, honest bread can be produced and sold, and where neither the customer or the producer is being exploited. But, where is that middle ground?
Honest price
Perception is a very strange animal. Mere pence can make a big difference in how well an item sells. If you sell something at a very good price, some people will automatically assume it is 'cheap' in the inferior quality sense, which means it can sell very slowly. Charge a bit more, on the other hand, and you may have exactly the same problem, for the opposite perception of being 'overpriced'.
I have found that a tinned loaf is the most popular, yet hardest sell at an honest price. Display two loaves, identical except for the fact one was proved in a banneton and the other in a tin, and there will be an immediate perception that the former is worth more because it looks handmade. This is regardless of what went into either loaf, how long each was proved, or whether the process was controlled by people or machines. Take that same banneton-risen loaf and score it creatively, and the perception will be you are into the realms of 'artisan' baking, be it Real Bread or not, and before the shopper has had a chance to discover its quality.
Loss leaders
Industrial loaves are considered by so many retailers as 'loss leaders', which automatically undermines the deserved status of Real Bread. They promote these bread-shaped products cheaply purely to get people in through the door in order to make real money on other items they sell.
If we devalue bread it becomes something that is there merely to hold your sandwich together. Conversely, if we idolise bread we are in danger of making it a cult that no-one wants to join.
If we are honest about bread, misperception will disappear and the true value will naturally reveal itself.
---
Originally published in True Loaf magazine issue 21, October 2014
Published 4 Feb 2022
Real Bread Campaign: The Real Bread Campaign finds and shares ways to make bread better for us, better for our communities and better for the planet. Whether your interest is local food, community-focussed small enterprises, honest labelling, therapeutic baking, or simply tasty toast, everyone is invited to become a Campaign supporter.
Support our charity
Your donation will help support the spread of baking skills and access to real bread.