Real Bread Campaign co-ordinator Chris Young answers an often-asked question about the use of baking powder/soda.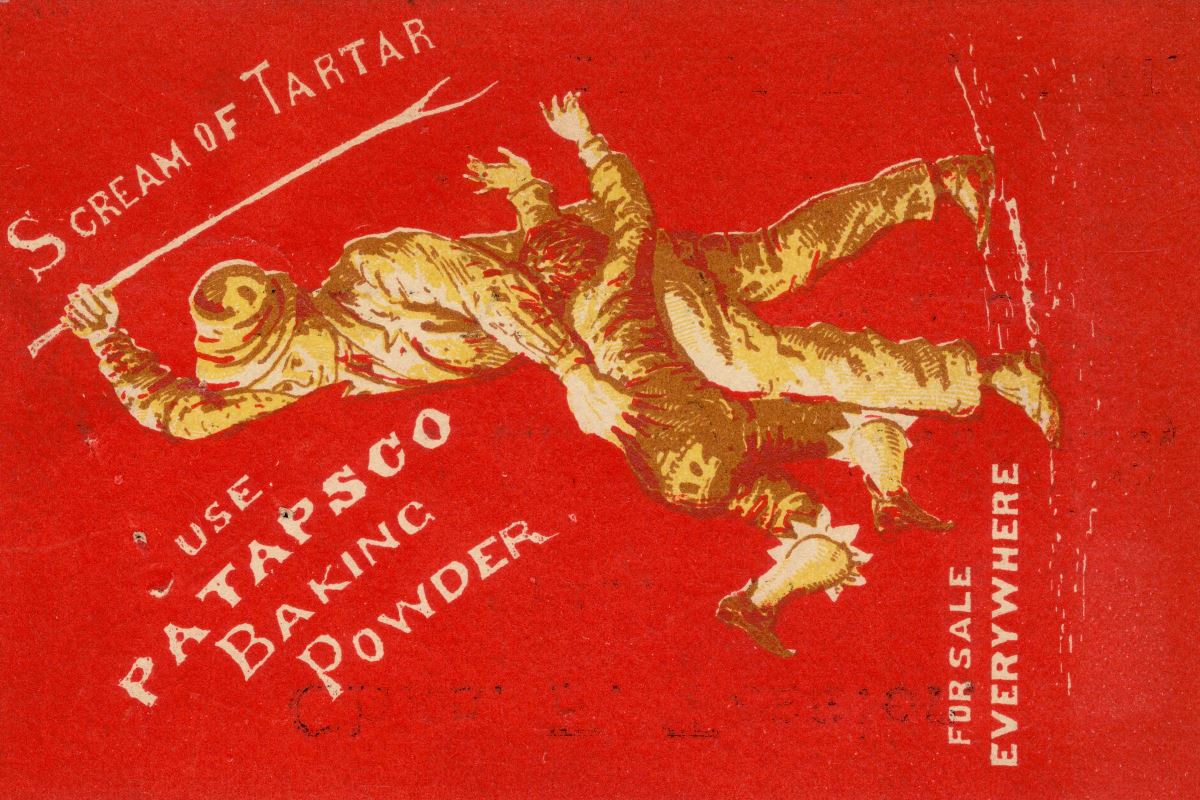 19th century advert. Public domain
The single criterion of our universally-accessible definition of bread is: no additives. It sounds simple (because it is) but in many countries the vast majority of products (mis?) sold as bread don't meet this ridiculously low bar. That applies to a lot of unwrapped loaves sold by supermarkets, sandwich/sub shops and even some high street bakeries…
Child's play: try this simple bread for kids (and grownups)
Chemical leavening
Amongst (many) other things, no additives means no chemical leavening agents. It's great to see people making their own food but things made with baking powder are not what we, or Real Bread Ireland, define as bread – they're cakes, biscuits, scones and so on.
Rather than being some ancient custom, the use of baking soda and baking powder was introduced in the mid-1800s. Before this, everything was unleavened or raised by yeasts in one form or another.
'But soda bread, cornbread and so on have the B word in them, so they must be bread,' one might argue. Names can be misleading, though. The naming of baked goods is a linguistinc convention, rather than necessarily telling your what a thing really is. Banana bread is a cake; laverbread is minced, boiled seaweed; and a breadboard's a thing that holds electrical components. Meanwhile yeast-leavened Staffordshire oatcakes and Cornish saffron cake are both types of bread; both shortcake and shortbread are biscuits; and what Americans calls biscuits, most Brits would call scones. Perhaps reassuringly, following a 1991 court battle over VAT rates that ruled against Her Majesty's Revenue and Customs, we can safely say that a jaffa cake is a cake, not a biscuit.
Blind alley
With our interest in the potential benefits of longer fermentation, chemically-leavened baked goods would also be a blind alley away from the line from unleavened flatbreads, via breads leavened using baker's yeast, to long-fermented genuine sourdough. Perhaps due to sourdough and soda sounding vaguely similar, some people ask if they are the same. No. Nothing like. Not at all.
Genuine sourdough relies on long fermentation using a starter culture of lactic acid bacteria and yeasts that occur naturally on the surface of grains, and therefore in flour. Over time, the respiration process of the yeasts slowly produces enough carbon dioxide to make dough rise – while all sorts of other organic funky stuff goes on as the dough develps and ripens. These help to develop the flavour and aroma of the bread, and might have other beneficial effects. Using baking powder/soda involves an almost instantaneous acid/alkali chemical reaction, fizzing up to inflate unripe dough in seconds – without any of that funky organic stuff.
Coeliac link?
It's interesting to note that some studies have found higher than global average levels of coeliac disease amongst people in Ireland. Further research is needed to ascertain whether this is in any way linked to half a dozen or so generations of Irish people frequently getting stuck into chemically-leavened loaves, purely genetic, or a combination of factors.
Tooth fairy
To the people who have asked: No we wouldn't rather see kids making and gorging on sugar and fat laden cakes and biscuits. You can find plenty of free recipes for simple and affordable bakes that are low in fat, sugar and salt on our website.
See also
Published 23 Feb 2021
Real Bread Campaign: The Real Bread Campaign finds and shares ways to make bread better for us, better for our communities and better for the planet. Whether your interest is local food, community-focussed small enterprises, honest labelling, therapeutic baking, or simply tasty toast, everyone is invited to become a Campaign supporter.
Support our charity
Your donation will help support the spread of baking skills and access to real bread.