Campaign co-ordinator Chris Young caught up with St. JOHN co-founder Trevor Gulliver.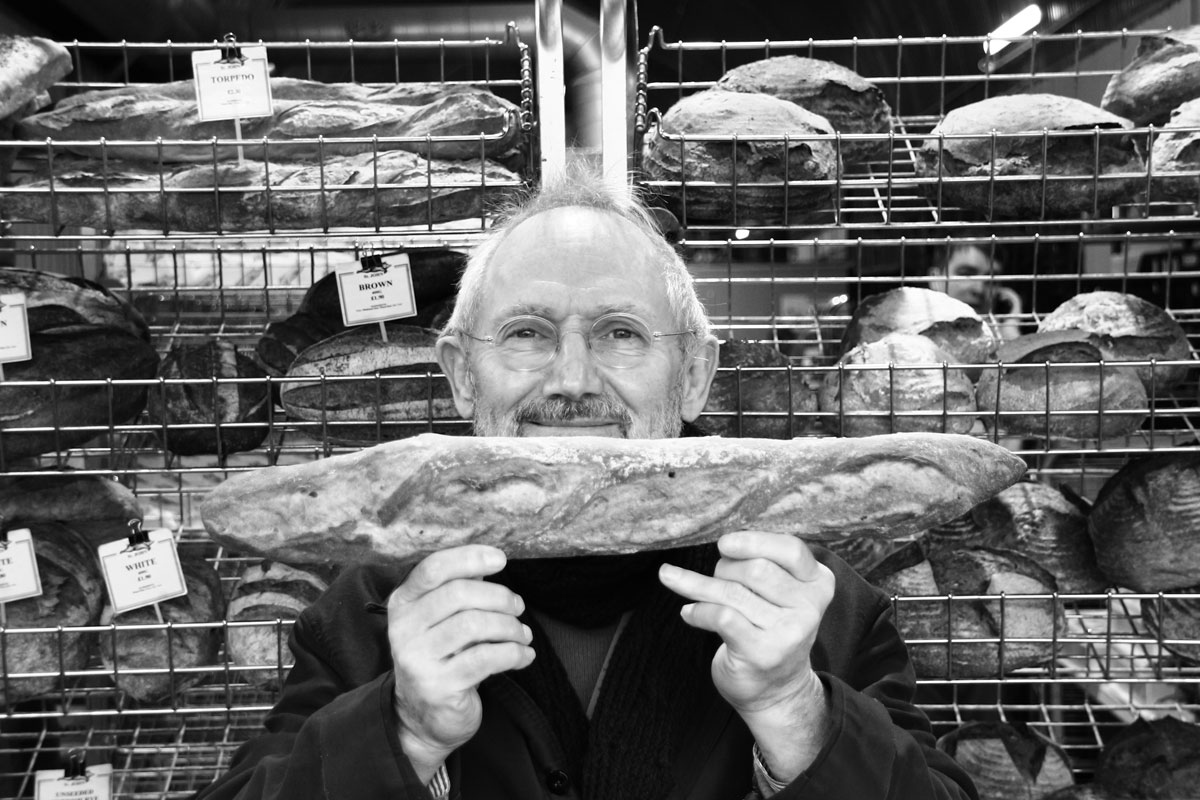 Photo: Trevor Gulliver © Chris Young
Since opening their first eatery together near London's historic Smithfield meat market in 1994, restaurateurs Fergus Henderson and Trevor Gulliver have become perhaps best known for their nose to tail eating ethos. Bread, however, is also at the very heart of what they do. I asked Trevor how the St. JOHN story began.
"Fergus and I were introduced by our mutual olive oil man. I'd just sold The Fire Station in Waterloo and Fergus was cooking in the dining room above The French House in Soho. The first thing was the building.* We both saw what it could be. It had the light and the bones, though the then rundown location was, I guess, somewhat challenging."
When did you set up the bakery and why?
"Bread is a part of the table at any meal. It is as important as your cutlery, your salt and pepper. It speaks of welcome - it is time to eat! From very early on we were baking our own bread and we then bought that old Tom Chandley four-deck oven, a contented shire horse that is still in use at Smithfield today!"
How did things develop from there?
"This part of the business simply grew organically and eventually we could no longer cope with demand. When we opened St. JOHN Bread and Wine in early 2003, we already had restaurants and local folk buying our bread, usually at the Smithfield counter, with others already on a delivery round. We also did the little weekend farmers' market in Barnes, with my wife Nicola at the helm, as well as other events and food fairs.
Of course Bread and Wine almost immediately turned into a restaurant, where we began with small plates. Fergus and I enjoyed the notion that you could pick up your loaf on the way home, and maybe a bottle of wine too. Very civilised, particularly if you could partake of a glass whilst you were there, hence the name. Fergus had had the doughnut idea too, so we needed to have a real bakery.
By 2010 we had created the bakery on Druid Street in Bermondsey. I had faithfully promised never to turn it into a restaurant, although we do trestle table sales there every weekend very happily, and families still make the journey for a round of doughnuts and their bread. That contact is important for our bakers.
Years later, our little bakery in Neal's Yard [opened in September 2018] is, I guess, the final realisation of that idea we had for Bread and Wine."
What have been the biggest challenges so far?
"Life has changed a lot somewhat since COVID-19 became a part of our lives. But that's for another time!
The sale of the Network Rail arches to a capital investment fund has also led to our rent effectively trebling in the past three years, with rates to match. The hike in raw material prices following the Brexit referendum, the diminishing labour pool across the industry that has also followed. Sometimes the task is more than difficult but we know that we are not alone, happy for a little solidarity.
We believe in our hands. When supermarket buyers have approached to stock our bread, sometimes with a tame baker in tow to do our work by proxy, we have always refused. We can work out how many loaves we need to shape with our own hands to cover the latest cost increase, the latest challenge. Simple is difficult and those three or four ingredients do not mean an easy life! The process keeps you honest. All sourdough breads should have their own character but, of course, be sourdough, so add false products to those challenges."
What have been the bakery highlights so far?
"Happily, the daily process can give constant reward. When the bread is good, we know, and we smile. We have continued to bake the way we want to, we have learnt and continue to learn."
Who has helped along the way?
"Folk know that many of our former chefs, who remain a part of the St. JOHN family, have gone on to sing with their own voices. People sometimes forget that some of our bakers have done the same, though. For example, Dan Lepard was with us in the early days, and Justin Gellatly started with us. Both have gone on to similar success and, of course, remain part of the extended family."
What does the bakery side of things look like today?
"We still sell over our restaurant counters and in Selfridges but always within our working practices and capacity. Doughnuts and Eccles cakes remain staples - the look of dismay if we have sold out keeps us on our toes. We know a baker's local responsibilities and of our bread the sourdoughs and the everyday white loaf** are the big sellers but as ever you have fans of each loaf. We do not believe in a big repertoire of 'variety' breads.
Currently we have some seventy trade accounts and we are happy with that. To be able to work with some lovely restaurants is a good thing for our bakers and pastry folk. The Siren, Nathan Outlaw's new restaurant at the Goring Hotel, for example. These days we like the chefs to spend some time in the bakery if they can. Bakers, pastry chefs and the brigade chefs are all different folk and life is not just about catching up once a year at the staff party!"
And the future?
"Our bakery counter is now open seven days a week in response to the crisis and it is been a little silver lining in difficult times. We hope that everyone who works with us (and other good bakeries) continues to have things to take away. For example, that good bread is not expensive – 'cheap' bread is. We hope people understand that craft is a part of the quality of life. One day I hope some of the dots will join up, that genuine craft (I'm not sure about the often misused word artisan) bakers will re-appear in our localities and we'll see the end of fauxdough!
Our head baker, Laszlo, and our operations folk are always working on new things and are aware of the constant need to keep investment in the bakery rolling, even against the difficult economic and political background. In late 2020 we opened our new little retail bakery opposite Borough Tube station, and did I tell you about the croissants?
*26 St. John Street, with former owners including oil, spice and general provisions merchants, and a covered yard that contained bacon smoking ovens.
**In 2020, the small white tin loaf was priced at under £2 [ed.]
---
Originally published in True Loaf magazine issue 45, January 2021
Published 1 Mar 2021
Real Bread Campaign: The Real Bread Campaign finds and shares ways to make bread better for us, better for our communities and better for the planet. Whether your interest is local food, community-focussed small enterprises, honest labelling, therapeutic baking, or simply tasty toast, everyone is invited to become a Campaign supporter.
Support our charity
Your donation will help support the spread of baking skills and access to real bread.