Sourdough re-starter
A pandemic pause caused Allie Smith to re-asses her thriving bakery business to re-connect with her passion for sourdough.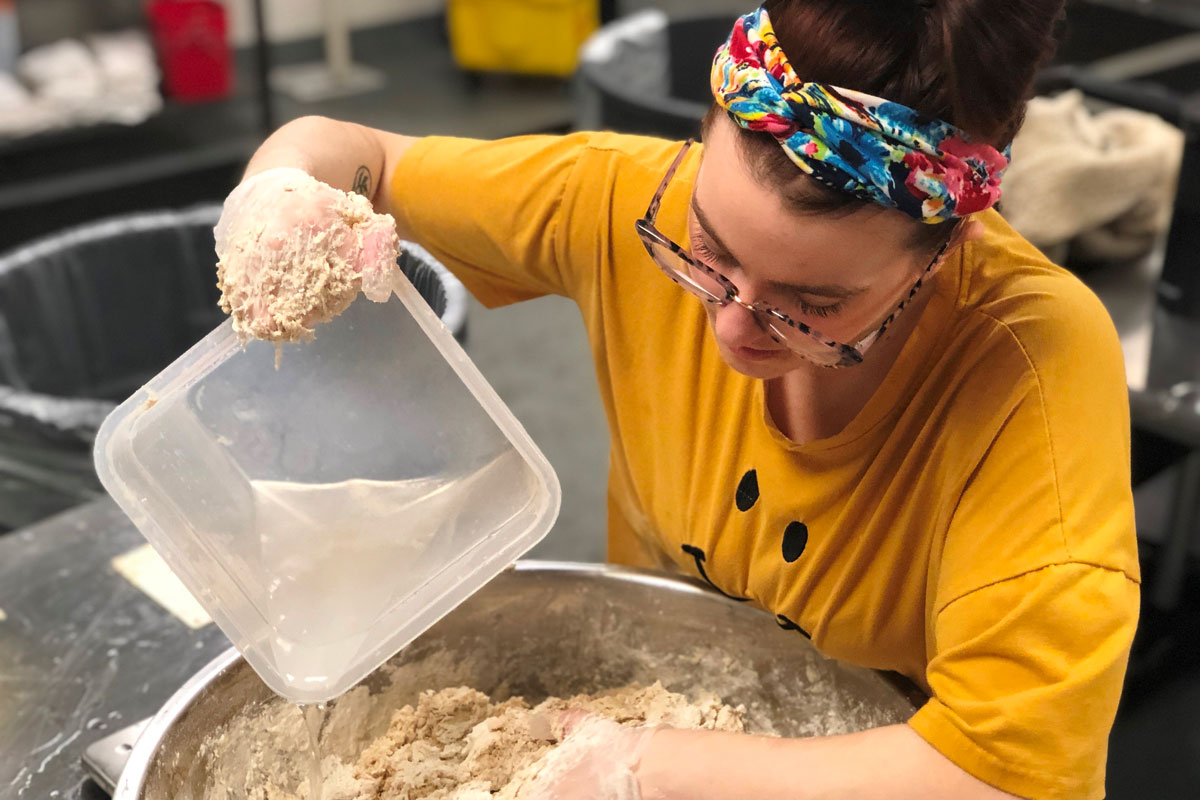 In 2017, life was great. I had just moved into a townhouse in Forth Worth, Texas, with my (now) husband Ty and son, I was the healthiest I have ever been physically and mentally, and I was slowly but surely climbing the ranks in my insurance career. As my passion for baking began to swell, I found myself taking cakes and pastries into the office for friends and co-workers to enjoy. Once I started making classic savoury puff pastry tartlets (turkey and pesto was a crowd favourite) friends quickly became customers.
Loaf's a Peach
Like so many other people, I was greatly inspired by The Great British Bake Off's bread week* and began adding bread to my menu. Then I fell hardcore in love with sourdough bread. During a YouTube binge, I discovered a series on sourdough by Alexis Aïnouz (aka French Guy Cooking) that centred around making your own starter. I'm embarrassed to say but at 24 years old, I still thought sourdough was a flavour that bakeries put into their dough to make a tangy loaf.** I had no idea the beautiful history and possible health benefits of genuine sourdough bread. Following Alex's video instructions, I began nurturing my own sourdough culture in a glass jar. Fourteen days later, I had an active and bubbly starter, which I named her Peach as I thought she smelled like a peach Bellini! I bought myself a large Dutch oven, used a tea towel and colander as my proving 'basket' and attempted a classic white sourdough bread. After I pulled that first, crusty, blistery loaf from the oven, the rest was history.
Keeping up with demand
My husband recognised my love for sourdough right away and encouraged me to start selling at our local farmers' market and The Proof Bakery was born. In an effort to balance work, free time and family, we started with two Sundays a month. Oh boy, how we underestimated the amount of work it would take! On our first market day, we sold out in just 30 minutes and in the months that followed we couldn't ever seem to bake enough bread to keep up with demand.
While running our stall, we were discovered by Roots Coffeehouse. We knew this local coffee shop would be a great opportunity and started renting commercial kitchen space to bake bread for their sandwiches and toast. Soon, we had multiple coffee shops and restaurants to bake for every other weekend. Baking through the night, lugging equipment to and fro, sleeping a couple of hours on Sunday night before heading back to our office jobs on Monday morning was so exhausting. Yet, I felt incredibly passionate about sharing the benefits of real sourdough bread with our community, so we carried on!
The leap of faith moment presented itself to us in October of 2019, when we decided to quit our jobs and run the bakery full-time. When 2020 rolled around, we were using a commercial kitchen in which we could bake our wholesale orders, in addition to running a small retail space. After a couple of months we felt this was not going to work out long-term and searched for a better fit. We migrated into a much more comfortable kitchen and got our sourdough vendor status back at our local farmers' market.
Passion
Then the pandemic hit. Business truly halted there. We still had a few orders rolling in when food businesses were able to open, but it wasn't sustainable. After a sleepless night of baking in November 2020, I was tired to tears. Ty pulled me away from the kitchen and asked "is this truly what you want us to keep doing? If so, I will support you in it forever with no complaints. But if not, I will support you in that too and we will be okay." I admitted that I had gotten swept up in the wholesale part of the business and I missed the simple wonder of sourdough bread making. Like I think many people do, I'd got caught up thinking I must find a passion and then find a way to make money doing it and was stuck in an exhausting loop. After much discussion, we made the bittersweet decision that I would go back to my insurance career.
This pause gave me the opportunity to truly soul search and re-start from a place rooted in my passion. After realising that my real passion is teaching others to bake, I decided to run at it. I've spent many days recipe testing, writing baking notes and planning out next steps. As a starting point, I created my Al the Bread Gal blog space to share the things I've learned along the way. I am partnering with another Dallas-Fort Worth baker to create a series of workshops and videos that we will release in the upcoming months. Most exciting of all, I've begun giving away jars of my sourdough culture with feeding tips and baking journals to people in my local community to get them kick-started on their own baking journeys! Ultimately, I am so grateful for the welcoming and helpful online community of Real Bread bakers and hope to only enrich it as I continue baking and teaching.

@althebreadgal
*Don't get me started on how badly and little GBBO covers bread [ed.]
**Well, some industrial loaf fabricators – and even some 'craft' bakers do this. [sorry, I'll stop butting in. ed.]
---
Originally published in True Loaf magazine issue 46, April 2021
---
SHARE