Craig Sams looks back half a century to the launch of his groundbreaking bakery.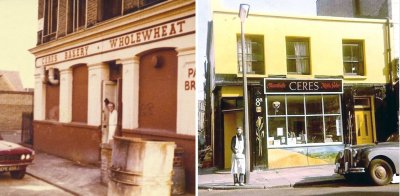 Ceres bakery. Copyright: Craig Sams
In 1972, my brother Gregory and I opened Ceres Bakery on London's Portobello Road. Named after the Roman goddess of agriculture and grain, it was the first bakery in the UK we knew of to use organic flour and perhaps the first in the 20th century to make 'naturally-leavened' and other sourdough breads. We didn't use sugar in our morning goods and patisserie, and only used white flour once a year: for the crosses on our hot cross buns.
The seeds of Ceres
In 1966, I began selling macrobiotic food at the UFO Club, a hippie venue at which The Pink Floyd got their start as the house band. Then, in February '67, I opened a small basement restaurant in Notting Hill, where we baked our own, unleavened, macrobiotic bread. Gregory opened the larger Seed Restaurant and then Ceres Grain Shop on All Saints Road, next door to the legendary Mangrove Restaurant. In 1970 we closed Seed, moved Ceres to Portobello Road and converted the old shop to Green Genes, a 'macrobiotic working man's café.'
As other shops like Ceres emerged, we set up a wholesaling company called Harmony Foods, which later became Whole Earth Foods, and began to supply them with organic brown rice, edible seaweeds, miso and other essentials. In 1971, Pam Donaldson, our Ceres shop manager, was at planning meetings at Worthy Farm with Arabella Churchill and Andrew Kerr - we were to do the food at the seminal Glastonbury Festival. Pam drank some unpasteurised milk at the farm, developed a bad case of brucellosis and I had to step in and manage the shop. Glastonbury was good, though.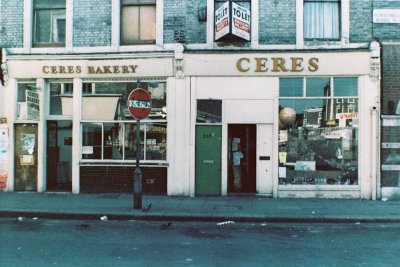 Challenging Chorleywood
When the owner of the pie and eel shop next door to Ceres died, we bought and expanded into his premises. Plant bakeries using the Chorleywood Process (launched in 1961) were rising to dominance, helping to force a lot of local bakeries out of business. This allowed us to take on a skilled baker, Tom Maher, who'd done his five-year apprenticeship in Ireland. We bought an old Dumbrill 'diving arm' mixer for £5, secondhand bread tins, and a couple of Collins four-deck ovens, covering the steel decks with quarry tiles.
At the time, Soil Association member farmers mostly sold their grain into the 'conventional' market as there then was little demand for organic flour. Gregory got a Diamant grain mill at Harmony Foods and so we bought organic farmers' wheat and made it into flour for the bakery. The farmers were thrilled to see their organic efforts make it all the way to the consumer.
Naturally leavened
Nobody else in town baked a range like ours and as soon as we opened sales took off. We did yeasted wholewheat, sourdough wholewheat, sourdough rye and bread rolls. All 100% wholegrain. I took our baker to Belgium, where we spent a day with Omer Gevaert of the Lima Bakery, to learn how to make 'naturally leavened' bread. Omer had given a speech at a sourdough bakers conference in Hanover, Germany, titled The Enzyme is the Master of the Microbe. He was booed by angry German sourdough bakers who didn't like a Belgian telling them how to ferment starters.
We germinated wheat grains, which generated the enzymes that convert glutenin and gliadin into amino acids and convert starch into maltose. Then we'd purée these sprouted grains to nurture as our starter. The dough would slowly ferment from 7am until midnight and then be made up into loaves, which would rise and be ready for baking by 5am.
Growing and moving on
We started to deliver and within two years moved our production to a larger bakery in the Free Independent Republic of Frestonia, a nearby squatter community that printed their own postage stamps and later applied for membership of the United Nations. By 1973 we were the main bread supplier to the Biba Food Hall and our products were stocked by Selfridges and Harrods, plus around 50 delicatessens and natural food stores across London. We took over a bakery in Fulham that had a two-deck side flue oven, allowing us to increase our production capacity.
In the 1980s, we started to make granola breakfast cereal, which proved to be more profitable than bread. We closed the Portobello Road shop to concentrate on granola, then moved production to a factory in Warrington, licensing a Whole Earth bread recipe to Goswell Bakeries. Gregory had invented and trademarked the VegeBurger and was 100% focussed on that. My main interest became Whole Earth Foods, where I concentrated on our peanut butter business.
Chocolate, coastal life and charcoal
My quest for organic peanuts led me to farmers in Togo. Sadly, their peanuts failed our aflatoxin tests but the farmers also produced organic cacao. I had a sample of dark chocolate made up and Josephine Fairley, my then girlfriend (now wife), came up with the name Green & Black's - as in 'organic' and 'very dark'. In 1991, we launched the world's first certified organic 70% cocoa solids chocolate. In 1994 our Maya Gold was the first product ever to carry the Fairtrade Mark.
In 2002, Jo and I moved to the seaside town of Hastings and in 2005 bought Judges Bakery there. It had been running since 1826 and was still following 20th century 'craft' baking traditions. We brought in Emmanuel Hadjiandreou as head baker, overhauled the entire product range, including the introduction of sourdough and other slow-rise breads. Within two years, we won the Soil Association's Best Organic Small Shop Award.
Nowadays, I concentrate on Carbon Gold, biochar-based products that we sell to gardeners and tree planters. Although I cut my bakery ties when we sold Judges in 2013, I still make chaga (a type of birch tree fungus) bread in my Panasonic bread machine using the enzyme method. It doesn't come any better.
www.craigsams.com
@craigsams
Photos © Craig Sams
---
Originally published in True Loaf magazine issue 50, April 2022
Published 19 Apr 2022
Real Bread Campaign: The Real Bread Campaign finds and shares ways to make bread better for us, better for our communities and better for the planet. Whether your interest is local food, community-focussed small enterprises, honest labelling, therapeutic baking, or simply tasty toast, everyone is invited to become a Campaign supporter.
Support our charity
Your donation will help support the spread of baking skills and access to real bread.