Bex Clarke opens the door of the east London social enterprise.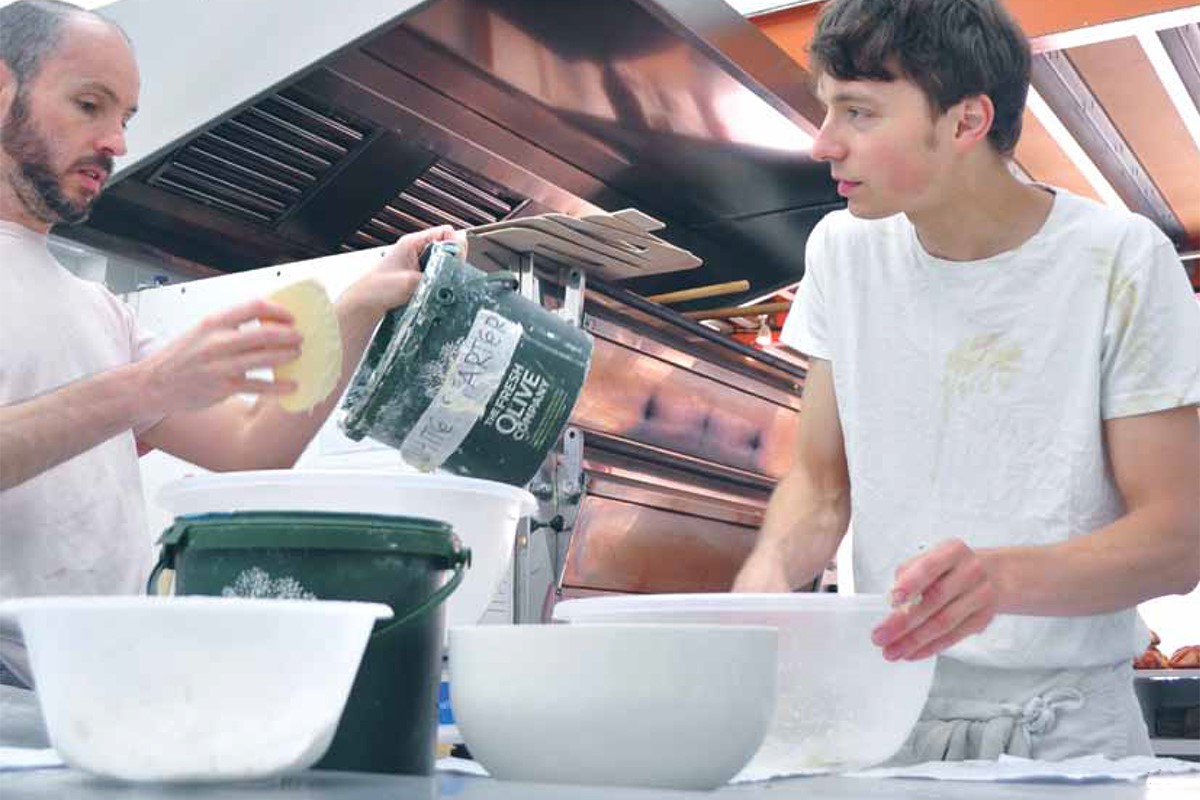 Better Health bakers in 2013 by Chris Young / realbreadcampaign.org CC-BY-SA 4.0
Tucked away behind Kingsland Road, just around the corner from Haggerston station in Hackney, is the Better Health Bakery. Taking up most of the ground floor of an unassuming industrial building, the bakery has now been going for about six months, with a focus on traditional handmade artisan bread made using all organic ingredients and a sourdough levain. Many of the loaves are left to prove slowly in the fridge overnight for around fourteen hours, and then baked early in the morning.
Dough to be different
What sets this bakery apart is that it is run by the Centre for Better Health, a charity that has been working in Hackney and its surrounding boroughs for over fifty years. The charity provides support for adults who have suffered from mental distress, helping them find or regain their place in the local community. Over the last three years, it has put its energy and expertise into three key services: low-cost counselling; a training and employment social enterprise; and a community hub offering courses and workshops that range from literacy to yoga.
Social enterprise
In 2010 the Centre began to explore using the social enterprise model to enable people living with various mental health issues to gain on the job training. This involves giving trainees opportunities to learn new skills, build confidence and engage in team working, helping them move closer to employment. Ashwin Matthews, the Centre's director, said 'We wanted to shift away from simply running a sheltered employment workshop to a model that built individuals' confidence, employability skills and provided a genuine path to further training or employment. We were also keen to develop a real business that had the potential to sustain itself financially.'
The first such project set up by the Centre involves trainees making products for the healthcare industry, offering them the chance to learn the whole manufacturing process. While looking for a secondary enterprise to build on this, Ashwin found the inspiration locally. He explains, 'I saw Ben from E5 Bakehouse cycling around one day and just stopped him at the side of the road. The making of Real Bread was something that seemed to tick all the boxes, both as a project to support recovery and as a commercial activity. The skills and therapeutic process of making long fermented, quality bread, as well as the satisfaction in selling that bread to people in the local community, captured our imagination. It's from that conversation that we are where we are today.'
The Swedish Chef
A key member of the team is head baker, Robert Agren, who hails from Sweden. Formerly a chef and originally coming to the UK to study graphic design in central London, he was soon tempted back into the kitchen. It was while working his way up through the kitchen ranks to become a chef that he discovered the wonders of Real Bread baking from a fellow chef who knew how to work with wet doughs to produce satisfying sourdoughs and ciabatte. When not at work, he carried on experimenting with sourdough at home, supplying a local supper club. He also started volunteering two days a week at the aforementioned E5 Bakehouse, which eventually led to a job there.
Robert's plan had been to set up some kind of bakery himself in east London but when he heard about the Better Health Bakery project, he approached the Centre to offer to set it up and lead the bakery team. 'I have always been interested in community projects and the idea of sharing knowledge with others, so this was an opportunity for me to explore this further. It is great to see what the art of bread making can do for society,' he said.
Yeast tenders
At the moment around three trainees can be found in the bakery on any given day, each on a placement of one to four days a week for three to six months. On top of baking skills, they benefit from ongoing training in health and safety, first aid, numeracy, literacy and IT skills, all designed to help open up routes for them into employment, catering or further training. More than this, making Real Bread from scratch is a labour intensive and therapeutic process. It's a true craft and skill that the trainees can get involved in. Seeing wild yeast, flour, salt and water turn into a physical loaf is rewarding, a little magical and it gives people a sense of achievement.
To monitor trainees' progress and ensure each receives support tailored to his or her own needs, the charity uses a tool called Work Star. This is incorporated into a framework for one-to-one sessions, where trainees can assess their own journeys and progress from the start of the placement. It provides the basis for each trainee to identify key areas he or she would like to work towards and set goals in relation to these. Work Star focuses on seven core areas, which range from job-specific skills to stability. The self-assessment dynamic of Work Star is crucial so that the trainees can see their own progression, build confidence, self-belief and ambition.
Getting better all the time
The Better Health Bakery's Real Bread is proving popular, particularly the Country Sourdough, Country Rye Sourdough, and the baguettes made with a mix of sourdough levain and a yeasted poolish. Loaves are already available from Stoke Newington farmers' market, supermarket antidote Unpackaged, and a range of local cafés, pubs and restaurants.
The Centre has a very holistic approach at its heart, looking at mental health from a social perspective. In May this year the bakery opened its doors so local people can now drop by for their daily loaf, coffee or sourdough sarnie. As Ashwin says, 'Hackney has so much happening right now, but often the people we work with are not part of that buzz. Being able to open our doors and invite our neighbours into the bakery offers our trainees a chance to be included in it.'
Though relatively new, already some of the trainees are really keen to learn more about baking pastries and cakes, with which the bakery is currently experimenting. There is also talk of having a weekly pizza day, where they can learn how to make pizza and enjoy a shared lunch. Now the bakery is open to the public, it will give the trainees more opportunity to learn skills in a range of roles such as customer service, food preparation and barista training.
As Fyodor Dostoevsky wrote, 'there is not a thing that is more positive than bread.'
---
This archive feature was originally published in True Loaf magazine issue 16, July 2013
Published 8 Apr 2019
Real Bread Campaign: The Real Bread Campaign finds and shares ways to make bread better for us, better for our communities and better for the planet. Whether your interest is local food, community-focussed small enterprises, honest labelling, therapeutic baking, or simply tasty toast, everyone is invited to become a Campaign supporter.
Support our charity
Your donation will help support the spread of baking skills and access to real bread.