Urban Farming Toolkit: A guide to growing to sell in the city
The Urban Farming Toolkit is a practical guide to help prospective growers establish and run a successful growing site that generates an income.
Contents
1. Find and secure a suitable growing site
What is a viable site?
Find a potential site
2. Creating the garden
Planning the layout
Buying tools
Chapter 2: Action summary
3. Establish growing methods
Plan your rotation
Plan your growing year
Sowing seeds
Planting out
Harvesting
Dealing with pests and diseases
Chapter 3: Action Summary
4. Find your market
Secure your market
Create a label
Packing your produce
Chapter 4: Action Summary
5. Creating the business
Making the numbers work
Choosing a business model
Creating policies
Good record keeping
Chapter 5: Action Summary
6. Engaging the community
Trainees
Running volunteer days
Teaching and outreach
Chapter 6: Action Summary
Case studies
Springfield Park
Hackney Tree Nursery
Clissold Park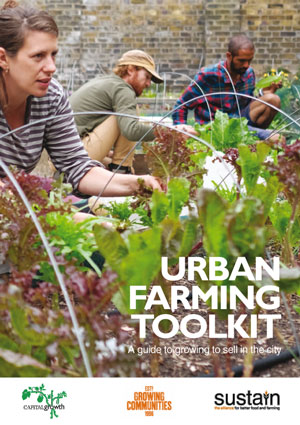 Urban Farming Toolkit: A guide to growing to sell in the city
34pp - 2017 | 4173Kb
Capital Growth: The Capital Growth campaign, run by Sustain's London Food Link offers practical and financial support to communities around London to help more people grow more food, and to have greater access to land and growing spaces for community benefit. The Capital Bee project, part of Capital Growth, seeks pledges to promote bee-friendly behaviour, and supports establishment of community beehives.