London Grows Wild: A guide to wildlife-friendly food growing
London Grows Wild is a practical guide to help urban food growers incorporate wildlife-friendly practices and principles into their gardens.
Whether growing in a balcony garden, allotment, school or urban farm, there are a variety of ways to turn urban gardens into welcoming homes for wildlife. The advice and assessments in this guide can help growers learn more about what wildlife-friendly food growing is, identify what's already going well in their garden, and discover easy ways to improve.
Contents
Wildlife-friendly food growing
Attracting wildlife into the garden
Understanding the insect world
Composting for wildlife
Growing food the wild way
Evaluating biodiversity in garden design
Resources for further learning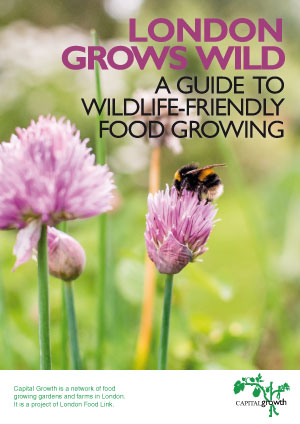 London Grows Wild: A guide to wildlife-friendly food growing
2016 - 20pp | 3970Kb
Capital Growth: The Capital Growth campaign, run by Sustain's London Food Link offers practical and financial support to communities around London to help more people grow more food, and to have greater access to land and growing spaces for community benefit. The Capital Bee project, part of Capital Growth, seeks pledges to promote bee-friendly behaviour, and supports establishment of community beehives.