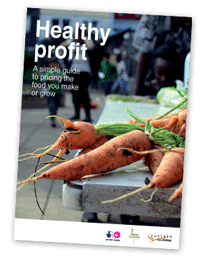 This report aims to help community food organisations price their produce, to cover their costs and make enough healthy profit to fund other social and environmental activities. It explains why this is important both for them individually and for the alternative food system as a whole.
We hope that this paper will give you the confidence to plan your pricing effectively, providing you with the building blocks to construct your own pricing model. Many food enterprises sell themselves short by failing to tackle this important issue head on. Money and prices do not need to dominate how you think about your food trading.
However, we observe that when social enterprises do take control of their money, and treat food pricing as a core element of this, they are much better placed to become financially resilient. In turn, this helps them to be more effective in tackling the health, social or environmental issues that they were set up to address.
"The aims of your organisation will affect the prices you charge. If you have a strong focus on providing people living on a low income with good, fresh, food then you will clearly focus on keeping your prices low. However, particularly in the current environment of cuts in public funding, you should still consider how your organisation is going to be financially sustainable. Only by being financially secure will you be able to make a long-term difference to the lives of the people you are trying to help."
---
Report contents
What is price?
Price and your organisation
Price, your Unique Selling Point and your competition
Price and your customers
Speaking to your customers
Key costs and the importance of reviewing them
Gifts: Who is getting the benefits?
Calculating break-even points
Conclusion
Appendix: Basic costing spreadsheet - a profit and loss account
"Take pride and be confident in what you are doing. If what you are doing is better than what others offer, believe it. If it is better, then its value and its price should be higher to reward your growers and your organisation for all the effort you have put in."