A Lincolnshire Breadbasket
Networking event for farmers, millers and Real Bread bakers.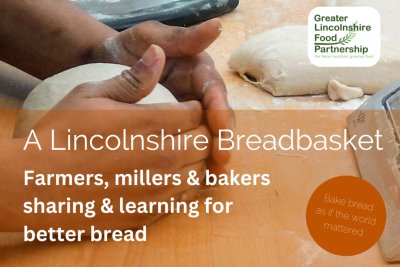 Local loaves for Lincs.. Copyright: Lincolnshire Food Partnership
Involved, or interested, in re-localising Lincolnshire's grain economy? A Lincolnshire Breadbasket is the latest in a series of Lincolnshire Food Partnership events that bring together people working with grain in Lincolnshire, from land to loaf.
Wednesday 20 September 2023, 10am - 2pm at Grain of Truth Bakery.
Tickets are £10, including a bread and cheese lunch and a cuppa - bring your own mug.
What to expect
You'll have the opportunity to:
hear from farmers about growing nature-friendly, organic and resilient grain in Lincolnshire.
learn about The Lincoln Institute for Agri-Food Technology (LIAT) research on Lincolnshire bread.
join a tour of Grain of Truth Bakery.
give your own grain/Real Bread update.
network with fellow grainiacs.
…and taste Real Bread from Lincolnshire bakeries.
The organisers say: "Taking inspiration from other regional grain networks and UK Grain Lab, the aim is to develop a resilient, connected, ecological grain network and short supply chains. The event will be an opportunity to share the issues we are facing at every stage and more deeply understand the journey of grain to bread in Lincolnshire."
The chat
Topics for conversations will include:
what it means to grow diverse and resilient grains.
the role of traditional millers and the skills involved in producing stoneground flour.
slow fermentation and nourishing Real Breads.
what sort of Real Breads people in diverse communities across Lincolnshire need and want.
Who's behind it?
The event is being organised by Lincolnshire Food Partnership with Greenfield Bakers, LIAT and South Ormsby Estate. It will be hosted by Grain of Truth's baker Ralph Gilsenan and bread and cheese man, Adam O'Meara.
Organisers take inspiration from UK Grain Lab, Tuxford Windmill Speciality Flour Shop, Turners of Bytham and the Real Bread Campaign.
Who's this for?
The event is primarily aimed at farmers, millers (and mill volunteers) and retail/wholesale Real Bread bakers in Lincolnshire.
If you would like to participate but are unsure whether you fit into the above categories (or have any other queries about the event), you can email organiser Laura Stafford.
Support our charity
Your donation will help support the spread of baking skills and access to real bread.