Real Bread Campaign friends' survey
Just three quick questions!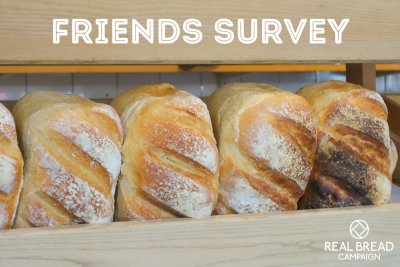 Calling all loaf lovers!. Credit: Chris Young / www.realbreadcampaign.org CC-BY-SA-4.0
Hi,
The charity Sustain is only able to keep running your Real Bread Campaign thanks to annual payments from our supporters.
As such, we're trying to get a general picture of why people in our wider network of friends (including social media followers) aren't currently Campaign supporters.
If you haven't made a Real Bread Campaign supporter payment in the past 12 months, it would be great if you could take two minutes to click a few boxes in our anonymous survey.
Your answers will help us to work out what we might be able to do differently in order to attract and retain Campaign supporters.
Happy baking,
Chris Young
Coordinator
The Real Bread Campaign
PS If you've paid your supporter subs in the past 12 months, we'll be sending you a link to our current supporters' survey before the end of the year.
If you've created a record in the Real Bread Campaign system, you can login to check or update details.
Support our charity
Your donation will help support the spread of baking skills and access to real bread.