One in four households with children have experienced food insecurity in the past month, according to a new report from the Food Foundation, and primary school teachers tell Chefs in Schools that more children than ever are arriving at school hungry because families are struggling to afford food.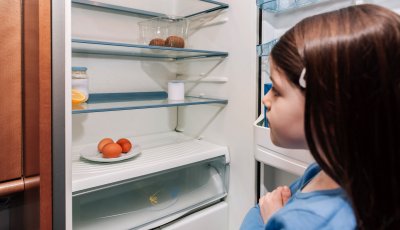 Copyright: Shutterstock
83% of primary school teachers are reporting that they have children arriving at school hungry because their families are struggling to afford food, and that numbers of hungry children are growing. 73% have reported children bringing packed lunches with insufficient amounts of food, whilst almost a quarter of schools reported they have children skipping lunch entirely due to lack of food or money.
The findings come in a new survey of 527 primary school teachers by Survation on behalf of Chefs in Schools. Primary school teachers also reported cases of children storing food in their pockets to take home, nibbling on rubbers because they were hungry and stealing food from other children.
85% of teachers said that children currently ineligible for Free School Meals would benefit from receiving them.
53% of teachers reported that schools were having to provide meals for free for children unable to buy them, or arriving at school hungry
Lisa Williams, Head Teacher at Rushey Green Primary School, says:
"I've never known anything like this during my career, it is getting worse. Children are coming to school hungry and we're caught between a rock and a hard place. If they're hungry, they can't concentrate so our resources are worthless, but if the budget goes on school food, the resources suffer.

"With pack lunches, some children have bread with no filling or just a slice of bread. We see cheap snacks that are low on nutrition. As we get towards the end of the week or month and the money runs out at home, it often gets worse. It's heartbreaking. Parents are struggling. This isn't about not wanting to feed their children, it's about not being able to afford nutritious choices."
The evidence adds further weight to calls on Government from the #FeedtheFuture campaign to urgently expand free school meals to the 800,000 children living in poverty who are currently ineligible. As well as supporting families struggling to access healthy food in the current cost of living crisis, the campaign has pointed to the long term economic benefits that an expanded free school meal service could deliver in terms of improved educational attainment, health and wellbeing.

Ask your MP to Feed The Future Now

Naomi Duncan, Chief Executive of Chefs in Schools says:
"This research reveals the shocking reality that teachers see daily. The situation is appalling and getting so much worse. We call on the government to urgently extend eligibility for free school meals to all families receiving universal credit, so that support reaches the kids who need it most. The system is ready, we can implement this tomorrow."
New data from the Food Foundation's food insecurity tracker also reveals that one in four (25.8%) households with children report they have experienced food insecurity in the past month, affecting an estimated 4 million children. Shockingly, the Food Foundation reports that the rate of food insecurity in households with children is increasing at double the rate of those with no children. Families report having to compromise on the quality of the food they are buying, with 58% reporting they are buying less fruit and 48% fewer vegetables. 7 in 10 adults say they are turning off fridges, cooking less and eating cold food to save energy. One in five adults, an estimated 9.7 million people, reported having to skip meals to make ends meet.
The former Children's Commissioner Anne Longfield, speaking on BBC Newsnight on 17 October, said:
"Child poverty and poverty generally is at such a level of crisis at the moment that the country needs Government to take this seriously. I would like to see COBRA meetings reflecting the magnitude of the situation for real families and children being held on a regular basis to look at what is happening and to find solutions, and to deliver those solutions."
You can read the full Food Foundation food insecurity tracking here
You can read the Chefs in Schools survey with teachers here

Take Action for Free School Meals Now
Support our campaign
Your donation will help us champion children's rights, parent power and government action to improve the food environment children grow up in.