Leeds commits to lower climate impact of food under council control
The city will buy and serve more food produced in Yorkshire and neighbouring counties, stop the purchase of airfreighted foods and halve the average carbon footprint of meals by 2030.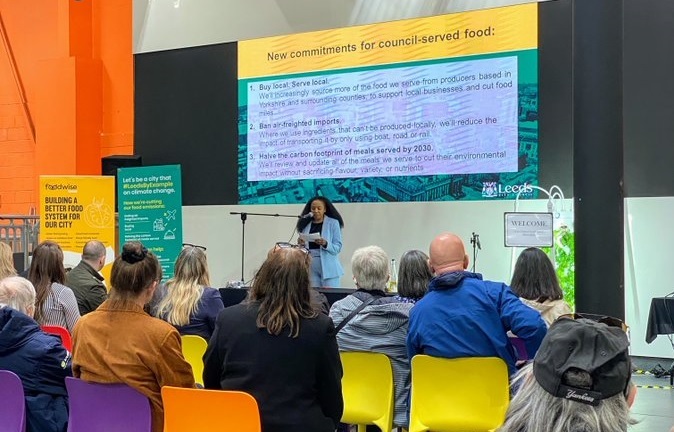 Credit: Leeds City Council
Leeds City Council's Food Champion Councillor Abigail Marshall Katung announced the trio of measures during a low carbon lunch at the iconic Kirkgate market bringing together partners across the food system in Leeds including the City Council, FoodWise Leeds, University of Leeds, Fairshare Yorkshire, Rethink Food and Ministry of Food. Most of the food under Council control is served by Catering Leeds, which provides school dinners to 182 primary schools across the city.
The new commitments build on the Glasgow Food and Climate Declaration – a commitment signed by Leeds and many other cities and local areas around the globe to tackle the climate emergency through integrated food policies and a call on national governments to act.
The reductions in emissions will be calculated from the 2019 baseline by a team of academics from the Consumer Data Research Centre and University of Leeds. The data will provide catering staff with an easy way to compare carbon footprints of meals and enable them to adjust menus to achieve the desired reduction in carbon emissions.
Sustain summit
12 Oct 2022
The summit will consider meat and dairy production and consumption in the context of the climate and nature emergency, where inspiring work and opportunities exist, and the assumptions and underlying values about meat which have shaped our policy to date.
Support our charity
Donate to enhance the health and welfare of people, animals and the planet.