Refill app expands to help eating out and shopping package-free
The popular Refill app, which helps locate nearest water refill stations and drinking fountains, will now help customers choose cafes, eateries and shops that prioritise package-free options.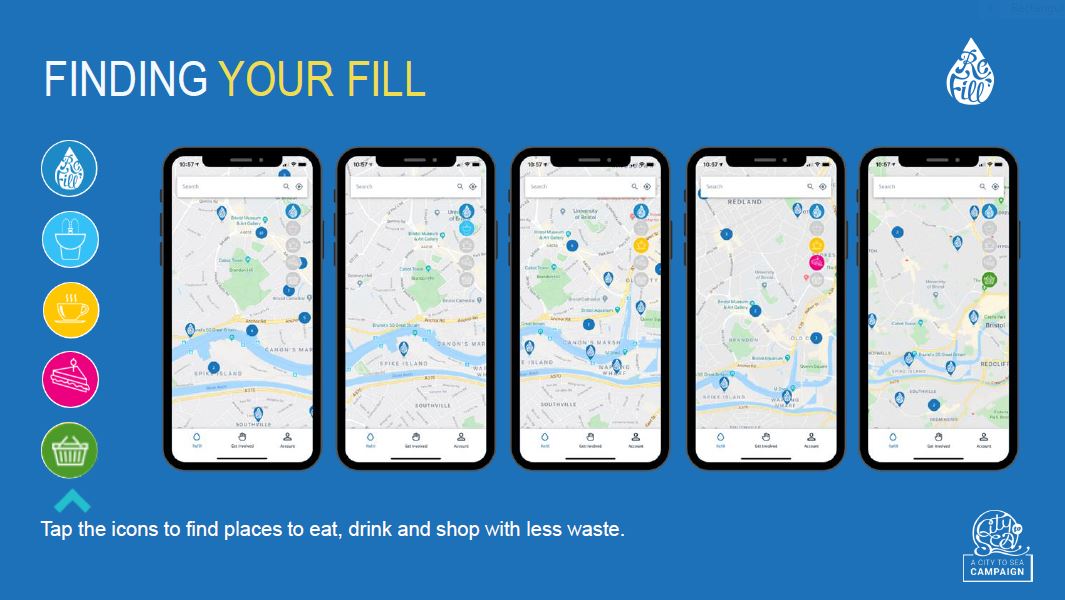 Launched as a pilot project in Bristol in 2015, the Refill network of free drinking water refill locations has now expanded across the UK with over 30,000 businesses participating, and has prevented 100 million bottles of plastic from entering the waste stream. City to Sea, the charity behind the app and other plastic waste-reduction campaigns, has relaunched the app to include cafes and eateries that promote using reusable cups and containers, as well as retailers that offer package-free shopping such as bulk goods.
Facts about the impact of single use plastic waste:
Every year around the world we create more than 300 million tonnes of plastic. Half of this is single use.
In the UK our 'lunch on the go' habit generates 11 billion items of packaging waste a year.
2.5 billion coffee cups are used and thrown away each year in the UK enough to stretch around the world roughly five and a half times.
A million plastic bottles are sold every minute around the world a figure that's expected to grow by 20% by 2021.
This year City to Sea also launched a Reusables During COVID Hub for businesses to help with safely accepting reusable cups and water bottles, as well as a public petition calling on high street chains & businesses across the UK to start accepting reusable coffee cups, containers and water bottles again, signed by 18k+ individuals and supported by 15 other NGOs and brands. They have successfully pressured the UK's largest coffee chains Costa and Starbucks reverse their ban on accepting reusable cups and bottles.
---
05/10/2020
#50Fountains Challenge
SHARE
---
#50Fountains Challenge: We are calling on local areas to provide 50 working public drinking fountains.