Hull community allotment feeds local families
Following training sessions to support community food growing in January as part of the Veg Cities Hull, Constable Community Allotment ran a successful veg box scheme from July to September.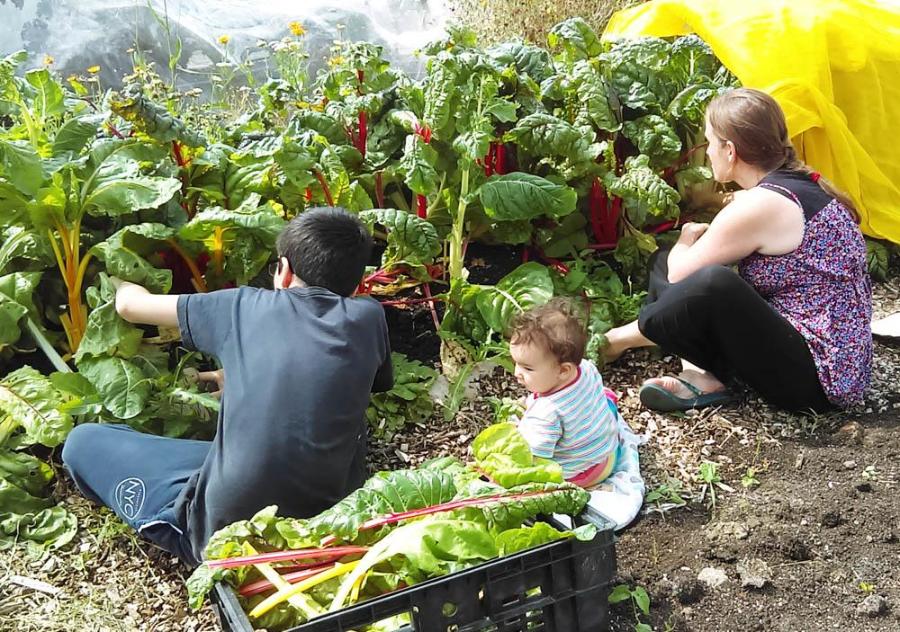 In January 2019 six partner organisations within the Hull Food Partnership (Down to Earth, Transition & Permaculture Hull, Frith Farm, Constable Community Allotment and Rooted in Hull) came together to run two days of training around community growing. In addition to funding from Sustainable Food Cities towards their Veg Cities campaign, Hull Food Partnership secured a small amount of funding from the Rank Foundation to deliver the training sessions over two days in January. 40 participants from a wide range of organizations participated in the training which supported both community growing and small scale growing enterprises.
Following on from the training, Constable Community Allotment successfully ran a weekly veg box scheme for 12 weeks from July to September supplying 15 families each week with a box including: beans, beetroot, spring onions, courgettes, tomatoes, rainbow chard, squash and salad leaves. Families collected the boxes at the allotment and often picked some of the vegetables themselves as a social activity. This has helped to establish the connection between field and plate in the minds of adults and children alike.
Project Manager, Lausanne Tranter added: "As it stands we are unable to actually sell any of our produce, so we asked if people wished to donate to the project to help with our fund raising campaign for 12 weeks, and in return we would give them a variety of produce to say thank you. It has been a great success for all. We produced a fantastic amount of crops and were also able to provide food for our regular participants and local residents. It demonstrated how easy it is to produce organically grown local food, with no food miles or packaging. We are going to do this again next year. The money donated will be used to maintain the community allotment and help us to be more self-sustaining."
Since 2015, Constable Community Allotment has turned a disused half-acre site belonging to the city council into a productive food growing site. The site uses permaculture principles to grow a wide range of fruit and vegetables. The project received three awards this autumn including a gold and two silvers at this year's Hull in Bloom for Best Wildlife Garden, Best Allotment and Best Community Award respectively.
Sustain are encouraging more areas to launch Veg Cities campaigns and get local businesses and organisations making veg pledges. Veg Cities is a feature campaign of Sustainable Food Cities and is run in partnership with Peas Please.
---
22/10/2019
Veg Cities
SHARE
---
Veg Cities: Veg Cities is a feature campaign of the Sustainable Food Cities led by food and farming charity Sustain in partnership with the wider Peas Please initiative led by the Food Foundation, Nourish Scotland, Food Cardiff and WWF.