Call to extend industry levies on sugar as new research by Action on Sugar shows the combination of food and drink sold in coffee shops can contain a huge 39 teaspoons of sugar in one sitting.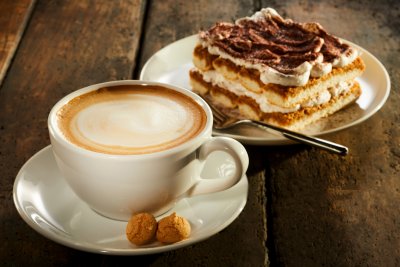 Cup of double espresso coffee with piece of cake on wooden table. Copyright: stockcreations: Shutterstock
As part of Sugar Awareness Week (13-19 November), a new product survey by Action on Sugar has shown that:
Over a third of sweet food and drink products sold in major high street coffee shops exceed an adult's daily limit of sugar (30g for free sugars) in just one serving
The highest combination of food and drink sold in coffee shops can contain 5 times an adult's maximum daily sugar limit
782 sweet food and drink products surveyed in nine leading high street coffee shops were often "insufficiently labelled for consumers" with nutritional information that was not transparent
The accessibility and affordability of different types of food and drink influence what we eat, and the availability of these high-sugar products in coffee shops is contributing to increasing cases of overweight and obesity in the UK (currently affecting more than one in two young adults aged 25-34), as well as untreated tooth decay (one in three adults aged 25-34).
However, this latest research also shows that it doesn't have to be this way. While the sugar content was huge across the products surveyed, there was a notable difference in similar products from different business, showing the ability of the food and drinks industry to reduce the amount of sugar in their products. For example, a Gingerbread Latte from Costa contains 3.8g of sugar per 100g, while the same drink from Soho Coffee Co. contains a massive 14.7g per 100g. And as we come into the festive season, buying a mince pie from Gregg's will see a sugar content of 32g per 100g, compared to 43g per 100g at Coffee#1.
The Soft Drinks Industry Levy (SDIL) saw an impressive reduction in the total average sugar in soft drinks of 34.3% between 2015 and 2020 (removing a total of 46,000 tonnes of sugar from our diets). Meanwhile, voluntary measures have been unsuccessful in the out of home (OOH) sector, with just a 0.2% reduction in overall sugar.
The new industry levies being proposed by Action on Sugar, and the wider Recipe for Change campaign, to encourage reformulation, could include extending the current Soft Drinks Industry Levy (SDIL) across all juice and milk-based drinks and introducing new levies targeting the high sugar content in sweet foods. As per the Recipe for Change campaign asks, any revenue generated from businesses not reformulating their products should be invested back into children's health.
Dr Kawther Hashem, Campaign Lead at Action on Sugar says:
"The use of levies is an effective lever to encourage companies to reduce sugar and calories in their products. The Soft Drinks Industry Levy is a key example of this which successfully removed a massive 46,000 tonnes of sugar from these drinks as well as raising millions of pounds which has been invested in children's health. We now need to see similar levies introduced across other categories to shift the market towards a healthier direction."
Read the full story on the Action for Sugar website.
Support our campaign
Your donation will help us champion children's rights, parent power and government action to improve the food environment children grow up in.