Real Bread Campaign letter published by The Observer.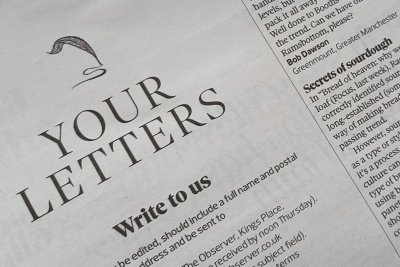 Letters page. Credit: The Observer
On 19 November 2023, The Observer published an edited version of a letter to the editor, written by Real Bread Campaign cooridinator Chris Young.
The original letter in full
In the article 'Bread of heaven: sourdough may have had its day, but we'll always love a loaf' (12 November 2023), Rachel Cooke correctly identifies sourdough as a long-established (some say timeless) way of making bread, rather than a passing trend. The article, however, mainly perpetuates myths about sourdough, primarily that it's a type or style of bread, when the truth is that it's a process.
A sourdough starter culture can be used to create any type of bread that can be made using baker's yeast, and then some. This includes ones to which Rachel refers (baguette, focaccia, white rolls…) and goes on to incorporate panettone, brioche, naan, bagel, shokupan, croissant – the list continues around the globe. Yes, even a squishy, white sandwich loaf, as favoured by many toastie and bacon sarnie lovers. Conversely, bread that is chewy, with an open crumb that melted butter slips through and a crisp crust that requires 'hacking away' at can be made with baker's yeast.
One other point in the article with which we do agree is that some products marketed as sourdough are overpriced. Supermarkets (and some other crafty bakers) have a tendency to slap the word on products manufactured by other means – what we call sourfaux.
See also
Support our charity
Your donation will help support the spread of baking skills and access to real bread.