King Charles delivered his speech in Parliament this week, marking the beginning of a new parliamentary session which will run up to the next general election (widely expected in autumn 2024).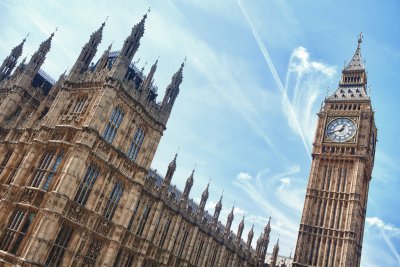 Parliament, London. Copyright: ZoneCreative | shutterstock
There were four main items of interest for Sustain members.
1. Public Health
As announced at the Conservative Party Conference, on public health grounds, the Government will introduce legislation to restrict the sale of tobacco so that children currently aged fourteen or younger can never be sold cigarettes, and to restrict the sale and marketing of e-cigarettes to children. The rationale for this is "to change the direction of our country and build a better future for our children" by "tackling the single biggest entirely preventable cause of ill-health, disability and death: smoking."
Sustain's Fran Bernhardt:
"It's encouraging that the King's Speech includes ambitious health policy, however we're disappointed that this only covers tobacco.

"Obesity is soon expected to be the leading cause of preventable cancer according to the World Health Organization. The most recent figures from the NHS show that more children than ever before are leaving primary school with overweight or obesity. We also know that for children living in the most deprived areas, obesity prevalence is twice as high compared with those living in the least deprived areas. By 2035/36, Type 2 diabetes is projected to cost the NHS £15 billion a year, or one and a half times as much as cancer does today.

"Diet-related disease robs people of their health as well as the quality and expectancy of life, just like tobacco does, so we are disappointed it is not mentioned in the King's Speech. The Government needs to kick start its stalled obesity strategy and bring in more legislation to financially incentivise companies to make their food and drink products healthier, and put more limits in place to stop companies spotlighting unhealthy food in their adverts."
2. New Trans-Pacific Trade Bill
The Speech contains a new Trade Bill to facilitate the UK's accession to the Comprehensive and Progressive Agreement for Trans-Pacific Partnership (CPTPP). The Government briefing says this will bring increased export opportunities and that UK consumers will get cheap fruit juice.
In a joint report with Pesticide Action Network, Sustain has flagged the risk that by acceding to CPTPP the UK could be opening the door to 119 pesticides banned for health and environmental reasons. The deal with 11 countries, including Australia, Canada and Mexico, risks exposing UK consumers and wildlife to a new suite of toxic pesticides.
Part of the Toxic Trade series authored by PAN UK, Sustain and trade expert Dr Emily Lydgate, our report reveals that the deal poses a direct threat to the British public's health, environment and farming sector. It would also set a dangerous precedent that UK pesticide and environmental standards are up for negotiation in other post-Brexit trade negotiations.
Orla Delargy, Head of Public Affairs at Sustain said:
"The Sustain Alliance remains concerned that acceding to CPTPP could increase pressure to weaken good food, environment and animal welfare policy here and hamper progress by UK farmers to grow food sustainably. UK farmers are already warning that the deal with Australia has handed farmers there a competitive advantage so the Government will need to answer questions about the possible cumulative effect of post Brexit trade deals. Our members continue to call for a trade strategy, parliamentary scrutiny and core food and farming standards, including on antibiotics, animal welfare and pesticides."
3. Animal Welfare
DEFRA will lead on an Animal Welfare (Livestock Exports) Bill, which (if passed in time) will end the live exports of animals from Great Britain for slaughter or fattening.
Sustain member Compassion in World Farming has been campaigning on this issue for more than 50 years. Their chief public affairs manager James West said:
"Over the past year we have applauded other countries such as New Zealand and Australia as they have pledged to ban or phase out the trade, so we are delighted the UK is finally back on track to ban this horrific practice one and for all. Today's announcement is not only long overdue but a welcome promise that never again should animals be allowed to be subjected to this cruel trade. We congratulate the Government on including this legislation and it is vital that the Animal Welfare (Livestock Exports)Bill is quickly introduced to Parliament so it can be passed and implemented well before the next general election."
4. Pollution
The Government had been expected to introduce legislation to get rid of the current river pollution (or nutrient neutrality) rules that require housing developments in particular areas do not add to pollution of waterways with nutrients such as nitrogen or phosphates. This had been signalled at the Conservative Party Conference by Housing Secretary Michael Gove. This had been the cause of alarm for environmental organisations - but the Government changed its mind, not least because the measure had been previously rejected by the House of Lords.
Ruth Westcott, Climate Co-ordinator at Sustain said:
"Every region in the UK now has more nitrogen pollution than it can absorb, particularly in those regions of England with high concentrations of industrialised indoor-reared livestock. The needs of local populations should not be competing with polluting factory farms. Local councils should demand that all livestock developments prove that they are contributing to reversing, rather than exacerbating, pollution and biodiversity decline, and to tackle the climate emergency."
You will find the Government's briefing paper on the King's Speech here
Support our charity
Donate to enhance the health and welfare of people, animals and the planet.