Consumer champion Which? calls on businesses to do more to help struggling families as new research shows that single parents are most likely to skip meals due to rising food costs.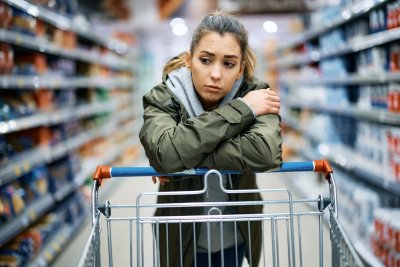 Young woman in supermarket with worried look.. Copyright: Drazen Zigic | shutterstock
Millions of households across the UK are struggling to make ends meet during the cost of living crisis but Sustain member Which? has found that parents - especially single parents - are being hit particularly hard.
Three in 10 (31%) single parent households surveyed said they had skipped meals due to rising food prices - compared to one in seven (15%) parents in couples and 14 per cent of all those surveyed.
Which? analysed Office of National Statistics data and found that different household types experience different levels of lived inflation.
Single parent and retired households have experienced a particularly high lived inflation rate compared to other family types because they spend a greater proportion of their budget on food, energy and fuel, which have all seen large price hikes during the cost of living crisis.
Single parents and retired households are estimated to spend just under a third (30%) of their income on energy, food and fuel from September 2022. This drops to a quarter (25%) of their income for couples with children and for single households without children (24%) and a fifth (22%) for couples without children.
The consumer champion's research also found that one in seven (15%) parents would struggle to pay an unexpected but necessary bill of £300 and that they are also the household type most likely to be relying on food banks.
One in ten (8%) of single parents and 5 per cent of parents in couples surveyed said they had used a food bank in the last two months. This compares to just 3 per cent of those surveyed overall.
Paul is an unpaid carer in his fifties. He lives with his wife, daughter and son in Milton Keynes. His son has a severe developmental disability. Paul told Which?:
"I used to come home with four or five bags, but now it's three bags. I'm paying the same price for less products - even with the special offers. Meat is very expensive now. I think Sunday lunch will be a thing of the past.

"I sometimes go without eating as I prioritise food for my son. I've lost a lot of weight since April."
Which? believes that essential businesses, such as supermarkets, have an important role to play in helping consumers during the cost of living crisis. As part of its Affordable Food For All campaign, the consumer champion has published a 10-point plan setting out specific steps supermarkets can take in three main areas: clear and transparent pricing, improving availability of affordable food ranges across all stores and more targeted promotions for customers who need them most.
The campaign is backed with a unique Priority Places for Food Index, developed with the Consumer Data Research Centre at the University of Leeds, which uses data from a range of indicators to identify where people in different parts of the UK are most likely to be struggling and need most support.
Rocio Concha, Which? Director of Policy and Advocacy, said:
"Our research has found that families across the UK are struggling with the rising cost of living - with single parents most likely to be skipping meals or turning to food banks to make ends meet.

"As food prices continue to increase it is crucial that everyone is able to access affordable food that is healthy for themselves and their families.

"While the government has a crucial role to play, supermarkets can also play their part in helping their customers navigate the tough months ahead. Budget lines for healthy and affordable essential items need to be widely available across their stores and supermarkets should ensure shoppers can easily compare the price of products to get the best value. Promotions should be targeted at supporting those most in need."
Read more: The Which? Affordable Food For All campaign and their Affordable food for all report. The Which? Priority Places for Food tool is also available.
Support our charity
Donate to enhance the health and welfare of people, animals and the planet.