National School Meals Week 2022 is taking place simultaneously with the latest round of global climate talks. Schools across the country are looking at how they can #makeadifference by serving up delicious, healthy and planet-friendly food.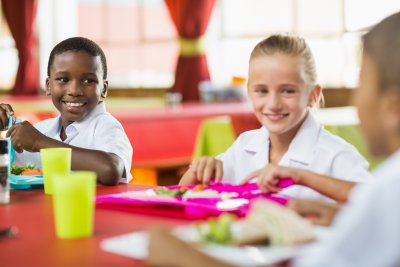 Copyright: wavebreakmedia | Shutterstock
Coinciding with COP27, this year's National School Meals Week, organised by LACA, focuses on 'green issues'. From the 'go green lunch' day, promoting plant based menus, to 'our local lunch', showcasing the best of local produce in a classic British roast, National School Meals Week aims to demonstrate the impact of school meals and how schools can make a difference.
At Children's Food Campaign, we understand the impact of school meals is which is why we campaign for school food for all children. Last week we announced the new Feed the Future campaign, co-ordinated in part by Sustain, is urging the Government to commit to a long term vision for universal free school meals, starting with urgently raising the eligibility threshold for 800,000 children in poverty. The case for universalism is clear: better education, better health, and a better economy, all while supporting families through the cost of living crisis.
Better Education Makes a Difference
Hungry kids don't learn well. In a recent study for Chefs in Schools, 88% of teachers reported pupils being excessively tired, 84% reported them being easily distracted, and 74% observed disruptive behaviour when pupils came into school hungry.
Meanwhile, results from the Department for Education universal free school meals pilot showed improved attainment in pilot schools, with children on UFSM making between four and eight weeks' more progress in maths and English than similar pupils in comparison areas.
Better Health Makes a Difference
Four million children in the UK are experiencing food insecurity, according to the latest data from the Food Foundation. This is having a serious impact on children's health. Under a universal system, every child has at least one hot meal a day.
School meals also provide an important intervention into children's health, with events such as National School Meals Week promoting healthy, sustainable diets. As most children do not eat enough fruit and vegetables, school meals are an essential way of getting kids their 5-a-day.
A Better Economy Makes a Difference
Universal free school meals can promote local and sustainable food production by increasing the market for British farmers, whilst also creating local jobs for cooking and supplying meals. We've seen this happen in Newham, where their 'Eat For Free' programme increased numbers of good food jobs in the borough, at the real London living wage or above.
New research from our partners at Impact on Urban Health has also revealed that every £1 invested in universal school meals now could deliver a return of £1.71 - or £41.3 billion over 20 years - as a result of improved educational attainment, health and wellbeing, and wider economic contribution.
So, what will the Government do this National School Meals Week? Will they ignore the mountain of evidence for universalism or will Rishi Sunak choose to #makeadifference and commit to school food for all.

Support our campaign
Your donation will help us champion children's rights, parent power and government action to improve the food environment children grow up in.