Not from Norfolk's only watermill
The county has one working water-powered flour mill. The pictured product is not from it.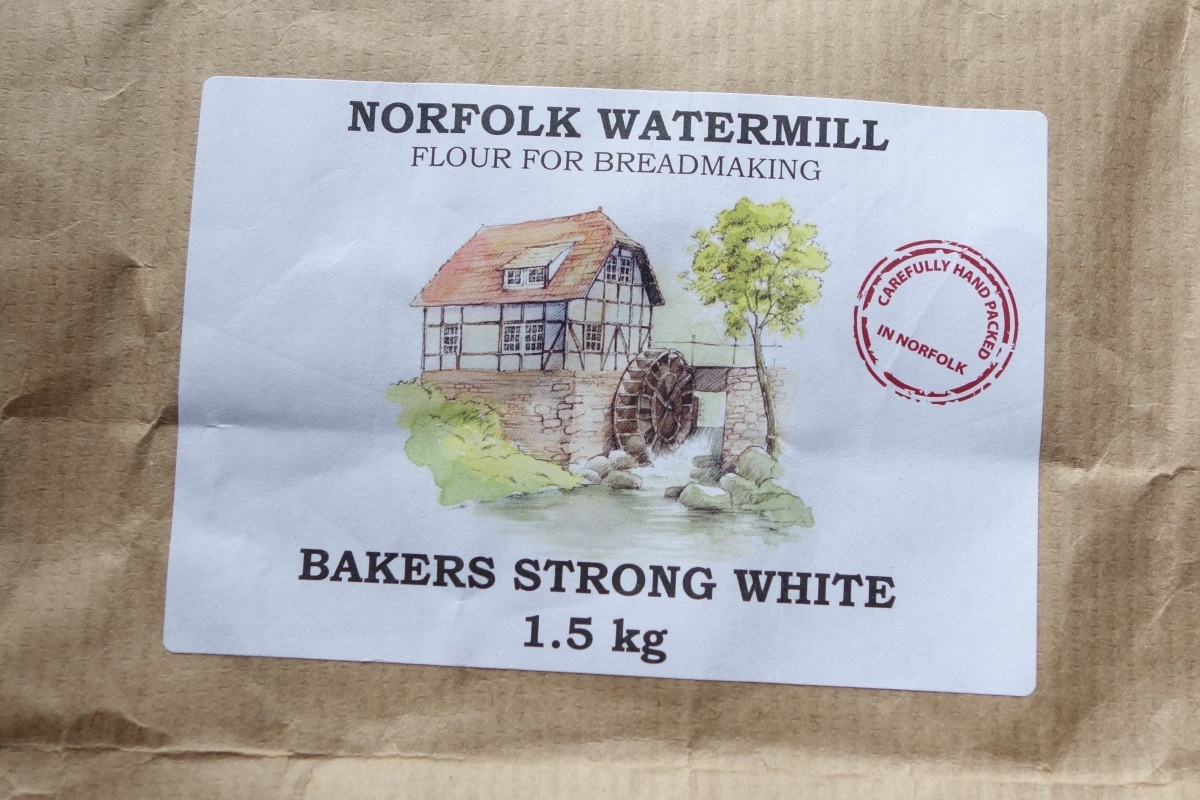 Shire Foods East Anglia flour packaging
The following correspondence was prompted by the Real Bread Campaign co-ordinator trying to find out from Shire Foods East Anglia (SFEA) about its 'Norfolk Watermill' branded flour.
NB The only working water-powered flour mill in Norfolk is Letheringsett. The flours they produce are clearly branded as such. It is not Letheringsett we are challenging.
From the Campaign to SFEA
6 August 2021
Last week I bought a bag of this premium-priced bread flour (code HEY777), understanding it to be produced by a watermill in Norfolk.
As there was no further information about the mill on the label, I did a search and it seems there is only one flour producing watermill in Norfolk. Is your Norfolk Watermill Flour milled by Letheringsett Mill under white label? If not, which water mill in Norfolk mills it?
The flour looks very white for stoneground but is it, just sifted through a very fine mesh, or is it produced by a water-powered roller mill?
Also, the label says 'carefully handpacked in Norfolk'. What stage(s) of the packing process are done by hand?
By law, four so-called fortificants have to be added to all UK milled white flour and these have to be declared on the label. Your ingredients label lists just wheat flour, so have you either not added the required calcium, iron, niacin and thiamine, or not declared them?
I also bought a bag of Shire Food East Anglia branded dried yeast (FLO155). The label lists yeast as the only ingredient. Is this correct? If so, that's great news as almost every other brand of fast-acting / quick yeast on the market has one or more additives – eg sorbitan monostearate and/or ascorbic acid.
I look forward to hearing from you.
From SFEA to the Campaign
11 August 2021
Re: Watermill Brand
HEY777 Heygates Flour
We do use flour from our local mill Heygates in Downham Market where the Norfolk Crunch comes from and other varieties so it travels a very short distance. We also wherever possible use some flour from Wrights in Ponders end where they say that there is a proportion of East Anglian grain used. However it would be pointless to obtain flour from Letheringsett as it has always been our understanding that they use Marriages flour and Doves Farm flour for organic when packing the majority of their products. We purchase extensively from both of these companies and our information is almost definitely correct. Our oats are from an identical source also, Morning Foods of Crewe where mornflake oats are milled.
As far as the yeast is concerned we always place on the bags what is stated on the boxes it comes in.
I hope this answers your questions.
From the Campaign to SFEA
11 August 2021
Thank you for your response.
I understand from this that your Norfolk Watermill flour is not produced by a watermill. If so, I believe your branding to be misleading. Please confirm that you will be changing the name and the imagery on the product?
Please answer the outstanding questions:
Are the mandatory 'fortificants' missing from this flour or from the label? Either would be a breach of the relevant regulations. Please check with Heygates that they have indeed added them as required and then confirm that you will be updating your labels.
What stage(s) of the packing process are done by hand? Again, please check with Heygates to be sure that this claim is honest and let me know.
Would you be able to double check with your yeast supplier that the product is indeed additive-free, please? If it is, I would like to add it to the (very short) list we publish on our site – currently we know of only one brand of quick/fast-acting yeast in the UK that is.
From the Campaign to SFEA
17 August 2021
I am ready to pass my concerns to Trading Standards.
Before I do, will you answer my questions below, please?
[We received no reply]
From the Campaign to Norfolk County Council's trading standards' department
13 September 2021
Following direction on Norfolk Country Council's website, on 25 August 2021, I submitted a complaint to Citizens Advice (their ref ZM16834654) regarding a bag of flour from a Norfolk producer that I purchased In Norfolk. I made this complaint not on my behalf but because I believe that the average shopper is likely to be misled by the name and branding of the product.
Citizens Advice advised that they had passed my complaint to your department for investigation. Please can you advise me of your timescale for investigation and action on this case and your progress so far?
I believe that I supplied all relevant details in my original complaint but if you require more, or have questions, I'd be happy to help you with your investigation.
[This was acknowledged on the same day. On 14 October 2021, we followed up asking for a full reply. To date (4 Novemver 2021) we have not received one.]
11 August 2022
We wrote to Norfolk County Council's trading standards' department: 'It is coming up to a year since I submitted this complaint and Shire Foods East Anglia is still advertising 'Norfolk Watermill Flour' on its website. Why is this? What action has your department taken to protect shoppers from what we believe to be utterly misleading branding?'
Published 4 Nov 2021
Real Bread Campaign: The Real Bread Campaign finds and shares ways to make bread better for us, better for our communities and better for the planet. Whether your interest is local food, community-focussed small enterprises, honest labelling, therapeutic baking, or simply tasty toast, everyone is invited to become a Campaign supporter.
Support our charity
Your donation will help support the spread of baking skills and access to real bread.