The Labour Party has published its health mission to Build an NHS Fit for the Future. It includes pledges to end junk food advertising to children online and bring in the 9pm watershed, but offers no new expansion of free school meals. Children's Food Campaign responds.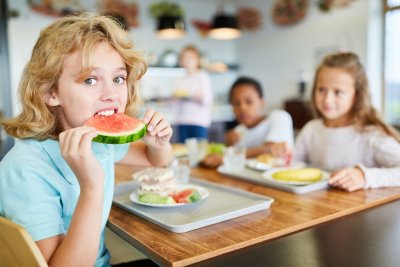 Child eating melon. Credit: Robert Kneschke | Shutterstock
Health organisations have welcomed the renewed focus on children's health and diet-related disease in Build an NHS Fit for the Future, which rightly argues that "to make our health and care services sustainable, we must deliver a 'prevention first' revolution."
There is a strong focus on ensuring "children have the best start possible to give them the building blocks for a healthy life" and the establishment of a cross-Government commission to oversee a co-ordinated long term national framework between relevant departments.
Extracts from the document include:
"To give all children a healthy start to the day, we will establish fully-funded breakfast clubs in every primary school in England, serving healthy and balanced food to start the day and embed healthy habits and boosting children's concentration and development. We will also implement a balanced and broad national curriculum with a wide range of physical activities compulsory for all schools."
"As well as ensuring children learn healthy habits at school, Labour will take action to end the promotion of junk foods targeted at children. We will restrict adverts of foods high in fat, sugar and salt, in favour of healthier options, improve children's diets by finally implementing the 9pm watershed for junk food advertising on television and ban paid-for advertising of less healthy foods on online media. We know this can work as it has on the TFL transport network. Public service broadcasters should continue to be encouraged with their focus on promoting healthy lifestyles in their programming and food producers will still be able to advertise their products by switching those which are high in fat, sugar, and salt for healthier options."
Katharine Jenner, who is a Sustain Trustee, the chair of Children's Food Campaign and Director of the Obesity Alliance said:
"We hugely welcome the announcement that Labour is making a bold and necessary commitment to improving children's health and tackling health inequalities. The case for action on obesity to improve people's health, protect the NHS and increase economic productivity could not be clearer – so it is great to see the importance of action on this issue recognised in Labour's Health Missions. In particular, it is fantastic to see Labour speaking out so strongly in favour of policies to tackle the flood of junk food adverts that are bombarding our kids.

"Of course, more action will be needed to achieve this mission, but this is a crucial first step to delivering a future where kids are healthier, happier and freer to live a good life. The last few years have seen the health and wellbeing of our children put at risk by intense lobbying of multinational junk food companies and short-term party political considerations. We call on all political parties to take up the mantle of breaking the junk food cycle, making the healthy choice the easy choice for everyone, and delivering real action on obesity."
Barbara Crowther, Children's Food Campaign Co-ordinator said:
"We are pleased to see the importance that Labour puts on ensuring a healthy childhood, including the need to get back on track and implement regulations to protect children from relentless junk food marketing. With millions of people struggling to access healthy food every day, this is the right thing and the smart thing to do. We hope there will be more to come from Labour in terms of further smart incentives for healthier products, healthier business and a healthier nation."

"We welcome the commitment to provide breakfast clubs, but we need Labour to go a step further and correct the injustice done to children back in 2018, when Government imposed a £7400 threshold of eligibility for free school meals for England. Labour vociferously opposed that at the time, and also unanimously passed a motion at its party conference in Autumn 2022 in favour of a progressive expansion of universal school meals. At local level, several councils and the London mayor are working hard to expand meals to more children, whilst Wales and Scotland are forging ahead with universal primary school meals.

"We now need a courageous national Government to end the postcode lottery of access to healthy school meals. It's time to say yes to school food for all and support children to grow up healthy, in fully inclusive schools free from the stigma of means testing. Properly funded, it would free up schools to be able to focus on teaching and learning, rather than worrying who they can and can't feed each day, or who might not be eating nutritious food and struggling to concentrate and learn. We hope that Labour will add this to their agenda as they move forward with their mission to break the barriers of opportunity at every stage."
Join our Say Yes to School Food For all campaign
Support our campaign
Your donation will help us champion children's rights, parent power and government action to improve the food environment children grow up in.