Veg Cities clocks 500 pledges!
We're pleased to announce that Veg Cities has reached its 500th pledge, thanks to the hard work of communities up and down the country. Could you be the next pledger?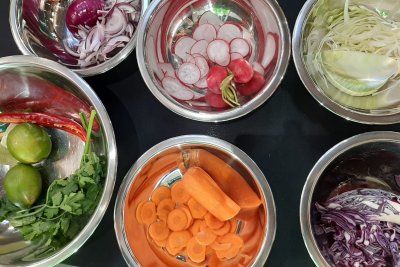 Vegetables from a Ministry of Food Leeds workshop. Credit: Sofia Parente
Veg Cities is a Sustainable Food Places campaign run by Sustain. It encourages organisations to take action to help more vegetables to be grown, served, eaten and saved all across the country. With schools, councils, hospitals, caterers, and community groups taking part, Veg Cities participants have so far pledged to:
Educate nearly 29,000 people about food waste
Provide growing and cooking classes to 18,000 people
Grow over 117,000 portions of vegetables to donate
Promote vegetable consumption to more than 605,000 people
Serve 4.8 million meals that include two or more portions of veg
We are very pleased to announce that the Veg Cities network has reached 500 action pledges, with the 500th from the Ministry of Food in Leeds. They run an eight-week long healthy cooking programme in Kirkgate Market and Gipton Fire Station, where participants learn all about the Eatwell Guide and are encouraged to buy their fruit and veg from the market. They have also started to teach an eight-week course on plant-based eating.
The idea behind Jamie's Ministry of Food is to bring back lost cookery skills through fun and engaging classes, with good nutrition at heart. Throughout Spring, the Ministry of Food in Leeds will be showing their students how to make poached eggs, minestrone soup, broccoli risotto, and more.
'Here at Ministry of Food, our team is dedicated to providing fun and engaging lessons that teach our participants the key cooking skill needed to produce delicious, nutritious, well balanced and cost effective meals, that the whole family will enjoy.' Aley Mills, Cookery Trainer at Jamie Oliver Ministry Of Food
These actions can't be achieved without the brilliant work of local communities. Could your workplace, local shop, or community garden take their own pledge and help us reach 1,000 pledges?
Find out more about Veg Cities
Support our charity
Your donation will help communities across the UK to increase the availability and consumption of vegetables.