A healthy breakfast is important for children starting their school day but according to Sustain member Magic Breakfast, despite rising levels of child food insecurity, 7 in 10 schools across the UK have no breakfast provision, or only very limited free places.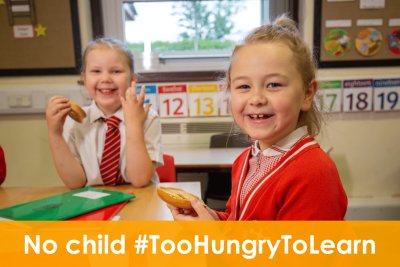 Children enjoying breakfast at school. Credit: Magic Breakfast
Breakfast before class matters. A healthy breakfast at the start of the school day supports children's energy and concentration levels, and therefore their learning. Evidence has shown that breakfast provision can improve school attendance and academic performance, reduce absences and disruptive classroom behaviour, and longer term support achievement and better life chances. Economic modelling suggests that every £1 invested in breakfast provision gives a long term economic return worth £50.
Sustain member Magic Breakfast's new report Hidden Hunger lays out the current state of school breakfast provision across the UK in 2022, using data from 5,500 schools across all four nations. Despite progress in the launch of the National School Breakfast Programme from 2018 (partly funded by revenues from the Soft Drinks Industry Levy), the picture across the UK gives cause for concern.
69% of all schools in the UK either have no breakfast provision at all, or only very limited free places and barriers to accessing them. 41% of schools in Scotland have no provision at all.
2.7 million children from disadvantaged backgrounds in England, plus 250,000 in Scotland and 50,000 in Northern Ireland risk starting the day 'too hungry to learn'.
Current Government funding in England via the National School Breakfast Programme only stretches to 1 in 4 schools with highest levels of pupils from disadvantaged backgrounds.
Magic Breakfast is calling on Government to invest an additional £75 million per year in expanding school breakfast support, and ringfencing money from the Soft Drinks Industry Levy (which raises £300m per year) for this purpose.
The full report is available from Magic Breakfast.
Support our campaign
Your donation will help us champion children's rights, parent power and government action to improve the food environment children grow up in.