Cost of some everyday groceries has more than doubled in a year, consumer champion Which? finds
The price of some everyday groceries has more than doubled over the last year as the cost of own-brand items continues to rise, consumer champion Which? has found.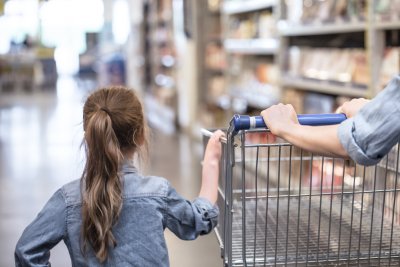 Mother and daughter shopping in a supermarket. Copyright: PV productions | shutterstock
In February, the consumer champion's food tracker analysed inflation on more than 25,000 food and drink products at eight major supermarkets – Aldi, Asda, Lidl, Morrisons, Ocado, Sainsbury's, Tesco and Waitrose – to see how everyday product prices are being affected.
Which? looked at the items with the highest inflation at each supermarket to find which products have seen the biggest percentage price rises. The analysis covered the average price of the products in the three months to the end of February 2023 compared to the same time period last year.
It found a range of everyday items in each supermarket's list of groceries with the highest inflation - including milk, meat and fruit. Own-brand products were particularly hard-hit and featured heavily in most supermarkets' lists.
This reflects the trackers' findings that overall, budget (22.9%) and own-brand (19.7%) items were again subject to higher rates of inflation than premium (13.8%) and branded counterparts (13.3%).
The tracker shows that in February, the annual inflation of popular food and drink was at 16.5 per cent overall across the eight retailers.
For example, inflation on vegetables rose from 11.6 per cent to 13 per cent, juice drinks and smoothies went from 13.4 per cent to 15.1 per cent and cereals increased from 13.4 per cent to 14.6 per cent.
Which? is campaigning for all supermarkets to ensure that budget line items that enable an affordable and healthy diet are widely available, particularly in areas where people are most in need. They must also make pricing and offers more transparent so that people can easily work out which products are the best value.
Sue Davies, Which? Head of Food Policy, said
"Worryingly our tracker shows that some everyday essentials have more than doubled in price over the last year - with cheaper own-brand items particularly hard hit.

"Supermarkets need to step up and ensure everyone has easy access to basic, affordable food ranges at a store near them, particularly in areas where people are most in need.

"Retailers must also provide transparent pricing so people can easily work out which products offer the best value."
Orla Delargy, head of public affairs at Sustain said: "One in five workers in the food system is on minimum wage or less, so retailers and the rest of the food industry can start by paying their own workers a living wage. Government can help by setting wage and benefit levels at a point where people can live in dignity and with the means to eat a healthy, sustainable diet."
Support our work
Your donation will help communities identify ways to alleviate food poverty and increase access to healthy food.