Low wages, high pay disparities and unfair trade are a recipe for super market failure
A new research report from Sustain exposes super market failure and argues for better food trading that supports farmers, food workers, consumers and the environment - fairness from farm to fork. With the Asda Sainsbury's merger under scrutiny such issues are crucial to assess.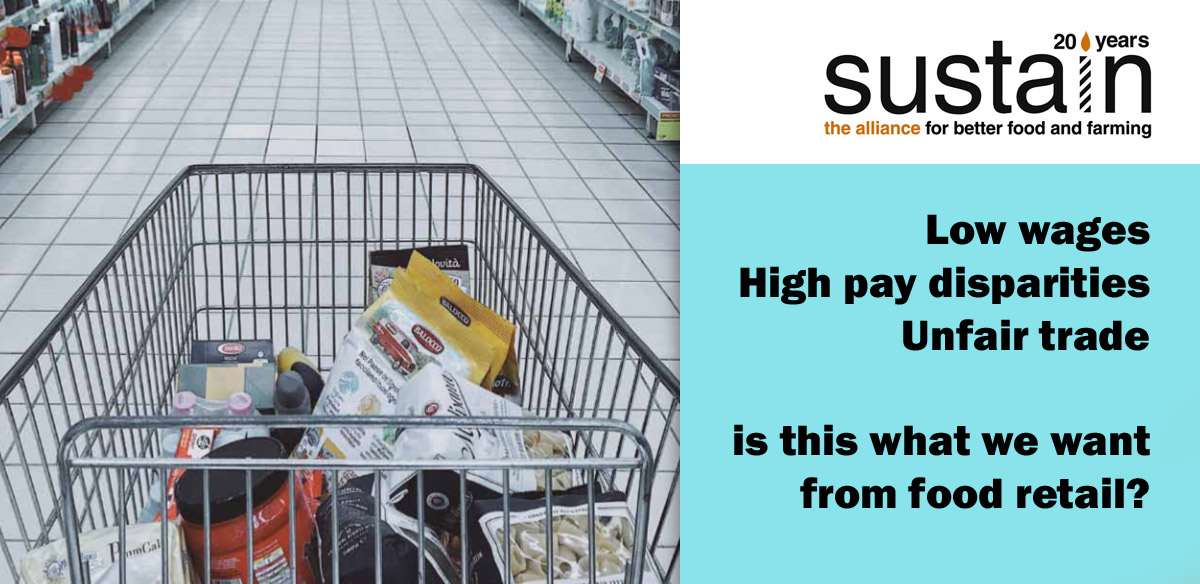 We set out to examine some of the causes of unfairness in our food system, looking at the pay and practices of the UK's leading supermarkets.
Using survey responses, independent studies and data sources, Sustain has explored how the UK's 13 top supermarkets (by turnover) play fair, using three key indicators: the Living Wage, pay disparities and each supermarket's approach to regulation to ensure fair trading with farmers and suppliers.
With findings published in this new research briefing, Sustain found that:
No UK supermarket could confirm that they pay at least the real Living Wage for all employees and agency workers.
Average paid workers earned up to 339 times less than the highest paid UK supermarket executives.
The supermarket's approach to grocery market regulation of unfair trading practices is mixed, with slow progress for some and major issues for overseas suppliers.
Download the report Super Market Failure here.
Apart from Marks & Spencer and Waitrose, all of the other supermarkets failed to provide evidence of better practices for our survey. So much of Sustain's research draws on other publicly available sources, which paint a picture aspects of the concentrated, multiple supermarket model that are perpetuating low incomes, precarious farm livelihoods and large inequalities.
Vicki Hird, Sustainable Farming Campaign Coordinator, who conducted the research, said:
"Workers in the food system deserve to be paid what they need to live a decent life and farmers too need to be rewarded for producing sustainable, safe food. But our research suggests that the UK retail sector is still far from delivering a fair system.
"We need strong government action on fair dealing in supply chains and to promote more diverse retail outlets locally. We call on the retailers to commit to paying the real Living Wage for all workers including agency, narrowing the pay gap, and dealing fairly with suppliers both here and overseas."
The research report also explores ideas for a better food trading model that is, by mission and design, able to deliver a fairer system for producers, workers, retailers and consumers - sharing value through the supply chain. The report details policy recommendations for:
Current grocery supply chain regulation and the Groceries Code Adjudicator
The Fair Dealing Obligation in the draft Agriculture Bill that is currently making its way through Parliament, which will set the new foundations for UK farm policy post-Brexit
More effective competition policy that upholds principles of fairness, including in relation to mergers and anti-trust measures
Support for better, values-led and more diverse food retail and trading enterprise growth
Planning policy that can better support diverse retail and tackle dominance
Policies for tackling unfairness in global supply chains.
Ends
Contact Vicki Hird 07903 478249 vicki@sustainweb.org
Download the report Super Market Failure here.
---
20/03/2019
Food and Farming Policy
SHARE
---
Food and Farming Policy: Sustain encourages integration of sustainable food and farming into local, regional and national government policies.