Join public health advocates in calling for an end to football partnerships with junk food brands
Major football associations, leagues and one in four Premier League clubs have partnerships with junk food companies, including chocolate and sugary drinks brands. Take action to ask football to drop junk food partnerships for good.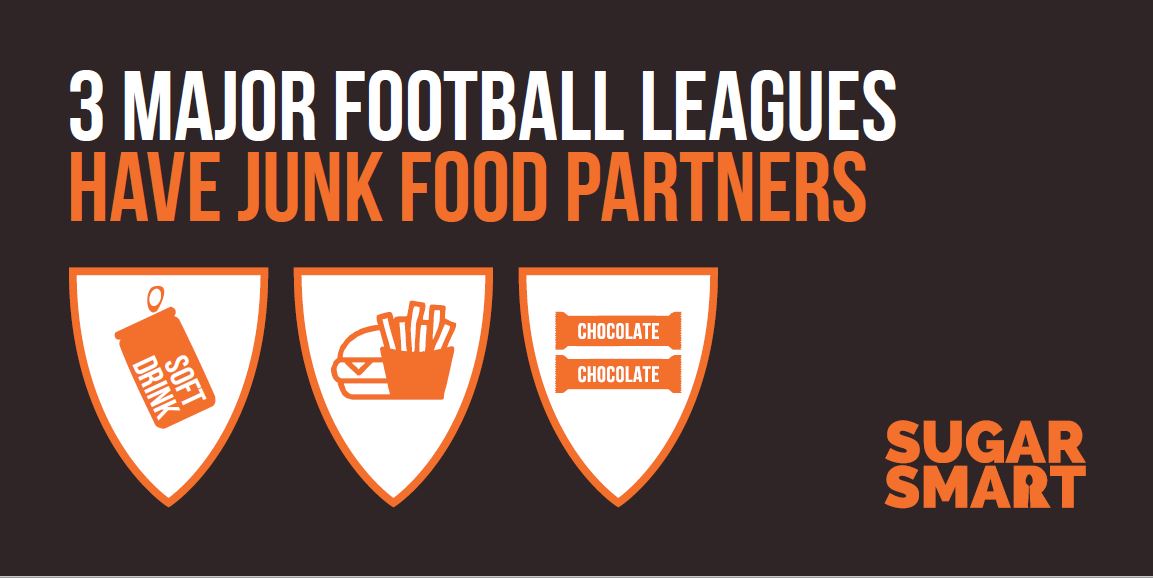 Over 60 leading public health advocates, including Hugh Fearnley Whittingstall, have joined SUGAR SMART and Healthy Stadia in signing an open letter calling on football leagues, associations and clubs to drop junk food brand partnerships. The open letter has been signed by health advocates and organisations, academics, and Directors of Public Health at the forefront of addressing the rise of diet-related ill health across the UK.
Take action to support this letter and send a message of your own.
Currently, companies promoting fast food, chocolates and fizzy drinks have sponsorship relationships with football, from the biggest names in the Premier League to youth clubs in local communities.

Sofia Parente, SUGAR SMART Campaign Coordinator, said:
By linking themselves to sports bodies, these companies are attempting to associate their products with a healthy and active lifestyle. But in reality, many of their products contain high amounts of saturated fat, sugar and/or salt.

This sends the wrong message from the most popular sport in the country, at a time when obesity and tooth decay among children are at an all-time high.
SUGAR SMART is partnering with Healthy Stadia and taking action on this issue. The open letter will be delivered to football clubs, leagues and associations and to the Department for Digital, Culture Media and Sport calling for an end to partnerships with junk food brands. This is your chance to add public support.
Please join us in asking football to re-think commercial partnerships with junk food companies and protect children against the marketing of unhealthy foods and drinks.
SUGAR SMART is a campaign of Sustain and Jamie Oliver. It is currently the feature campaign of the Sustainable Food Cities network.
---
29/03/2018
Sugar Smart UK
SHARE
---
Sugar Smart UK: Want your local area to become Sugar Smart?