London families miss out on £4.5 million of healthy food in 2018
Sustain, the charity behind London Food Link, has coordinated a joint open letter, published in the Huffington Post, to the Matt Hancock MP calling on the Government to improve the support and promotion of the Healthy Start voucher scheme.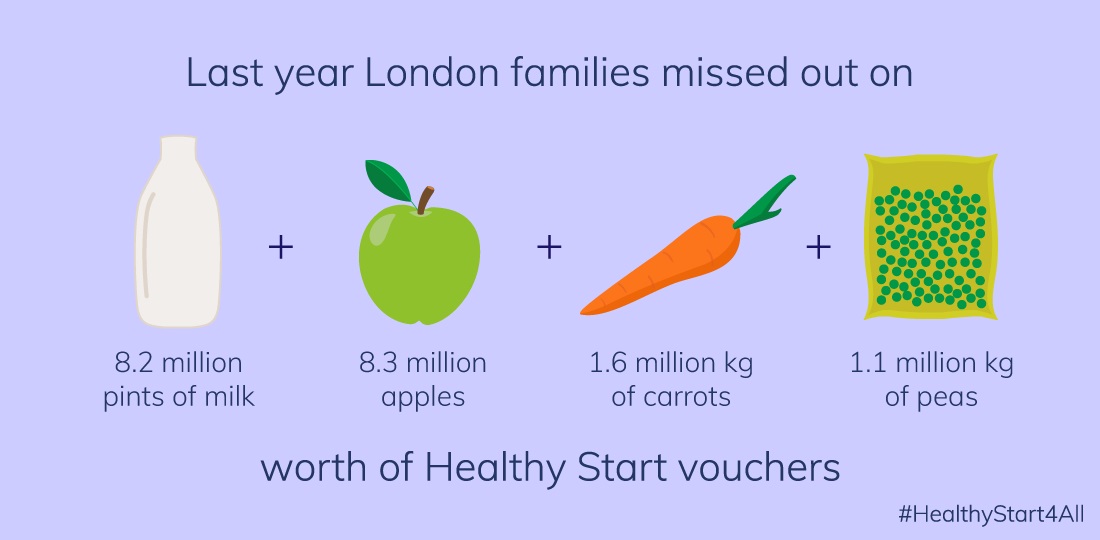 The scheme, available to pregnant women and those with children of four or younger from low income families, can be used to buy fruit, vegetables, milk or infant formula. It is estimated that £28.6 million of vouchers were missed out on by families in England and Wales in 2018. Of this, £4.5m would have gone to London families, a huge blow to the budgets of those who need it most.
Kath Dalmeny, Chief Executive of Sustain: the alliance for better food and farming, said
"The government is missing a trick. This money has been set aside to support low income and young families, but the Healthy Start voucher scheme for fruit, vegetables and milk is not being properly managed or promoted. Over 4 million children are living in households who sometimes run out of money for essentials such as food – these vouchers can help keep good food on the table."
The calculation is based on data from Healthy Start Issuing Unit (HSIU) for England and Wales, who reported in July 2018 that the average number of vouchers issued per beneficiary is 1.425, or £4.42 per household per week.
Sustain are calling on people to write to their MP to call for all children to get the healthy start they deserve.
Read more about the uptake of Healthy Start vouchers in London.
---
03/06/2019
London Food Link
SHARE
---
London Food Link: This is the umbrella for all of Sustain's initiatives in London. Our work includes helping to influence local government policy, hands-on food growing training, running sessions for public sector caterers, creating guidance for independent eateries and food producers, public awareness campaigns, and joining the dots between people around specific food issues. The LFL supporter network is open to everyone who grows, produces, teaches, peddles, promotes and simply enjoys good food in the capital.