Open call for Capital Growth's London 2023 food growing training calendar now live!
It's official – Capital Growth has launched its open call for this year's training calendar. If you're interested in helping to deliver this year's London programme, send your proposals to the team before the seasonal deadlines.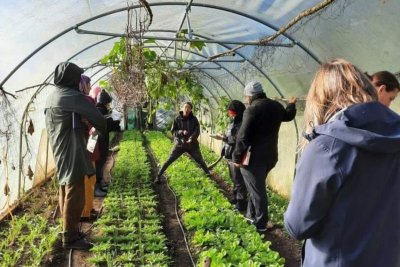 Head Grower, Chrissy Harrison, delivering food growing training on Keats Farm.. Copyright: Mayya Husseini
Capital Growth's annual Training Programme has been running in-person sessions for many years but moved online at the start of the pandemic. Last year, as restrictions lifted, in-person training resumed again. This year, the programme returns to hosting exclusively in-person sessions based on participant feedback.
The 2023 training season will run from March to October and will be divided into a longer Spring/Summer and a shorter Autumn cycle. Spring/Summer training will run from mid-March to end-July and the Autumn training from the beginning of September to end-October (excluding bank holidays and school breaks).
As part of this year's training season, Capital Growth will be bringing Londoners a Masterclass series with veteran trainers from across the network delivering monthly in-depth sessions through spring. Trainers have already been identified for these sessions and they will be aimed at those who already have experience with food growing on the following four topics:
Composting
Understanding the soil food web to maximise yield
Water-efficient irrigation techniques
Forest garden design
Alongside the Masterclass series, there will be the Taster Series with food growing training topics listed below:
Tool care and tool sharpening
Growing according to school term times
Garden design and closed loop systems
Soil health
Companion planting
Growing legumes specifically for drying
Forest farming
Drought resilient crop varieties
How to work with London heavy clay soil
Plant pest and disease management
Mushroom cultivation
How to apply
If you would like to apply to be a part of this year's Capital Growth training calendar, you can find all the information needed within the application form to send your session proposal. The application form can be found on the member dashboard of your garden profile on the Good to Grow platform or download it directly here.
Important deadlines to keep in mind are:
Spring/Summer Training Application Deadline: Fri 17 Feb
Autumn Training Application Deadline: Fri 9 Jun
If you have any questions you'd like to clarify beforehand or would like to request any additional support with completing this application, please reach out to mayya@sustainweb.org.
If you are not yet a member of Capital Growth, you can join the network for free to make the most of a range of membership benefits whether you grow food in London at a school, home, allotment, or community garden.
Support our work
Your donation will help communities grow more food in gardens across London.