Your at-a-glance assurance of an additive-free loaf.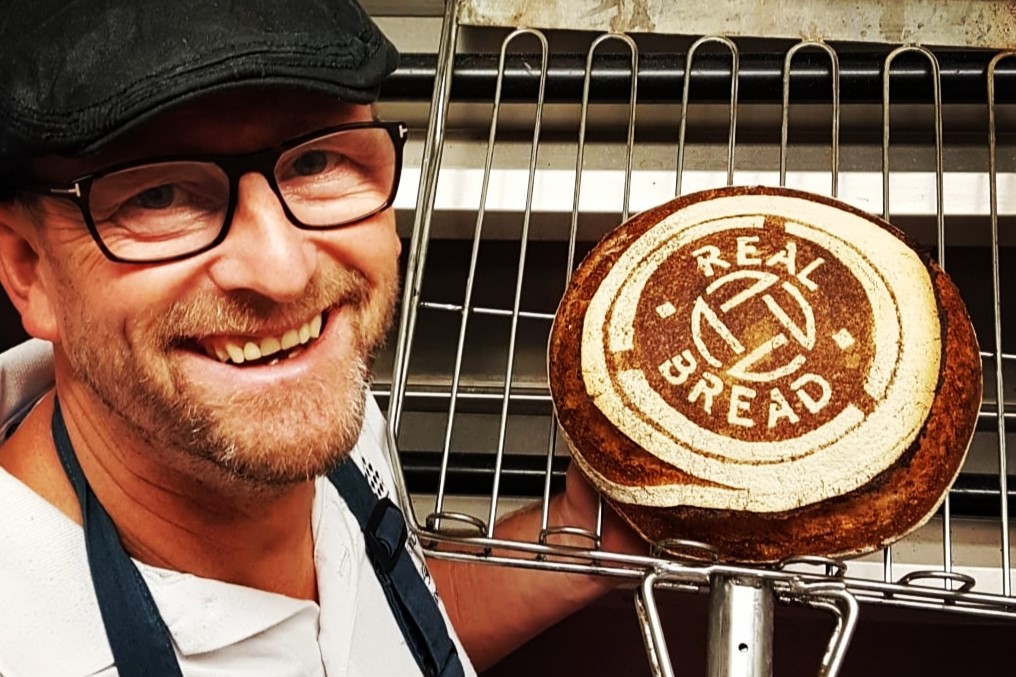 Photo © Wayne Caddy / The School of Artisan Food
One of the main aims of #RealBreadWeek (22 February - 1 March 2020) is encouraging people to buy Real Bread.
To find it locally, you can search the Real Bread Map.
When you're out and about, keep an eye out for The Real Bread Loaf Mark. This Real Bread Campaign scheme allows a bakery owner to give customers an at-a-glance assurance that a loaf has been made without any so-called processing aids or other additives.
Roll of honour
The bakeries currently (February 2020) signed up to The Loaf Mark scheme are:
Andy's Bread
Anuna Craft Bakery
Artisan Bread Organic ABO
Aston Parish Bakery
Baked Potato
Baker Steve
Baker Tom
Barkby Bakehouse
Big River Bakery
Billowing Loaf
Bobs Bread Bakery
Bread and Brot
Breadcrumb Baking
Chalk Hills Bakery
Coffee Kitchen
Coghlans Catering
Companions Bakery
Emma's Bread
Eviedale Bakehouse
Geary's
Granton Garden Bakery
Greenfield Bakers (LLP)
Hampshire Real Bread
Hunnypot
Ivy Cottage Baker
Jo's Loaves
Kipton Baker
Knife and Fork
London Road Craft Bakery
Ma Baker
M's Bakery
Noa Bakehouse
Pagnol Boulanger
Pinkmans Bakery
Ruth's Little Kitchen
Secret Bakery Harrogate
Stark Farm bakery
Sticky Mitts
The Loaf
The Seil Bakehouse
Two Magpies Bakery
West Street Bakehouse
Wild Baker
Willaston Country Market
Worton Kitchen Garden
Read all about The Real Bread Loaf Mark scheme, including how to sign your bakery up to it.
Why isn't my bakery on this list?
There are various reasons that a bakery doesn't appear on the Real Bread Map or use The Real Bread Loaf Mark. Perhaps the owner:
Doesn't know about these marketing opportunities we provide
Hasn't got round to signing up/renewing yet or doesn't want to
Doesn't make bread – ie uses additives
List mania
The Real Bread Campaign urges all bakeries and loaf retailers to display full ingredients lists for all loaves, sandwiches etc. either on packaging or at point of sale.
At present, retailers don't have to display ingredients lists for those that are sold unwrapped (eg at supermarket in-store 'bakeries') or prepacked for direct for sale (eg sandwich / food-to-go outlets, though this will change in 2021), while additives deemed to be 'processing aids' don't have to appear on any ingredients list.
Read all about our lobbying for an Honest Crust Act of improved loaf labelling and marketing legislation.
Support our charity
Your donation will help support the spread of baking skills and access to real bread.