Fork to Farm dialogues in South West Scotland: farmers and cities as drivers of transformation
The dialogues took place online and through farm visits bringing together farmers and food producers with local authority policy officers to discuss shocks to the food system, and challenges faced by farmers. The dialogues had a specific focus on the climate and ecological emergency, but also looked at other system shocks such as Brexit and Covid.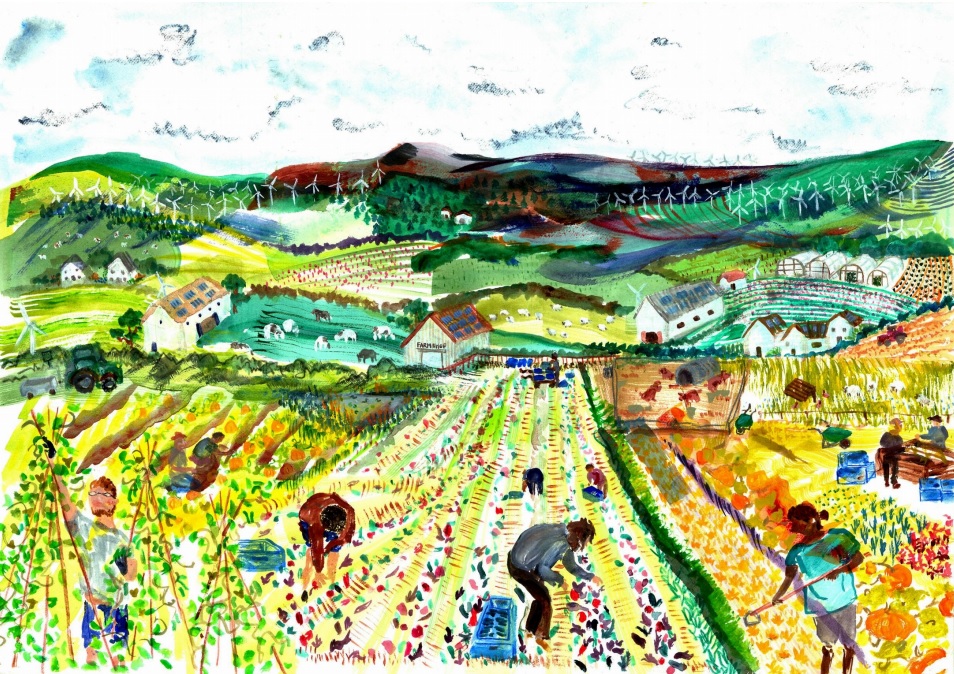 Agroecological Jigsaw created by artist and market gardener Emily Tough summarises the farmer's vision
The Fork to Farm Dialogues started as a global project initiated by Nourish Scotland early in 2021. Parallel dialogues took place in Mexico, Kenya, Indonesia, and other places around the world. In South West Scotland, comprehending Dumfries and Galloway, South Ayrshire and East Ayrshire, the dialogues were coordinated and delivered by Propagate, with local support from the Galloway and Southern Ayrshire UNESCO Biosphere, and peer support from Nourish Scotland. The team from Nourish also organised the Global Dialogue at COP26.
The dialogues started with an open call out for participation across farming networks and local authorities. The first online session was held in February 2021 bringing 25 people together, half of which were farmers. They were joined by NFUS representatives and local authority officers from across all target areas. Monthly sessions followed looking at agriculture through a food systems lens, short and local supply chains, forestry, and trees on farms.
In August 2021, two farm walks took place to get farmers and other stakeholders together to make real connections, and to look at some good farm practices around climate and nature-friendly farming.
Key conclusions
Processing facilities are needed in Dumfries and Galloway to enable livestock to be transported and slaughtered in a humane way, and for local meat products to be accessible to local markets.
Cooperative food hubs run by food producers could be a solution to local and small-scale supply chains.
Good agricultural land being planted up for the forestry industry is a real problem, but opportunities exist for livestock and trees to exist in agroforestry systems.
More vegetables can and should be produced in the region, and in an ideal farming future, more people will be working on the land. There is currently a skills gap here that needs addressing.
A regenerative and nature-based farmers network should be established as an outcome of this work, that enables farmers to share skills, ideas, and practice around agroecological and regenerative farming.
We need to tell the stories of better food production in Dumfries and Galloway, through education, outreach, and awareness
Next steps
Interest over the course of the project has grown – and continues to grow. Propagate will make the most of the energy and enthusiasm these dialogues generated to establish a South West Scotland Regenerative Farmers Group to bring farmers and food producers together regularly for farm visits, group discussions, peer-to-peer learning, and more. A regular programme of events will support farmers to adopt better practices to reduce the impact on climate and nature.
Propagate will connect this peer group to the Dumfries and Galloway Sustainable Food Partnership. The Partnership's recent Local Food Gatherings also engaged with farmers, and these conversations echoed calls for more peer-to-peer supported learning opportunities.
For more information about the South West Scotland Regenerative Farmers Group, contact Abi Mordin or download the summary report.
Support our charity
Donate to enhance the health and welfare of people, animals and the planet.