Kicking off a new Community Supported Agriculture cereal cooperative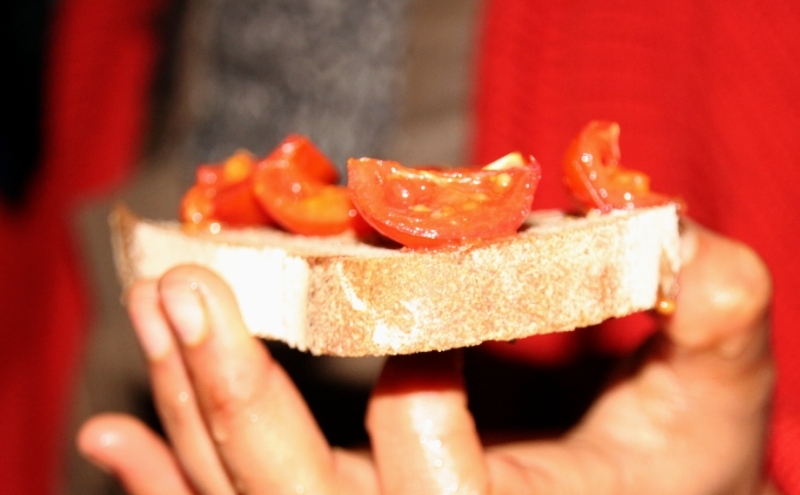 On 1 December 2016, around 60 people gathered at The Skip Garden & Kitchen near London's King's Cross for the official launch of #OurField.
Founded by the teams behind Future Farm Labs and Farmerama, the event introduced the plan to find 40 people willing to invest around £200 each to plant, manage and harvest a field of wheat or other cereal on John Cherry's family farm in Hertfordshire.
With guidance from a range of experts, the co-operative of investors will work with John to make all decisions about the crop, from choice of variety, through farming method, to harvesting and milling. The options will include whether to choose modern or heritage varieties; 'conventional', organic or other low input farming practices; bread, biscuit or feed wheat; or even wheat at all - naked barley was mentioned.
In common with other Community Supported Agriculture enterprises, the risks and rewards will be shared between the farmer and other investors. If the harvest is successful and sale of the wheat profitable, investors will recoup their money and perhaps take a dividend. If not, then they each lose their money. The key benefit for the farmer is that his 'exposure' to the risk of losing money is a much smaller one than if he had made the entire investment himself, which is the usual situation in farming.
John also expressed his keenness to get involved as it will give him the opportunity to have a conversation with consumers to understand what they want and need from his crop, something that many farmers – particularly those growing cereals – rarely have. Correspondinly, investors have the chance to gain a better understanding of wheat's journey from seed to sandwich and an insight to the many trials and tribulations of farming.
During the event, the founders spoke of how the initiative had been inspire by the Field of Wheat project, and they also interviewed John Cherry and OF&G Organic's Steven Jacobs.
Food for the evening was cooked up in the Disco Soup style, with surplus veg and Real Bread being prepped by the guests to music – in this case live as well as recorded – and turned into canapes and soup and salads by the Skip Garden & Kitchen's cooks, led by chef Sadhbh Moore.
Find details of #OurField, including how to invest, at www.ourfieldproject.org
Sheep farmer. Credit: Cottonbro | Pexels
Published 5 Dec 2016
Real Bread Campaign: The Real Bread Campaign finds and shares ways to make bread better for us, better for our communities and better for the planet. Whether your interest is local food, community-focussed small enterprises, honest labelling, therapeutic baking, or simply tasty toast, everyone is invited to become a Campaign supporter.
Support our charity
Your donation will help support the spread of baking skills and access to real bread.